The interactive whiteboard market size is estimated to grow at a CAGR of 6.66% between 2022 and 2027 and size of the market is forecast to increase by USD 692.41 million. The report includes historic market data from 2017 to 2021. It also extensively covers market segmentation by end-user (education sector and corporate sector), technology (resistive, capacitive, infrared, electromagnetic pen, and others), and geography (North America, Europe, APAC, South America, and Middle East and Africa). This report also includes an in-depth analysis of drivers, trends, and challenges.
The increasing use of advanced technologies in the education sector is driving the market growth.  Educational institutions around the world are increasingly integrating advanced technologies to enhance the efficiency and effectiveness of the education system. Teachers are utilizing tools like interactive whiteboards, touchscreen tablets, flat-panel technology, and 3D projectors to deliver engaging and interactive lessons. By incorporating interactive whiteboards, teachers can create dynamic learning experiences that enhance student engagement and minimize distractions. Additionally, /images and graphs are displayed with greater clarity and accuracy compared to traditional teaching methods. Given the growing technical proficiency of the new generation of learners, educational institutions recognize the importance of adopting technologies such as interactive whiteboards. As a result, there is an increasing global demand for interactive whiteboards in the education sector, driven by the integration of advanced technologies to enhance the learning experience.
What will be the Size of the Interactive Whiteboard Market During the Forecast Period?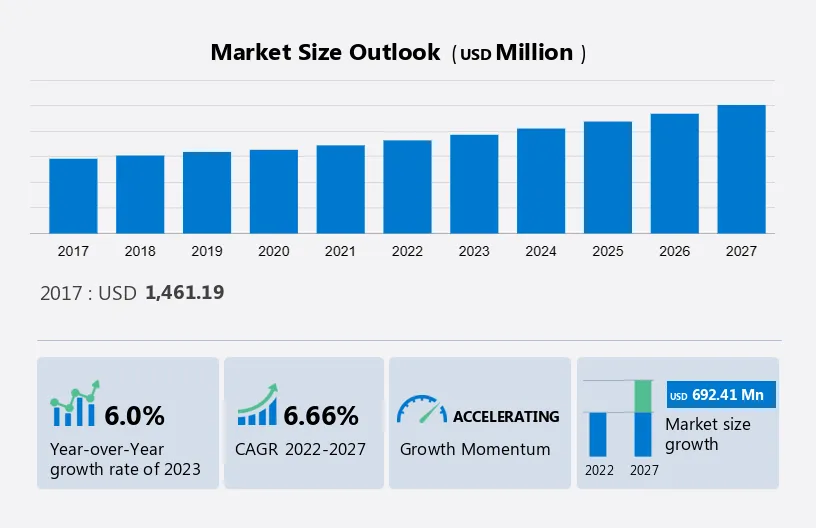 View Sample PDF at your Fingertips
Who are the Major Interactive Whiteboard Market Vendors?
Vendors are implementing various strategies, such as strategic alliances, partnerships, mergers and acquisitions, geographical expansion, and product/service launches, to enhance their presence in the market.
Alphabet Inc - The company offers interactive whiteboards under the brand Google Inc.
The interactive whiteboard market report also includes detailed analyses of the competitive landscape of the market and information about 15 market vendors, including: 
Boxlight Corp
Cisco Systems Inc.
Delta Electronics Inc.
Genee World Ltd
Hitachi Ltd.
Leyard Group
LG Electronics Inc.
Microsoft Corp.
Newline Interactive Inc.
Panasonic Holdings Corp.
Promethean World Ltd.
Qisda Corp.
Ricoh Co. Ltd.
Samsung Electronics Co. Ltd.
Seiko Epson Corp.
Sharp NEC Display Solutions of America Inc.
SMART Technologies ULC
Steelcase Inc.
ViewSonic Corp.
Qualitative and quantitative analysis of vendors has been conducted to help clients understand the wider business environment as well as the strengths and weaknesses of key market players. Data is qualitatively analyzed to categorize vendors as pure play, category-focused, industry-focused, and diversified; it is quantitatively analyzed to categorize vendors as dominant, leading, strong, tentative, and weak.
Regional Insight
North America is estimated to contribute 33% to the growth of the global market during the forecast period. Technavio's analysts have elaborately explained the regional trends and drivers that shape the market during the forecast period.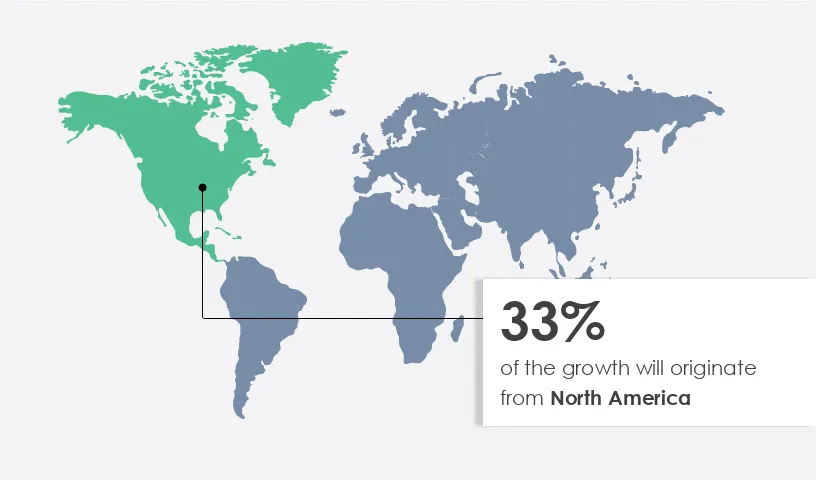 View the Bestselling Market Report Instantly
In North America, the widespread availability of devices like e-book readers, tablets, and laptops, along with improved and uninterrupted Internet connectivity, has resulted in the widespread adoption of digital classrooms and e-learning. Consequently, numerous regional educational institutions are continually upgrading their hardware infrastructure to facilitate the implementation of various advanced applications and educational technologies, including interactive whiteboards. Additionally, the US holds the position as the largest tech market globally, accounting for approximately 30% of the global tech market in 2021, with further growth expected in the forecast period. The thriving tech market, coupled with the growth of the education sector in the region, is anticipated to drive the expansion of the interactive whiteboard market in North America.
Market Segmentation by End-user
Based on end-user, the market share growth by the education sector segment will be significant during the forecast period. The interactive whiteboards are witnessing significant adoption in developed countries such as the US and Canada. In the US, e-learning technology-based companies are opting for M and A and strategic alliances to improve their market reach and customer base. Due to all the aforementioned factors, the adoption of interactive whiteboards in the education sector is gaining traction, and the global interactive whiteboard market is expected to grow during the forecast period.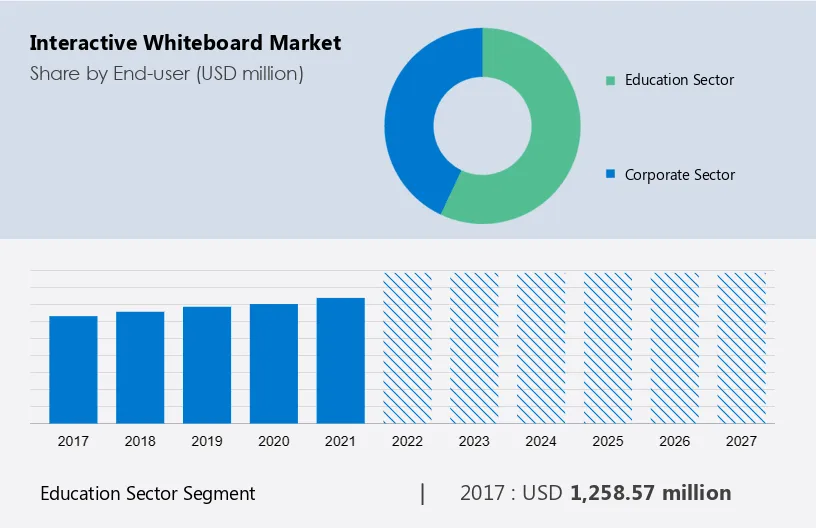 Get a glance at the market contribution of various segments View PDF Sample
The education sector segment was the largest segment and was valued at  USD 1,258.57 Million in 2017. This segment includes schools and colleges managed by either government or private organizations. Interactive whiteboards are the latest interactive teaching tools for modern, connected, and interactive classrooms. These panels provide a platform for teachers to present content more effectively compared to traditional teaching methods. They allow teachers to create and show any content on the screen to students from their computers or laptop. In the education sector, e-learning is gaining popularity worldwide, mainly due to interactive displays that are ideal for delivering content interactively in the e-learning environment. This advances the quality of education in classrooms, along with improved interaction between students and teachers.
Interactive Whiteboard Market: Key Trends and Challenges
Our researchers analyzed the data with 2022 as the base year, along with the key drivers, trends, and challenges. A holistic analysis of drivers will help companies refine their marketing strategies to gain a competitive advantage.
Trends
Increased adoption of gamification is the key trend in the market growth. The global interactive whiteboard market has witnessed a growing adoption of gamification in the field of education. This trend is particularly prominent in primary and secondary education, where teachers are using gamification content to effectively manage their classrooms. Gamification plays a crucial role in promoting collaborative learning among students, offering interactive sessions and an enjoyable learning experience. As a result, vendors in the market are placing increased emphasis on integrating gamification features into their classroom management system solutions.
One example of a gamified collaborative platform is ClassDojo, which enables connectivity between students, parents, and teachers on a single platform. It facilitates collaborative learning in the classroom and assists in maintaining discipline among students. Another platform, Course Hero, focuses on enhancing learning outcomes by providing document sharing, tutoring services, and a platform for asking questions. It primarily targets high school and higher education sectors. The inclusion of gamification in the learning process is expected to generate greater student interest in classroom sessions, potentially driving the growth of the global interactive whiteboard market in the forecast period.
Challenge
Challenges in implementation of these solutions impede market growth. The role of technology in the education sector has undergone a change; however, budget allocations dedicated to the improvement of the IT infrastructure of many institutions have not grown at the same rate. While the technology for classroom learning needs to be flexible, financial resources allocated to assist institutions in transformational work are a major constraint in the adoption of interactive whiteboards. In the case of K-12 schools, resources such as servers, network infrastructure, backup storage, and power supply are also constrained, which restricts the implementation of such advanced technological solutions.
Moreover, the implementation of such solutions requires changes in the organizational culture of institutions. Resistance to change often arises, especially among instructors who are not acquainted with such advanced educational technologies. It is a challenging task for vendors to present their value proposition and convince the adoption of interactive whiteboards without aggressive marketing and promotional techniques. Such factors will hinder the market growth during the forecast period.
Customer Landscape
The report includes the adoption lifecycle of the market, from the innovator's stage to the laggard's stage. It focuses on adoption rates in different regions based on market penetration. Furthermore, the report also includes key purchase criteria and drivers of price sensitivity to help companies evaluate and develop their growth strategies.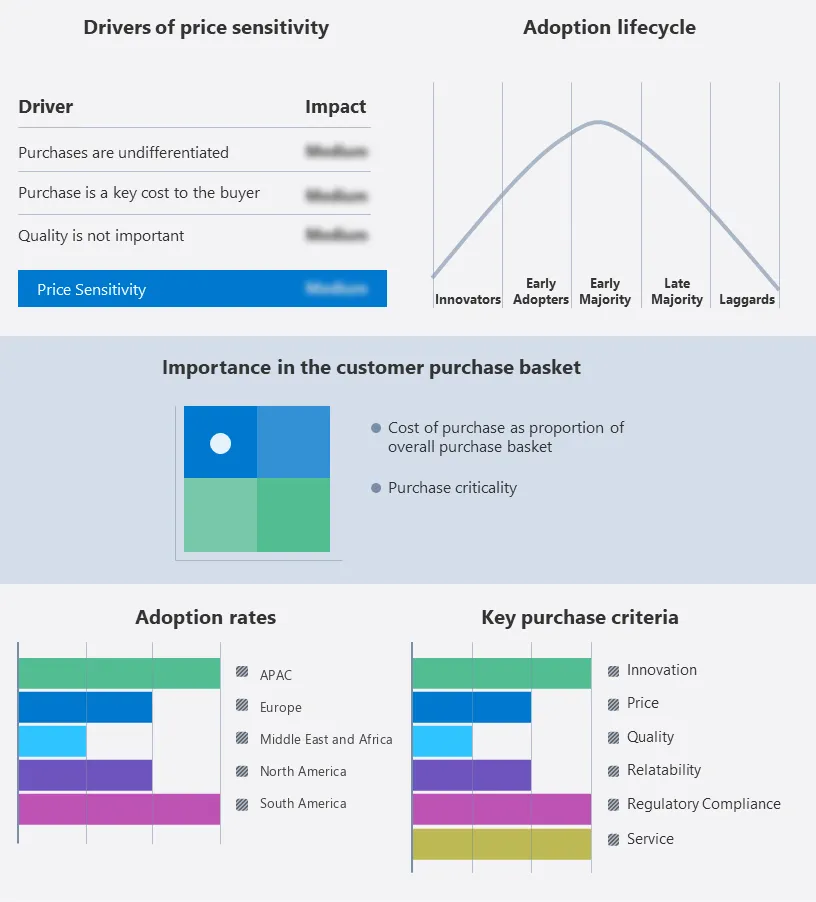 Global Interactive Whiteboard Market Customer Landscape
COVID Recovery 
During 2020 and 2021, COVID-19 outbreak, interactive whiteboard market players in North America witnessed a decline in growth due to delays in procuring the essential components. However, in 2021, owing to the initiation of large-scale vaccination drives and other government initiatives resulted in the removal of lockdowns and the resumption of government initiatives. Moreover, powerful student information systems are equipped with artificial intelligence (AI) capabilities, which help to deliver unique and customized solutions. Such factors are expected to drive the growth of the regional market in focus during the forecast period.
Segment Overview
The interactive whiteboard market report forecasts market growth by revenue at global, regional & country levels and provides an analysis of the latest trends and growth opportunities from 2017 to 2027. 
End-user Outlook (USD Million, 2017 - 2027)

Education sector
Corporate sector

Technology Outlook (USD Million, 2017 - 2027)

Resistive
Capacitive
Infrared
Electromagnetic pen
Others

Region Outlook (USD Million, 2017 - 2027)

North America
Europe

U.K.
Germany
France
Rest of Europe

APAC
South America
Middle East & Africa

Saudi Arabia
South Africa
Rest of the Middle East & Africa
Interactive Whiteboard Market Scope

Report Coverage

Details

Page number

160

Base year

2022

Historic period

2017-2021

Forecast period

2023-2027

Growth momentum & CAGR

Accelerate at a CAGR of 6.66%

Market growth 2023-2027

USD 692.41 million

Market structure

Fragmented

YoY growth 2022-2023(%)

6.0

Regional analysis

North America, Europe, APAC, South America, and Middle East and Africa

Performing market contribution

North America at 33%

Key countries

US, China, Japan, UK, and Germany

Competitive landscape

Leading Vendors, Market Positioning of Vendors, Competitive Strategies, and Industry Risks

Key companies profiled

Alphabet Inc., Boxlight Corp, Cisco Systems Inc., Delta Electronics Inc., Genee World Ltd, Hitachi Ltd., Leyard Group, LG Electronics Inc., Microsoft Corp., Newline Interactive Inc., Panasonic Holdings Corp., Promethean World Ltd., Qisda Corp., Ricoh Co. Ltd., Samsung Electronics Co. Ltd., Seiko Epson Corp., Sharp NEC Display Solutions of America Inc., SMART Technologies ULC, Steelcase Inc., and ViewSonic Corp.

Market dynamics

Parent market analysis, Market growth inducers and obstacles, Fast-growing and slow-growing segment analysis, COVID-19 impact and recovery analysis and future consumer dynamics, Market condition analysis for forecast period.

Customization purview

If our report has not included the data that you are looking for, you can reach out to our analysts and get segments customized.
What are the Key Data Covered in this Interactive Whiteboard Market Research Report?
CAGR of the market during the forecast period
Detailed information on factors that will drive the growth of the

market 

between 2023 and 2027
Precise estimation of the market  size and its contribution of the market in focus to the parent market
Accurate predictions about upcoming trends and changes in consumer behaviour
Growth of the market across North America, Europe, APAC, South America, and Middle East and Africa
Thorough analysis of the market's competitive landscape and detailed information about vendors
Comprehensive analysis of factors that will challenge the growth of market vendors
We can help! Our analysts can customize this market research report to meet your requirements. Get in touch
1 Executive Summary
1.1 Market overview

Exhibit 01: Executive Summary – Chart on Market Overview
Exhibit 02: Executive Summary – Data Table on Market Overview
Exhibit 03: Executive Summary – Chart on Global Market Characteristics
Exhibit 04: Executive Summary – Chart on Market by Geography
Exhibit 05: Executive Summary – Chart on Market Segmentation by End-user
Exhibit 06: Executive Summary – Chart on Market Segmentation by Technology
Exhibit 07: Executive Summary – Chart on Incremental Growth
Exhibit 08: Executive Summary – Data Table on Incremental Growth
Exhibit 09: Executive Summary – Chart on Vendor Market Positioning
2 Market Landscape
2.1 Market ecosystem

Exhibit 10: Parent market
Exhibit 11: Market Characteristics
3 Market Sizing
3.1 Market definition

Exhibit 12: Offerings of vendors included in the market definition
3.2 Market segment analysis

Exhibit 13: Market segments
3.4 Market outlook: Forecast for 2022-2027

Exhibit 14: Chart on Global - Market size and forecast 2022-2027 ($ million)
Exhibit 15: Data Table on Global - Market size and forecast 2022-2027 ($ million)
Exhibit 16: Chart on Global Market: Year-over-year growth 2022-2027 (%)
Exhibit 17: Data Table on Global Market: Year-over-year growth 2022-2027 (%)
4 Historic Market Size
4.1 Global interactive whiteboard market 2017 - 2021

Exhibit 18: Historic Market Size – Data Table on global interactive whiteboard market 2017 - 2021 ($ million)
4.2 End-user Segment Analysis 2017 - 2021

Exhibit 19: Historic Market Size – End-user Segment 2017 - 2021 ($ million)
4.3 Technology Segment Analysis 2017 - 2021

Exhibit 20: Historic Market Size – Technology Segment 2017 - 2021 ($ million)
4.4 Geography Segment Analysis 2017 - 2021

Exhibit 21: Historic Market Size – Geography Segment 2017 - 2021 ($ million)
4.5 Country Segment Analysis 2017 - 2021

Exhibit 22: Historic Market Size – Country Segment 2017 - 2021 ($ million)
5 Five Forces Analysis
5.1 Five forces summary

Exhibit 23: Five forces analysis - Comparison between 2022 and 2027
5.2 Bargaining power of buyers

Exhibit 24: Chart on Bargaining power of buyers – Impact of key factors 2022 and 2027
5.3 Bargaining power of suppliers

Exhibit 25: Bargaining power of suppliers – Impact of key factors in 2022 and 2027
5.4 Threat of new entrants

Exhibit 26: Threat of new entrants – Impact of key factors in 2022 and 2027
5.5 Threat of substitutes

Exhibit 27: Threat of substitutes – Impact of key factors in 2022 and 2027
5.6 Threat of rivalry

Exhibit 28: Threat of rivalry – Impact of key factors in 2022 and 2027
5.7 Market condition

Exhibit 29: Chart on Market condition - Five forces 2022 and 2027
6 Market Segmentation by End-user
6.1 Market segments

Exhibit 30: Chart on End-user - Market share 2022-2027 (%)
Exhibit 31: Data Table on End-user - Market share 2022-2027 (%)
6.2 Comparison by End-user

Exhibit 32: Chart on Comparison by End-user
Exhibit 33: Data Table on Comparison by End-user
6.3 Education sector - Market size and forecast 2022-2027

Exhibit 34: Chart on Education sector - Market size and forecast 2022-2027 ($ million)
Exhibit 35: Data Table on Education sector - Market size and forecast 2022-2027 ($ million)
Exhibit 36: Chart on Education sector - Year-over-year growth 2022-2027 (%)
Exhibit 37: Data Table on Education sector - Year-over-year growth 2022-2027 (%)
6.4 Corporate sector - Market size and forecast 2022-2027

Exhibit 38: Chart on Corporate sector - Market size and forecast 2022-2027 ($ million)
Exhibit 39: Data Table on Corporate sector - Market size and forecast 2022-2027 ($ million)
Exhibit 40: Chart on Corporate sector - Year-over-year growth 2022-2027 (%)
Exhibit 41: Data Table on Corporate sector - Year-over-year growth 2022-2027 (%)
6.5 Market opportunity by End-user

Exhibit 42: Market opportunity by End-user ($ million)
Exhibit 43: Data Table on Market opportunity by End-user ($ million)
7 Market Segmentation by Technology
7.1 Market segments

Exhibit 44: Chart on Technology - Market share 2022-2027 (%)
Exhibit 45: Data Table on Technology - Market share 2022-2027 (%)
7.2 Comparison by Technology

Exhibit 46: Chart on Comparison by Technology
Exhibit 47: Data Table on Comparison by Technology
7.3 Resistive - Market size and forecast 2022-2027

Exhibit 48: Chart on Resistive - Market size and forecast 2022-2027 ($ million)
Exhibit 49: Data Table on Resistive - Market size and forecast 2022-2027 ($ million)
Exhibit 50: Chart on Resistive - Year-over-year growth 2022-2027 (%)
Exhibit 51: Data Table on Resistive - Year-over-year growth 2022-2027 (%)
7.4 Capacitive - Market size and forecast 2022-2027

Exhibit 52: Chart on Capacitive - Market size and forecast 2022-2027 ($ million)
Exhibit 53: Data Table on Capacitive - Market size and forecast 2022-2027 ($ million)
Exhibit 54: Chart on Capacitive - Year-over-year growth 2022-2027 (%)
Exhibit 55: Data Table on Capacitive - Year-over-year growth 2022-2027 (%)
7.5 Infrared - Market size and forecast 2022-2027

Exhibit 56: Chart on Infrared - Market size and forecast 2022-2027 ($ million)
Exhibit 57: Data Table on Infrared - Market size and forecast 2022-2027 ($ million)
Exhibit 58: Chart on Infrared - Year-over-year growth 2022-2027 (%)
Exhibit 59: Data Table on Infrared - Year-over-year growth 2022-2027 (%)
7.6 Electromagnetic pen - Market size and forecast 2022-2027

Exhibit 60: Chart on Electromagnetic pen - Market size and forecast 2022-2027 ($ million)
Exhibit 61: Data Table on Electromagnetic pen - Market size and forecast 2022-2027 ($ million)
Exhibit 62: Chart on Electromagnetic pen - Year-over-year growth 2022-2027 (%)
Exhibit 63: Data Table on Electromagnetic pen - Year-over-year growth 2022-2027 (%)
7.7 Others - Market size and forecast 2022-2027

Exhibit 64: Chart on Others - Market size and forecast 2022-2027 ($ million)
Exhibit 65: Data Table on Others - Market size and forecast 2022-2027 ($ million)
Exhibit 66: Chart on Others - Year-over-year growth 2022-2027 (%)
Exhibit 67: Data Table on Others - Year-over-year growth 2022-2027 (%)
7.8 Market opportunity by Technology

Exhibit 68: Market opportunity by Technology ($ million)
Exhibit 69: Data Table on Market opportunity by Technology ($ million)
8 Customer Landscape
8.1 Customer landscape overview

Exhibit 70: Analysis of price sensitivity, lifecycle, customer purchase basket, adoption rates, and purchase criteria
9 Geographic Landscape
9.1 Geographic segmentation

Exhibit 71: Chart on Market share by geography 2022-2027 (%)
Exhibit 72: Data Table on Market share by geography 2022-2027 (%)
9.2 Geographic comparison

Exhibit 73: Chart on Geographic comparison
Exhibit 74: Data Table on Geographic comparison
9.3 North America - Market size and forecast 2022-2027

Exhibit 75: Chart on North America - Market size and forecast 2022-2027 ($ million)
Exhibit 76: Data Table on North America - Market size and forecast 2022-2027 ($ million)
Exhibit 77: Chart on North America - Year-over-year growth 2022-2027 (%)
Exhibit 78: Data Table on North America - Year-over-year growth 2022-2027 (%)
9.4 Europe - Market size and forecast 2022-2027

Exhibit 79: Chart on Europe - Market size and forecast 2022-2027 ($ million)
Exhibit 80: Data Table on Europe - Market size and forecast 2022-2027 ($ million)
Exhibit 81: Chart on Europe - Year-over-year growth 2022-2027 (%)
Exhibit 82: Data Table on Europe - Year-over-year growth 2022-2027 (%)
9.5 APAC - Market size and forecast 2022-2027

Exhibit 83: Chart on APAC - Market size and forecast 2022-2027 ($ million)
Exhibit 84: Data Table on APAC - Market size and forecast 2022-2027 ($ million)
Exhibit 85: Chart on APAC - Year-over-year growth 2022-2027 (%)
Exhibit 86: Data Table on APAC - Year-over-year growth 2022-2027 (%)
9.6 South America - Market size and forecast 2022-2027

Exhibit 87: Chart on South America - Market size and forecast 2022-2027 ($ million)
Exhibit 88: Data Table on South America - Market size and forecast 2022-2027 ($ million)
Exhibit 89: Chart on South America - Year-over-year growth 2022-2027 (%)
Exhibit 90: Data Table on South America - Year-over-year growth 2022-2027 (%)
9.7 Middle East and Africa - Market size and forecast 2022-2027

Exhibit 91: Chart on Middle East and Africa - Market size and forecast 2022-2027 ($ million)
Exhibit 92: Data Table on Middle East and Africa - Market size and forecast 2022-2027 ($ million)
Exhibit 93: Chart on Middle East and Africa - Year-over-year growth 2022-2027 (%)
Exhibit 94: Data Table on Middle East and Africa - Year-over-year growth 2022-2027 (%)
9.8 US - Market size and forecast 2022-2027

Exhibit 95: Chart on US - Market size and forecast 2022-2027 ($ million)
Exhibit 96: Data Table on US - Market size and forecast 2022-2027 ($ million)
Exhibit 97: Chart on US - Year-over-year growth 2022-2027 (%)
Exhibit 98: Data Table on US - Year-over-year growth 2022-2027 (%)
9.9 UK - Market size and forecast 2022-2027

Exhibit 99: Chart on UK - Market size and forecast 2022-2027 ($ million)
Exhibit 100: Data Table on UK - Market size and forecast 2022-2027 ($ million)
Exhibit 101: Chart on UK - Year-over-year growth 2022-2027 (%)
Exhibit 102: Data Table on UK - Year-over-year growth 2022-2027 (%)
9.10 China - Market size and forecast 2022-2027

Exhibit 103: Chart on China - Market size and forecast 2022-2027 ($ million)
Exhibit 104: Data Table on China - Market size and forecast 2022-2027 ($ million)
Exhibit 105: Chart on China - Year-over-year growth 2022-2027 (%)
Exhibit 106: Data Table on China - Year-over-year growth 2022-2027 (%)
9.11 Japan - Market size and forecast 2022-2027

Exhibit 107: Chart on Japan - Market size and forecast 2022-2027 ($ million)
Exhibit 108: Data Table on Japan - Market size and forecast 2022-2027 ($ million)
Exhibit 109: Chart on Japan - Year-over-year growth 2022-2027 (%)
Exhibit 110: Data Table on Japan - Year-over-year growth 2022-2027 (%)
9.12 Germany - Market size and forecast 2022-2027

Exhibit 111: Chart on Germany - Market size and forecast 2022-2027 ($ million)
Exhibit 112: Data Table on Germany - Market size and forecast 2022-2027 ($ million)
Exhibit 113: Chart on Germany - Year-over-year growth 2022-2027 (%)
Exhibit 114: Data Table on Germany - Year-over-year growth 2022-2027 (%)
9.13 Market opportunity by geography

Exhibit 115: Market opportunity by geography ($ million)
Exhibit 116: Data Tables on Market opportunity by geography ($ million)
10 Drivers, Challenges, and Trends
10.3 Impact of drivers and challenges

Exhibit 117: Impact of drivers and challenges in 2022 and 2027
11 Vendor Landscape
11.2 Vendor landscape

Exhibit 118: Overview on Criticality of inputs and Factors of differentiation
11.3 Landscape disruption

Exhibit 119: Overview on factors of disruption
11.4 Industry risks

Exhibit 120: Impact of key risks on business
12 Vendor Analysis
12.1 Vendors covered

Exhibit 121: Vendors covered
12.2 Market positioning of vendors

Exhibit 122: Matrix on vendor position and classification
12.3 Alphabet Inc.

Exhibit 123: Alphabet Inc. - Overview
Exhibit 124: Alphabet Inc. - Business segments
Exhibit 125: Alphabet Inc. - Key news
Exhibit 126: Alphabet Inc. - Key offerings
Exhibit 127: Alphabet Inc. - Segment focus
12.4 Boxlight Corp

Exhibit 128: Boxlight Corp - Overview
Exhibit 129: Boxlight Corp - Product / Service
Exhibit 130: Boxlight Corp - Key offerings
12.5 Cisco Systems Inc.

Exhibit 131: Cisco Systems Inc. - Overview
Exhibit 132: Cisco Systems Inc. - Business segments
Exhibit 133: Cisco Systems Inc. - Key news
Exhibit 134: Cisco Systems Inc. - Key offerings
Exhibit 135: Cisco Systems Inc. - Segment focus
12.6 Hitachi Ltd.

Exhibit 136: Hitachi Ltd. - Overview
Exhibit 137: Hitachi Ltd. - Business segments
Exhibit 138: Hitachi Ltd. - Key news
Exhibit 139: Hitachi Ltd. - Key offerings
Exhibit 140: Hitachi Ltd. - Segment focus
12.7 Leyard Group

Exhibit 141: Leyard Group - Overview
Exhibit 142: Leyard Group - Product / Service
Exhibit 143: Leyard Group - Key offerings
12.8 LG Electronics Inc.

Exhibit 144: LG Electronics Inc. - Overview
Exhibit 145: LG Electronics Inc. - Product / Service
Exhibit 146: LG Electronics Inc. - Key offerings
12.9 Microsoft Corp.

Exhibit 147: Microsoft Corp. - Overview
Exhibit 148: Microsoft Corp. - Business segments
Exhibit 149: Microsoft Corp. - Key news
Exhibit 150: Microsoft Corp. - Key offerings
Exhibit 151: Microsoft Corp. - Segment focus
12.10 Panasonic Holdings Corp.

Exhibit 152: Panasonic Holdings Corp. - Overview
Exhibit 153: Panasonic Holdings Corp. - Business segments
Exhibit 154: Panasonic Holdings Corp. - Key news
Exhibit 155: Panasonic Holdings Corp. - Key offerings
Exhibit 156: Panasonic Holdings Corp. - Segment focus
12.11 Promethean World Ltd.

Exhibit 157: Promethean World Ltd. - Overview
Exhibit 158: Promethean World Ltd. - Product / Service
Exhibit 159: Promethean World Ltd. - Key offerings
12.12 Qisda Corp.

Exhibit 160: Qisda Corp. - Overview
Exhibit 161: Qisda Corp. - Business segments
Exhibit 162: Qisda Corp. - Key offerings
Exhibit 163: Qisda Corp. - Segment focus
12.13 Ricoh Co. Ltd.

Exhibit 164: Ricoh Co. Ltd. - Overview
Exhibit 165: Ricoh Co. Ltd. - Business segments
Exhibit 166: Ricoh Co. Ltd. - Key news
Exhibit 167: Ricoh Co. Ltd. - Key offerings
Exhibit 168: Ricoh Co. Ltd. - Segment focus
12.14 Samsung Electronics Co. Ltd.

Exhibit 169: Samsung Electronics Co. Ltd. - Overview
Exhibit 170: Samsung Electronics Co. Ltd. - Business segments
Exhibit 171: Samsung Electronics Co. Ltd. - Key news
Exhibit 172: Samsung Electronics Co. Ltd. - Key offerings
Exhibit 173: Samsung Electronics Co. Ltd. - Segment focus
12.15 Sharp NEC Display Solutions of America Inc.

Exhibit 174: Sharp NEC Display Solutions of America Inc. - Overview
Exhibit 175: Sharp NEC Display Solutions of America Inc. - Product / Service
Exhibit 176: Sharp NEC Display Solutions of America Inc. - Key offerings
12.16 SMART Technologies ULC

Exhibit 177: SMART Technologies ULC - Overview
Exhibit 178: SMART Technologies ULC - Product / Service
Exhibit 179: SMART Technologies ULC - Key offerings
12.17 ViewSonic Corp.

Exhibit 180: ViewSonic Corp. - Overview
Exhibit 181: ViewSonic Corp. - Product / Service
Exhibit 182: ViewSonic Corp. - Key offerings
13 Appendix
13.2 Inclusions and exclusions checklist

Exhibit 183: Inclusions checklist
Exhibit 184: Exclusions checklist
13.3 Currency conversion rates for US$

Exhibit 185: Currency conversion rates for US$
13.4 Research methodology

Exhibit 186: Research methodology
Exhibit 187: Validation techniques employed for market sizing
Exhibit 188: Information sources
13.5 List of abbreviations

Exhibit 189: List of abbreviations