Meal Kit Market Analysis Forecast 2023-2027
The meal kit market size is estimated to grow at a CAGR of 20.32% between 2022 and 2027. The size of the market is forecast to increase by USD 23,737.8 million. The growth of the market depends on several factors, including cost-effective solutions and availability of diverse choices, customers looking for a convenient option with the advent of a faster lifestyle and the increasing awareness among consumers about the consumption of nutritious and healthy meals.
This report extensively covers market segmentation by product (vegetarian and non-vegetarian), distribution channel (instore and online), and geography (North America, Europe, APAC, South America, and Middle East and Africa. It also includes an in-depth analysis of drivers, trends, and challenges. Furthermore, the report includes historic market data from 2017 to 2021.
 What will the Size of the Meal Kit Market be During the Forecast Period?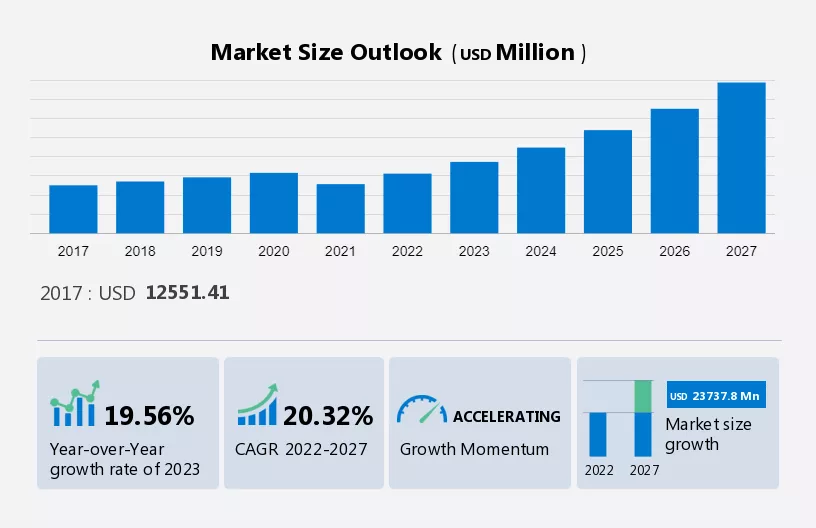 To learn more about this report, Download Report Sample
Meal Kit Market: Key Drivers, Trends, Challenges, and Customer Landscape
Cost-effective solutions and the availability of diverse choices are notably driving the meal kit market growth, although factors such as the preference for home-cooked food may impede the market growth.  Our researchers analyzed the data with 2022 as the base year, along with the key drivers, trends, and challenges. A holistic analysis of drivers will help companies refine their marketing strategies to gain a competitive advantage.
Key Meal Kit Market Driver 
Cost-effective solutions and the availability of diverse choices are the key factors driving the global meal kit market growth. As meal kits enhance convenience; consumers do not have to plan for groceries, which, in turn, saves time in preparing food. It also encourages consumers to venture outside of their comfort zones in terms of ingredients and preparation techniques. Vendors ensure that the meal kit provided to the consumers has easy-to-follow recipes, cooking tips, as well as the exact amount of ingredients required to prepare the meal in a convenient, pre-packaged box.
Vendors also ensure that the ingredients provided to consumers are fresh and in the appropriate quantity to prepare the meal. This helps single-person households and double-income households to get freshly prepared meals. As many consumers are opting for a faster lifestyle, vendors are providing consumers with subscription options, wherein consumers can sign up for a subscription and indicate their dietary preferences. Once subscribed, the meal kits will be delivered regularly to the consumers without the need to place an order on a daily basis. After subscribing to these plans, consumers can stick to their dietary resolutions more effectively. This will lead to an increase in demand for meal kits during the forecast period.
Key Meal Kit Market Trends
The rise in demand for gluten-free meal kits will fuel the global meal kit market growth. Gluten is a protein present in several types of grains. Owing to the awareness of the health effects of gluten, consumers are increasingly looking for gluten-free food products. Gluten-free food is generally consumed by individuals with gluten-related disorders such as Celiac disease and non-Celiac gluten sensitivity.
Celiac disease is an autoimmune disorder that damages the small intestine. In individuals with Celiac disease, the small intestine cannot process gluten that is present in foods such as wheat, rye, and barley. It damages the small intestine lining and disrupts the absorption of nutrients from food. Thus, many food service outlets are offering gluten-free food on their menus to cater to the demands of such customers. For instance, Sun Basket offers gluten-free Korean BBQ chicken lettuce cups with a kimchi meal kit for those who are gluten-sensitive. Such factors will drive market growth during the forecast period.
Key Meal Kit Market Challenge
The preference for home-cooked food is a major challenge to the global meal kit market growth. Consumers are increasingly becoming health-conscious and prefer home-cooked food over food from food service delivery outlets, including meal kits. Home-cooked food has high nutritional value and is fresh and hygienic. The chances of contamination are also less when compared with meal kits. Thus, the preference for and consumption of home-cooked food are increasing.
Home-cooked food is more economical than outside food, including that is prepared using meal kits. Also, other benefits like portion control, hygiene, food safety, better control over allergens, cost benefits, and maximum nutrients encourage consumers to opt for home-cooked food. The number of cooking shows and programs on TV and the Internet is also increasing. Many consumers are more likely to watch such cooking programs and try preparing the same dishes at home. This is also a factor that is leading to the increased preference for food prepared at home, thereby hindering market growth.
Key Meal Kit Market Customer Landscape
The meal kit industry report includes the adoption lifecycle of the market, covering from the innovator's stage to the laggard's stage. It focuses on adoption rates in different regions based on penetration. Furthermore, the report also includes key purchase criteria and drivers of price sensitivity to help companies evaluate and develop their growth strategies.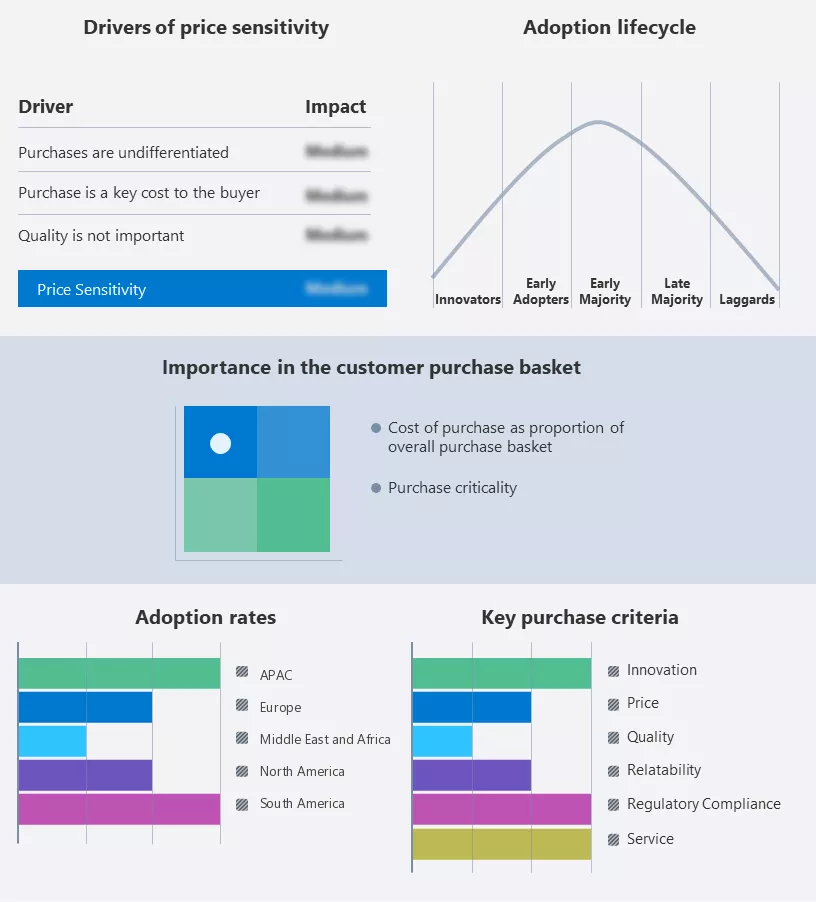 Global Meal Kit Market Customer Landscape
Who are the Major Meal Kit Market Vendors?                                     
Vendors are implementing various strategies, such as strategic alliances, partnerships, mergers and acquisitions, geographical expansion, and product/service launches, to enhance their presence in the market.
Albertsons companies - The company offers meal kits such as Armour LunchMakers' ham and cheese portable meal kits and Campbell's Sauces and oven creamy garlic butter chicken. Also, the company offers grocery products, general merchandise, health and beauty care products, pharmacy products, fuel, and other goods and services.
The report also includes detailed analyses of the competitive landscape of the market and information about 15 market vendors, including:
Albertsons Companies Inc.
Bistro MD LLC
Blue Apron Holdings Inc.
Gobble Inc.
HelloFresh SE
Koninklijke Ahold Delhaize NV
Marley Spoon AG
My Food Bag Ltd.
Nestle SA
NH Foods Ltd.
Oisix ra daichi Inc
Riverford Organic Farmers Ltd.
Siam Food Services Ltd.
SimplyCook Ltd.
Sun Basket Inc.
Qualitative and quantitative analysis of vendors has been conducted to help clients understand the wider business environment as well as the strengths and weaknesses of key market players. Data is qualitatively analyzed to categorize vendors as pure play, category-focused, industry-focused, and diversified; it is quantitatively analyzed to categorize vendors as dominant, leading, strong, tentative, and weak.
What is the Fastest-Growing Segments in the Meal Kit Market?
The market share growth by the vegetarian segment will be significant during the forecast period. Vegetarian meal kit delivery services are expected to grow because the global meal kit market is experiencing a significant shift from non-vegetarian meals to vegetarian or vegan meal kits, especially in countries such as the US, the UK, and Germany. In the US, consumers are adopting a vegan diet, due to which an increasing number of vendors are offering vegan meal kits as per consumer needs and taste preferences. This is because consumers in the US are slowly becoming aware of the harmful health effects of animal products. Similarly, some consumers in the UK are shifting to a vegan or vegetarian diet.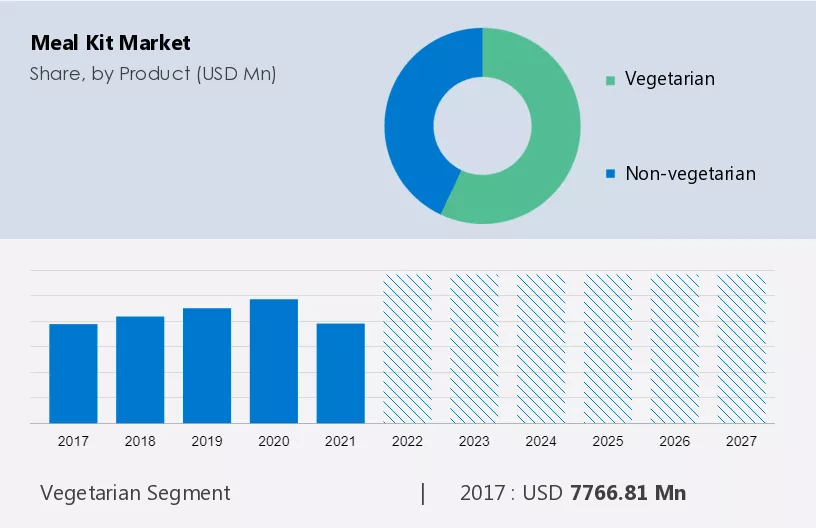 Get a glance at the market contribution of various segments  Request a PDF Sample
During 2017-2021, vegan food experienced seven-fold growth in demand globally. This has also encouraged several vendors to offer vegetarian meals. For instance, SimplyCook Ltd., one of the meal kit vendors in the UK, provides a special segment of the meal for vegetarians. Some consumers are shifting toward a vegan or vegetarian diet because of ethical reasons, while some are shifting due to the food safety issues and effects of fish and meat production on the environment. This will lead to the growth of the vegetarian meal kit industry. 
Which are the Key Regions for the Meal Kit Market?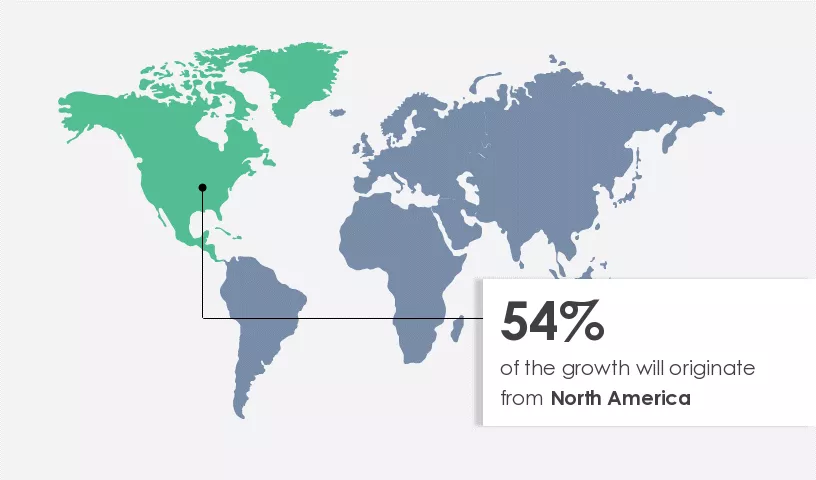 For more insights on the market share of various regions Request PDF Sample now!
North America is projected to contribute 54% by 2027. Technavio's analysts have elaborately explained the regional trends and drivers that shape the market during the forecast period.
Meal kits have changed cooking styles in North America over the years. They have removed the need to plan meals, shop for groceries, and in many cases, prepare ingredients for meals. The competition is high among the vendors in the region; hence, they are increasingly focusing on differentiating their products to gain market share. For instance, Purple Carrot (Three Limes Inc.) offers vegan meal kits and performance meals, especially those recommended for professional athletes. To cater to the demand for gluten-free consumers in the region, SunBasket Inc. offers gluten-free meal kits and kits for those following paleo and vegetarian diets.
Segment Overview
The meal kit market research report forecasts market growth by revenue at global, regional & country levels and provides an analysis of the latest trends and growth opportunities from 2017 to 2027. The market has been segmented by type, product, distribution channel, and region.
Product Outlook ( USD Million, 2017 - 2027)

Vegetarian
Non-vegetarian

Distribution Channel Outlook ( USD Million, 2017 - 2027)
Region Outlook ( USD Million, 2017 - 2027)

Europe

The U.K.
Germany
France
Rest of Europe

Middle East & Africa

Saudi Arabia
South Africa
Rest of the Middle East & Africa
Meal Kit Market Scope

Report Coverage

Details

Page number

160

Base year

2022

Historic period

2017-2021

Forecast period

2023-2027

Growth momentum & CAGR

Accelerate at a CAGR of 20.32%

Market growth 2023-2027

$ 23737.8 million

Market structure

Fragmented

YoY growth (%)

19.56

Regional analysis

North America, Europe, APAC, South America, and Middle East and Africa

Performing market contribution

North America at 54%

Key countries

US, China, Japan, UK, and Germany

Competitive landscape

Leading Vendors, Market Positioning of Vendors, Competitive Strategies, and Industry Risks

Key companies profiled

Albertsons Companies Inc., Bistro MD LLC, Blue Apron Holdings Inc., Gobble Inc., HelloFresh SE, Koninklijke Ahold Delhaize NV, Marley Spoon AG, My Food Bag Ltd., Nestle SA, NH Foods Ltd., Oisix ra daichi Inc, Riverford Organic Farmers Ltd., Siam Food Services Ltd., SimplyCook Ltd., Sun Basket Inc., The Kroger Co., Tyson Foods Inc., William Jackson Food Group, and Woop Ltd.

Market dynamics

Parent market analysis, Market growth inducers and obstacles, Fast-growing and slow-growing segment analysis, COVID-19 impact and recovery analysis and future consumer dynamics, Market condition analysis for the forecast period

Customization purview

If our report has not included the data that you are looking for, you can reach out to our analysts and get segments customized.
What are the Key Data Covered in this Meal Kit Market Report?
CAGR of the market during the forecast period.
Detailed information on factors that will drive the growth of the market between 2023 and 2027
Precise estimation of the size of the meal kit market size and its contribution of the market in focus to the parent market.
Accurate predictions about upcoming trends and changes in consumer behaviour.
Growth of the market industry across North America, Europe, APAC, South America, and Middle East and Africa.
Thorough analysis of the market's competitive landscape and detailed information about vendors.
Comprehensive analysis of factors that will challenge the growth of meal kit market vendors.
We can help! Our analysts can customize this report to meet your requirements. Get in touch