Sports Betting Market Report 2023-2027 
The Global Sports Betting Market size is estimated to grow by USD 143.73 billion exhibiting a positive  CAGR of 10.68% between 2023 and 2027. 
Our report offers in-depth analysis of sports betting market drivers, trends, opportunities, challenges, and restraints, with segmentation by platform (online and offline), type (basketball, horse riding, football, and others), and geography (APAC, Europe, North America, South America, and Middle East and Africa). Additionally, Technavio provides valuable insights through value chain analysis, parent market analysis, Porter's Five analysis, vendor analysis, and COVID-19 impact data. The report also includes a thorough analysis of historical market data from 2017 to 2022.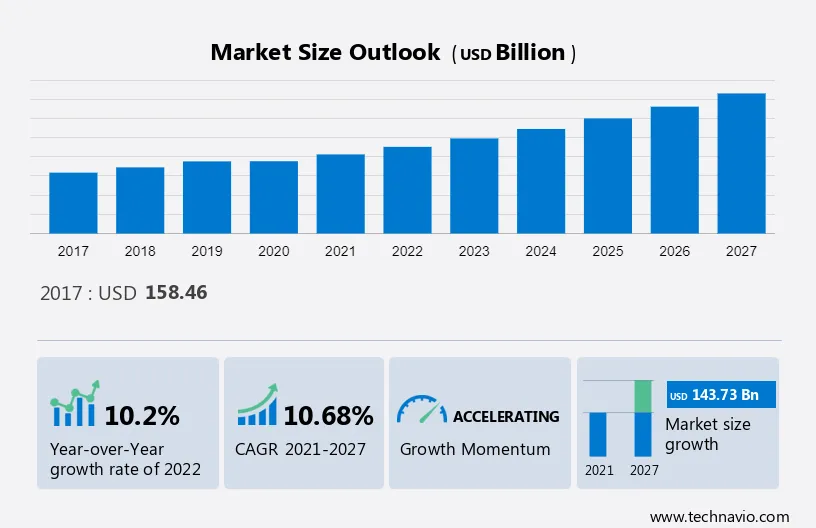 Get Additional Information on this Report, Request Free Sample in PDF
The sports betting market faced setbacks in 2020 due to the COVID-19 outbreak, leading to widespread event cancellations and postponements. For example, international tennis tournaments in China were canceled, the Tokyo 2020 Olympics were postponed to 2021, and the Maybank Championship in golf was delayed. These disruptions had a detrimental effect on the market in the region during 2020. However, with the onset of vaccination campaigns and the reopening of the venues, the market experienced a resurgence in the first half of 2021. Additionally, the growing demand for online services is anticipated to drive online sports betting market growth in the forecast period.
Sports Betting Market Analysis and Insights
The digital revolution is a key factor driving the market growth. In 2021, the global Internet penetration rate was over 63%, with APAC being the leader in terms of the volume of Internet users. With the recent global digital revolution, cloud platforms are being preferred for storing data, and there has been a burgeoning increase in online transactions and payments among commercial as well as retail users. Also, there has been a significant increase in the consumption of digital content in the last five years, with the growing Internet speed.
With extensive digitalization, the sports betting landscape has fundamentally changed, and the global sports betting market has shifted toward online or virtual applications and platforms. Modern consumers can easily engage in sports betting and conveniently connect with sportsbooks due to easy access to the Internet and the availability of various mobile apps and online platforms. Also, online and virtual sports betting platforms are equipped with advanced statistics and innovative graphics that attract end-users. Therefore, the digital revolution is expected to increase the popularity of sports betting and eventually drive the global online sports betting market during the forecast period.
The emergence of machine learning is one of the major sports betting market trends. A key trend in the global market is the growing impact of technology, particularly blockchain, virtual reality, and AI, including machine learning. Major vendors are investing in machine learning for predictive algorithms to enhance betting efficiency. With machine learning, sports event outcomes are increasingly predictable. The future may see automated tools and robots dominating the market, driven by massive data analysis. This shift is expected to benefit the market.
Scandals and illegal practices in betting is a key factor hindering the growth of the sports betting market. The recent legalization of sports betting in the US has led to a focus on preventing corruption. Match-fixing scandals have arisen, leading to efforts to identify and prevent fraud. Sportradar's Universal Fraud Detection System (UFDS) helps monitor sports integrity, with football being the most susceptible. The illegal betting market also poses a challenge to the global sports betting industry. Security and credibility issues in online sports betting, including a lack of dispute resolution frameworks, transparency, and responsible gaming standards, further hinder market growth. Cybersecurity vulnerabilities in online platforms are also a concern, making security and credibility key issues for the online sports betting market's future.
Sports Betting Market Segmentation
The basketball segment is estimated to witness significant growth during the forecast period. Basketball betting is the process of making predictions about the outcome of basketball games. Basketball betting can be done in many ways, including straight-up bets, point spreads, and over/under bets through online and offline channels. There are various other types of basketball betting, such as betting on popular teams, betting on underdogs, and betting on basketball totals. 
Sports Betting Market
By Type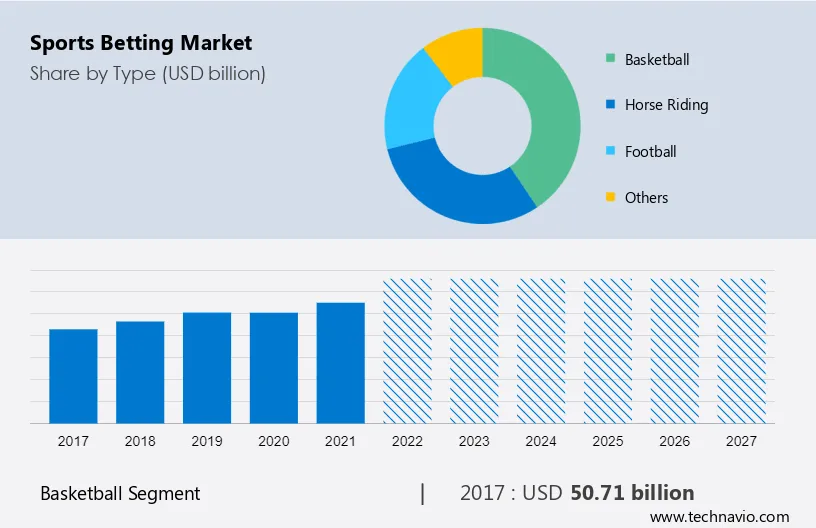 Get a glance at the market contribution of various segments Request Free Sample
The basketball segment was the largest segment and was valued at  USD 50.17 billion in 2017. The rising number of events by sports events by the National Basketball Association (NBA) and others is driving the growth of the basketball segment. Basketball betting is mainly done through online channels as it provides huge discounts and bonuses. Also, the availability of a number of betting sites such as DraftKings, FanDuel, PointsBet, BetRivers, BetMGM, Caesars, Bet365, Unibet, and WynnBET in legalized sports betting is driving the demand for basketball betting. Thus, owing to an increase in the demand for basketball betting is expected to propel the online sports betting market growth.
APAC is estimated to contribute 42% to the growth of the global market during the forecast period. Technavio's analysts have elaborately explained the regional trends and drivers that shape the market during the forecast period.
Sports Betting Market
By APAC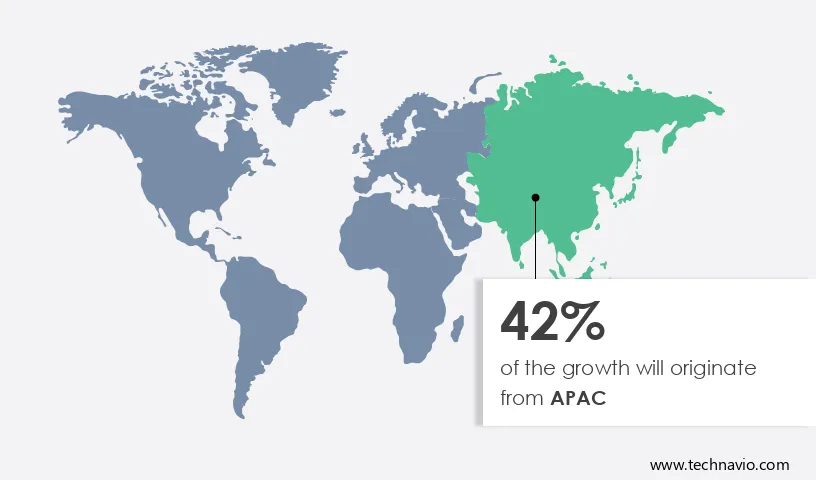 For more insights on the market share of various regions Request Free Samples
In emerging countries of APAC, betting is done on various sports, including cricket, horse racing, and soccer. The regulations differ from country to country. For instance, there are many forms of betting in China, including sports betting, lottery, and casino games. Chinese Sports Lottery has a monopoly on all sports betting in Mainland China, and all non-approved betting sites are forbidden. Hong Kong permits certain forms of gambling, such as betting on horse racing and soccer matches, as well as lotteries, but they are allowed only if managed by the government-sponsored Hong Kong Jockey Club (HKJC).
On the other hand, gambling is banned in Singapore. In developed countries such as Japan, online gambling is not allowed, and gambling is strongly restricted and controlled. However, online access to foreign sites is available. Horse racing and lotteries are the only fully legal gambling activities. Furthermore, in countries such as India, while betting is still not legal, the growing penetration of fantasy sports platforms such as Dream 11 is estimated to be a key driving factor for the online sports betting market in focus. 
Sports Betting Market Customer Landscape
The market research report includes the adoption lifecycle of the market, covering from the innovator's stage to the laggard's stage. It focuses on adoption rates in different regions based on penetration. Furthermore, the report also includes key purchase criteria and drivers of price sensitivity to help companies evaluate and develop their growth strategies.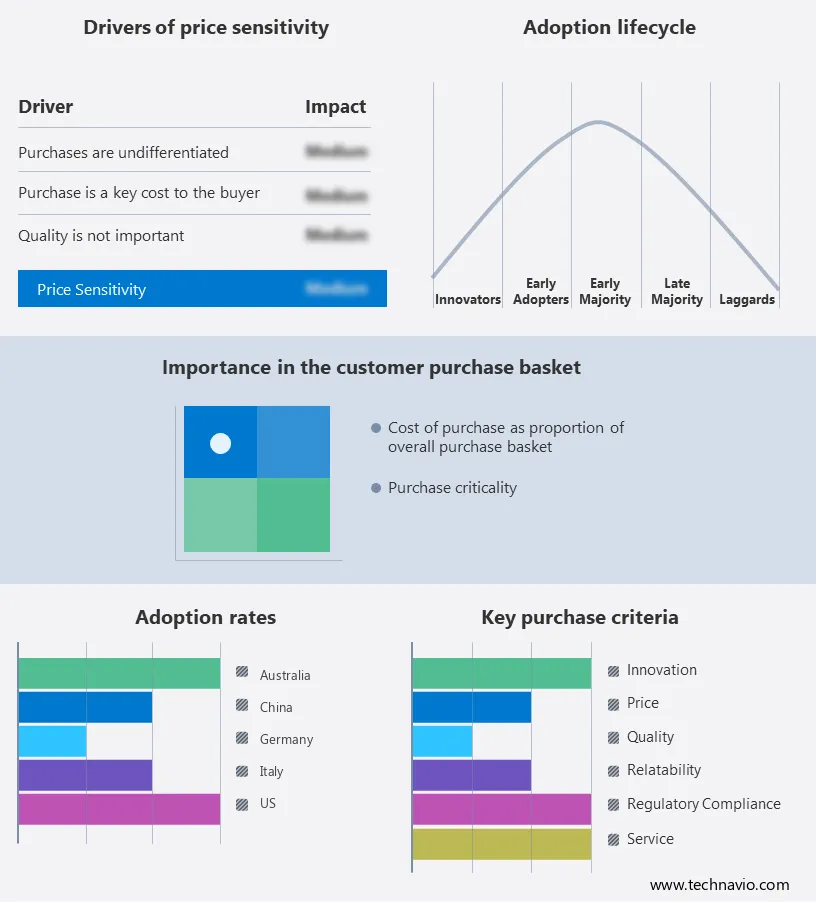 Segment Overview
The sports betting market report forecasts market growth by revenue at global, regional & country levels and provides an analysis of the latest trends and growth opportunities from 2018 to 2028. 
Type Outlook (USD Billion, 2017 - 2027)

Basketball
Horse riding
Football
Other 
Platform Outlook (USD Billion, 2017 - 2027)
Region Outlook (USD Billion, 2017 - 2027)

Europe

U.K.
Germany
France
Rest of Europe

Middle East & Africa

Saudi Arabia
South Africa
Rest of the Middle East & Africa

APAC
Sports Betting Market Scope

Report Coverage

Details

Page number

168

Base year

2022

Historic period

2018 - 2022

Forecast period

2023-2027

Growth momentum & CAGR

Accelerate at a CAGR of 10.68%

Market growth 2023-2027

USD 143.73 billion

Market structure

Fragmented

YoY growth 2022-2023(%)

10.2

Regional analysis

APAC, Europe, North America, South America, and Middle East and Africa

Performing market contribution

APAC at 42%

Key countries

US, China, Australia, Germany, and Italy

Competitive landscape

Leading Companies, Market Positioning of Companies, Competitive Strategies, and Industry Risks

Key companies profiled

888 Holdings Plc, Bet365 Group Ltd., BetOnline, Betsson AB, Bettilt, Caesars Entertainment Inc., Chancier BV, Churchill Downs Inc., DraftKings Inc., Entain Plc, Flutter Entertainment Plc, Kindred Group Plc, LeoVegas AB, Parimatch, Penn Entertainment Inc., Sportech Plc, SportsBetting.ag, The Betway Group, The Hong Kong Jockey Club, and Webis Holdings Plc

Market dynamics

Parent market analysis, Market growth inducers and obstacles, Fast-growing and slow-growing segment analysis, COVID 19 impact and recovery analysis and future consumer dynamics, Market condition analysis for forecast period

Customization purview

If our report has not included the data that you are looking for, you can reach out to our analysts and get segments customized.
What are the Key Data Covered in this Sports Betting Market Research Report?
CAGR of the market during the forecast period
Detailed information on factors that will drive the growth of the

market 

between 2023 and 2027
Precise estimation of the size of the market  size and its contribution of the market in focus to the parent market
Accurate predictions about upcoming trends and changes in consumer behaviour
Growth of the market industry across APAC, Europe, North America, South America, and Middle East and Africa
Thorough analysis of the market's competitive landscape and detailed information about companies
Comprehensive analysis of factors that will challenge the growth of market companies
We can help! Our analysts can customize this market research report to meet your requirements. 
1 Executive Summary
1.1 Market overview

Exhibit 01: Executive Summary – Chart on Market Overview
Exhibit 02: Executive Summary – Data Table on Market Overview
Exhibit 03: Executive Summary – Chart on Global Market Characteristics
Exhibit 04: Executive Summary – Chart on Market by Geography
Exhibit 05: Executive Summary – Chart on Market Segmentation by Platform
Exhibit 06: Executive Summary – Chart on Market Segmentation by Type
Exhibit 07: Executive Summary – Chart on Incremental Growth
Exhibit 08: Executive Summary – Data Table on Incremental Growth
Exhibit 09: Executive Summary – Chart on Vendor Market Positioning
2 Market Landscape
2.1 Market ecosystem

Exhibit 10: Parent market
Exhibit 11: Market Characteristics
3 Market Sizing
3.1 Market definition

Exhibit 12: Offerings of vendors included in the market definition
3.2 Market segment analysis

Exhibit 13: Market segments
3.4 Market outlook: Forecast for 2022-2027

Exhibit 14: Chart on Global - Market size and forecast 2022-2027 ($ billion)
Exhibit 15: Data Table on Global - Market size and forecast 2022-2027 ($ billion)
Exhibit 16: Chart on Global Market: Year-over-year growth 2022-2027 (%)
Exhibit 17: Data Table on Global Market: Year-over-year growth 2022-2027 (%)
4 Historic Market Size
4.1 Global sports betting market 2017 - 2021

Exhibit 18: Historic Market Size – Data Table on Global sports betting market 2017 - 2021 ($ billion)
4.2 Platform Segment Analysis 2017 - 2021

Exhibit 19: Historic Market Size – Platform Segment 2017 - 2021 ($ billion)
4.3 Type Segment Analysis 2017 - 2021

Exhibit 20: Historic Market Size – Type Segment 2017 - 2021 ($ billion)
4.4 Geography Segment Analysis 2017 - 2021

Exhibit 21: Historic Market Size – Geography Segment 2017 - 2021 ($ billion)
4.5 Country Segment Analysis 2017 - 2021

Exhibit 22: Historic Market Size – Country Segment 2017 - 2021 ($ billion)
5 Five Forces Analysis
5.1 Five forces summary

Exhibit 23: Five forces analysis - Comparison between 2022 and 2027
5.2 Bargaining power of buyers

Exhibit 24: Chart on Bargaining power of buyers – Impact of key factors 2022 and 2027
5.3 Bargaining power of suppliers

Exhibit 25: Bargaining power of suppliers – Impact of key factors in 2022 and 2027
5.4 Threat of new entrants

Exhibit 26: Threat of new entrants – Impact of key factors in 2022 and 2027
5.5 Threat of substitutes

Exhibit 27: Threat of substitutes – Impact of key factors in 2022 and 2027
5.6 Threat of rivalry

Exhibit 28: Threat of rivalry – Impact of key factors in 2022 and 2027
5.7 Market condition

Exhibit 29: Chart on Market condition - Five forces 2022 and 2027
6 Market Segmentation by Platform
6.1 Market segments

Exhibit 30: Chart on Platform - Market share 2022-2027 (%)
Exhibit 31: Data Table on Platform - Market share 2022-2027 (%)
6.2 Comparison by Platform

Exhibit 32: Chart on Comparison by Platform
Exhibit 33: Data Table on Comparison by Platform
6.3 Online - Market size and forecast 2022-2027

Exhibit 34: Chart on Online - Market size and forecast 2022-2027 ($ billion)
Exhibit 35: Data Table on Online - Market size and forecast 2022-2027 ($ billion)
Exhibit 36: Chart on Online - Year-over-year growth 2022-2027 (%)
Exhibit 37: Data Table on Online - Year-over-year growth 2022-2027 (%)
6.4 Offline - Market size and forecast 2022-2027

Exhibit 38: Chart on Offline - Market size and forecast 2022-2027 ($ billion)
Exhibit 39: Data Table on Offline - Market size and forecast 2022-2027 ($ billion)
Exhibit 40: Chart on Offline - Year-over-year growth 2022-2027 (%)
Exhibit 41: Data Table on Offline - Year-over-year growth 2022-2027 (%)
6.5 Market opportunity by Platform

Exhibit 42: Market opportunity by Platform ($ billion)
Exhibit 43: Data Table on Market opportunity by Platform ($ billion)
7 Market Segmentation by Type
7.1 Market segments

Exhibit 44: Chart on Type - Market share 2022-2027 (%)
Exhibit 45: Data Table on Type - Market share 2022-2027 (%)
7.2 Comparison by Type

Exhibit 46: Chart on Comparison by Type
Exhibit 47: Data Table on Comparison by Type
7.3 Basketball - Market size and forecast 2022-2027

Exhibit 48: Chart on Basketball - Market size and forecast 2022-2027 ($ billion)
Exhibit 49: Data Table on Basketball - Market size and forecast 2022-2027 ($ billion)
Exhibit 50: Chart on Basketball - Year-over-year growth 2022-2027 (%)
Exhibit 51: Data Table on Basketball - Year-over-year growth 2022-2027 (%)
7.4 Horse riding - Market size and forecast 2022-2027

Exhibit 52: Chart on Horse riding - Market size and forecast 2022-2027 ($ billion)
Exhibit 53: Data Table on Horse riding - Market size and forecast 2022-2027 ($ billion)
Exhibit 54: Chart on Horse riding - Year-over-year growth 2022-2027 (%)
Exhibit 55: Data Table on Horse riding - Year-over-year growth 2022-2027 (%)
7.5 Football - Market size and forecast 2022-2027

Exhibit 56: Chart on Football - Market size and forecast 2022-2027 ($ billion)
Exhibit 57: Data Table on Football - Market size and forecast 2022-2027 ($ billion)
Exhibit 58: Chart on Football - Year-over-year growth 2022-2027 (%)
Exhibit 59: Data Table on Football - Year-over-year growth 2022-2027 (%)
7.6 Others - Market size and forecast 2022-2027

Exhibit 60: Chart on Others - Market size and forecast 2022-2027 ($ billion)
Exhibit 61: Data Table on Others - Market size and forecast 2022-2027 ($ billion)
Exhibit 62: Chart on Others - Year-over-year growth 2022-2027 (%)
Exhibit 63: Data Table on Others - Year-over-year growth 2022-2027 (%)
7.7 Market opportunity by Type

Exhibit 64: Market opportunity by Type ($ billion)
Exhibit 65: Data Table on Market opportunity by Type ($ billion)
8 Customer Landscape
8.1 Customer landscape overview

Exhibit 66: Analysis of price sensitivity, lifecycle, customer purchase basket, adoption rates, and purchase criteria
9 Geographic Landscape
9.1 Geographic segmentation

Exhibit 67: Chart on Market share by geography 2022-2027 (%)
Exhibit 68: Data Table on Market share by geography 2022-2027 (%)
9.2 Geographic comparison

Exhibit 69: Chart on Geographic comparison
Exhibit 70: Data Table on Geographic comparison
9.3 APAC - Market size and forecast 2022-2027

Exhibit 71: Chart on APAC - Market size and forecast 2022-2027 ($ billion)
Exhibit 72: Data Table on APAC - Market size and forecast 2022-2027 ($ billion)
Exhibit 73: Chart on APAC - Year-over-year growth 2022-2027 (%)
Exhibit 74: Data Table on APAC - Year-over-year growth 2022-2027 (%)
9.4 Europe - Market size and forecast 2022-2027

Exhibit 75: Chart on Europe - Market size and forecast 2022-2027 ($ billion)
Exhibit 76: Data Table on Europe - Market size and forecast 2022-2027 ($ billion)
Exhibit 77: Chart on Europe - Year-over-year growth 2022-2027 (%)
Exhibit 78: Data Table on Europe - Year-over-year growth 2022-2027 (%)
9.5 North America - Market size and forecast 2022-2027

Exhibit 79: Chart on North America - Market size and forecast 2022-2027 ($ billion)
Exhibit 80: Data Table on North America - Market size and forecast 2022-2027 ($ billion)
Exhibit 81: Chart on North America - Year-over-year growth 2022-2027 (%)
Exhibit 82: Data Table on North America - Year-over-year growth 2022-2027 (%)
9.6 South America - Market size and forecast 2022-2027

Exhibit 83: Chart on South America - Market size and forecast 2022-2027 ($ billion)
Exhibit 84: Data Table on South America - Market size and forecast 2022-2027 ($ billion)
Exhibit 85: Chart on South America - Year-over-year growth 2022-2027 (%)
Exhibit 86: Data Table on South America - Year-over-year growth 2022-2027 (%)
9.7 Middle East and Africa - Market size and forecast 2022-2027

Exhibit 87: Chart on Middle East and Africa - Market size and forecast 2022-2027 ($ billion)
Exhibit 88: Data Table on Middle East and Africa - Market size and forecast 2022-2027 ($ billion)
Exhibit 89: Chart on Middle East and Africa - Year-over-year growth 2022-2027 (%)
Exhibit 90: Data Table on Middle East and Africa - Year-over-year growth 2022-2027 (%)
9.8 China - Market size and forecast 2022-2027

Exhibit 91: Chart on China - Market size and forecast 2022-2027 ($ billion)
Exhibit 92: Data Table on China - Market size and forecast 2022-2027 ($ billion)
Exhibit 93: Chart on China - Year-over-year growth 2022-2027 (%)
Exhibit 94: Data Table on China - Year-over-year growth 2022-2027 (%)
9.9 US - Market size and forecast 2022-2027

Exhibit 95: Chart on US - Market size and forecast 2022-2027 ($ billion)
Exhibit 96: Data Table on US - Market size and forecast 2022-2027 ($ billion)
Exhibit 97: Chart on US - Year-over-year growth 2022-2027 (%)
Exhibit 98: Data Table on US - Year-over-year growth 2022-2027 (%)
9.10 Germany - Market size and forecast 2022-2027

Exhibit 99: Chart on Germany - Market size and forecast 2022-2027 ($ billion)
Exhibit 100: Data Table on Germany - Market size and forecast 2022-2027 ($ billion)
Exhibit 101: Chart on Germany - Year-over-year growth 2022-2027 (%)
Exhibit 102: Data Table on Germany - Year-over-year growth 2022-2027 (%)
9.11 Australia - Market size and forecast 2022-2027

Exhibit 103: Chart on Australia - Market size and forecast 2022-2027 ($ billion)
Exhibit 104: Data Table on Australia - Market size and forecast 2022-2027 ($ billion)
Exhibit 105: Chart on Australia - Year-over-year growth 2022-2027 (%)
Exhibit 106: Data Table on Australia - Year-over-year growth 2022-2027 (%)
9.12 Italy - Market size and forecast 2022-2027

Exhibit 107: Chart on Italy - Market size and forecast 2022-2027 ($ billion)
Exhibit 108: Data Table on Italy - Market size and forecast 2022-2027 ($ billion)
Exhibit 109: Chart on Italy - Year-over-year growth 2022-2027 (%)
Exhibit 110: Data Table on Italy - Year-over-year growth 2022-2027 (%)
9.13 Market opportunity by geography

Exhibit 111: Market opportunity by geography ($ billion)
Exhibit 112: Data Tables on Market opportunity by geography ($ billion)
10 Drivers, Challenges, and Trends
10.3 Impact of drivers and challenges

Exhibit 113: Impact of drivers and challenges in 2022 and 2027
11 Vendor Landscape
11.2 Vendor landscape

Exhibit 114: Overview on Criticality of inputs and Factors of differentiation
11.3 Landscape disruption

Exhibit 115: Overview on factors of disruption
11.4 Industry risks

Exhibit 116: Impact of key risks on business
12 Vendor Analysis
12.1 Vendors covered

Exhibit 117: Vendors covered
12.2 Market positioning of vendors

Exhibit 118: Matrix on vendor position and classification
12.3 888 Holdings Plc

Exhibit 119: 888 Holdings Plc - Overview
Exhibit 120: 888 Holdings Plc - Business segments
Exhibit 121: 888 Holdings Plc - Key news
Exhibit 122: 888 Holdings Plc - Key offerings
Exhibit 123: 888 Holdings Plc - Segment focus
12.4 Bet365 Group Ltd.

Exhibit 124: Bet365 Group Ltd. - Overview
Exhibit 125: Bet365 Group Ltd. - Product / Service
Exhibit 126: Bet365 Group Ltd. - Key offerings
12.5 BetOnline

Exhibit 127: BetOnline - Overview
Exhibit 128: BetOnline - Product / Service
Exhibit 129: BetOnline - Key offerings
12.6 Betsson AB

Exhibit 130: Betsson AB - Overview
Exhibit 131: Betsson AB - Product / Service
Exhibit 132: Betsson AB - Key offerings
12.7 Caesars Entertainment Inc.

Exhibit 133: Caesars Entertainment Inc. - Overview
Exhibit 134: Caesars Entertainment Inc. - Business segments
Exhibit 135: Caesars Entertainment Inc. - Key news
Exhibit 136: Caesars Entertainment Inc. - Key offerings
Exhibit 137: Caesars Entertainment Inc. - Segment focus
12.8 Churchill Downs Inc.

Exhibit 138: Churchill Downs Inc. - Overview
Exhibit 139: Churchill Downs Inc. - Business segments
Exhibit 140: Churchill Downs Inc. - Key news
Exhibit 141: Churchill Downs Inc. - Key offerings
Exhibit 142: Churchill Downs Inc. - Segment focus
12.9 DraftKings Inc.

Exhibit 143: DraftKings Inc. - Overview
Exhibit 144: DraftKings Inc. - Business segments
Exhibit 145: DraftKings Inc. - Key offerings
Exhibit 146: DraftKings Inc. - Segment focus
12.10 Entain Plc

Exhibit 147: Entain Plc - Overview
Exhibit 148: Entain Plc - Business segments
Exhibit 149: Entain Plc - Key news
Exhibit 150: Entain Plc - Key offerings
Exhibit 151: Entain Plc - Segment focus
12.11 Flutter Entertainment Plc

Exhibit 152: Flutter Entertainment Plc - Overview
Exhibit 153: Flutter Entertainment Plc - Business segments
Exhibit 154: Flutter Entertainment Plc - Key news
Exhibit 155: Flutter Entertainment Plc - Key offerings
Exhibit 156: Flutter Entertainment Plc - Segment focus
12.12 Kindred Group Plc

Exhibit 157: Kindred Group Plc - Overview
Exhibit 158: Kindred Group Plc - Business segments
Exhibit 159: Kindred Group Plc - Key offerings
Exhibit 160: Kindred Group Plc - Segment focus
12.13 LeoVegas AB

Exhibit 161: LeoVegas AB - Overview
Exhibit 162: LeoVegas AB - Key offerings
12.14 Penn Entertainment Inc.

Exhibit 163: Penn Entertainment Inc. - Overview
Exhibit 164: Penn Entertainment Inc. - Product / Service
Exhibit 165: Penn Entertainment Inc. - Key offerings
12.15 Sportech Plc

Exhibit 166: Sportech Plc - Overview
Exhibit 167: Sportech Plc - Product / Service
Exhibit 168: Sportech Plc - Key offerings
12.16 The Betway Group

Exhibit 169: The Betway Group - Overview
Exhibit 170: The Betway Group - Key offerings
12.17 The Hong Kong Jockey Club

Exhibit 171: The Hong Kong Jockey Club - Overview
Exhibit 172: The Hong Kong Jockey Club - Product / Service
Exhibit 173: The Hong Kong Jockey Club - Key offerings
13 Appendix
13.2 Inclusions and exclusions checklist

Exhibit 174: Inclusions checklist
Exhibit 175: Exclusions checklist
13.3 Currency conversion rates for US$

Exhibit 176: Currency conversion rates for US$
13.4 Research methodology

Exhibit 177: Research methodology
Exhibit 178: Validation techniques employed for market sizing
Exhibit 179: Information sources
13.5 List of abbreviations

Exhibit 180: List of abbreviations