The Global Water Softener Market Size is estimated to grow by USD 879.16 million between 2022 and 2027 accelerating at a CAGR of 8.5%.
This water softener market report extensively covers market segmentation by end-user (residential and commercial), product (salt-based and salt-free), and geography (North America, Europe, APAC, South America, and Middle East and Africa). It also includes an in-depth analysis of drivers, trends, and challenges.
Growing consumer awareness about water-softening products and the benefits of water softener systems is a primary factor driving the market growth. Soft water is free of minerals that cause water hardness, making it easier for soaps and detergents to dissolve and reducing the need for cleaning products by over 50%. It also prevents skin and hair irritation and clogging of pipes and appliances, prolonging their lifespan. Water softeners are extremely effective products for household appliances.  However, water from salt-based softeners contains high levels of sodium and needs further treatment before being used for cooking or drinking. Nonetheless, it can be used for daily tasks like bathing, running appliances, and washing utensils. Due to the depletion and degradation of freshwater sources, water softeners are becoming increasingly popular, particularly in POE systems. As a result, sales of water softeners are expected to rise during the forecast period.
What will be the Water Softener Market Size During the Forecast Period?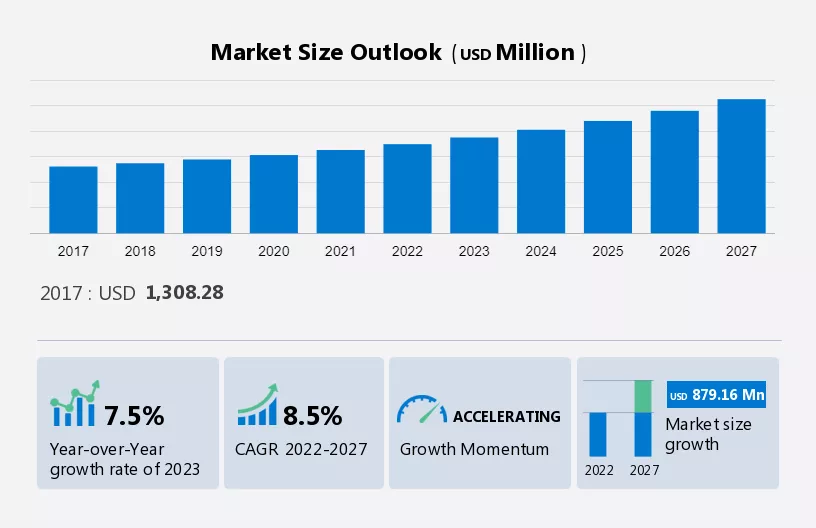 To learn more about this report, View Sample PDF
Water Softener Market Report: Key Drivers, Trends, Challenges
 Our researchers analyzed the data with 2022 as the base year and the key drivers, trends, and challenges. A holistic analysis of drivers will help companies refine their marketing strategies to gain a competitive advantage.
Key Water Softener Market Drivers
An increase in savings on energy and cost as well as an improved life cycle of water-dependent home appliances is a driving factor positively impacting the water softener market growth. Water softener systems save energy and money by extending the lifespan of appliances and reducing the use of soaps and detergents. Appliances such as water heaters, washing machines, and dishwashers benefit from water softeners as they prevent buildup of limescale, which can cause blockages and reduce efficiency. RO water purifiers also benefit from water softeners as the high hardness level of hard water can damage fragile membranes. Additionally, bathroom fittings such as taps and showerheads can accumulate limescale from hard water, leading to a reduction in flow rate. The expenses incurred from using hard water largely outweigh the cost of installing water softeners.
Significant Water Softener Market Trends
The emergence of recent technological advances to improve the efficiency of water, salt, and regeneration is a major trend driving the water softener market. To address environmental concerns, manufacturers, customers, and governments are seeking sustainable and eco-friendly products. Key manufacturers are introducing technologically advanced water softening systems that reduce water wastage and consumption by up to 20% during the regeneration process, as well as improve salt efficiency. Some manufacturers have introduced demand-initiated regeneration (DIR) systems that reduce the frequency of product regeneration and the sodium and chloride contribution from water softeners. For instance, Culligan's Culligan Connect app offers product information, manual regeneration, and a bypass option that only softens water when needed. Similarly, Water-Right Inc.'s Wripli mobile app allows users to receive alerts, monitor water usage, and adjust regeneration cycles. These technological advancements are expected to drive the global water softener market in the coming years.
Major Water Softener Market Challenges
Salt-based water softener systems pose a major challenge for the water softener market. Salt-based water softeners use NaCl, which breaks down into sodium and chloride ions in the wastewater treatment plant, and these can negatively impact the local ecosystem. High concentrations of sodium and potassium in soft water can lead to soil compaction, limit nutrient absorption, and reduce plant growth. Discharging salt brine into sewer lines can make it difficult for sanitation departments to recycle the water. Additionally, the backwashing filtration system wastes thousands of gallons of water each year, increasing the total dissolved solids in groundwater and reclaimed wastewater. These factors pose a threat to the growth of the market, which may be impacted by environmental concerns.
Get a detailed analysis of drivers, trends, and challenges  View the Sample PDF now!
Water Softener Market Segmentation by End-User, Product,  Geography
End-User Analysis
The market share growth by the residential segment will be significant during the forecast period. The rapid growth in urbanization, government funding for housing projects, low-interest rates on housing loans, and the growing popularity of high-rise residential buildings are expected to boost the global residential construction market during the forecast period. According to The World Bank Group, 2021, the global urban population increased from 56% in 2019 to 57.11% in 2021. Such a rise in urbanization will increase the demand for residential buildings in urban areas. Such factors will increase segment growth during the forecast period.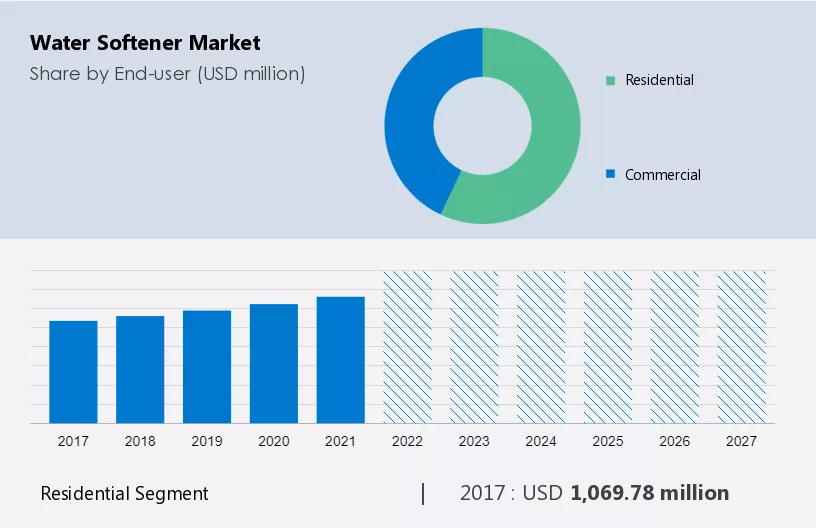 Get a glance at the market contribution of various segments View Sample PDF 
The residential segment was valued at USD 1,069.78 million in 2017 and continue to grow by 2021. The use of water softeners reduces the time taken to clean a home, decreases the need for harsh chemicals used to remove scale buildup, and ensures appliances run efficiently. Water softeners use a technology that naturally conditions water and minimizes scaling. It helps to reduce existing and prevent new scale formation, thereby protecting plumbing works, dishes, and home appliances. Such benefits offered by water softeners are likely to increase their demand among residential consumers during the forecast period. 
Product Analysis
Based on the product, the salt-based segment is dominating the water softener market. Salt-based water softener systems are popular for providing soft water and are expected to attract more customers. However, these systems have environmental concerns due to water wastage during regeneration and high installation costs. They are recommended for homeowners with extreme water hardness levels. Some consumers in North America prefer salt-free systems. Salt-based systems remove essential nutrients like calcium and magnesium and replace them with sodium, which can pose health risks, particularly for people with high blood pressure and kidney or heart issues. Some US states have banned salt-based systems due to the high sodium content and water wastage, impacting the environment.
Geographical Analysis
North America is estimated to contribute 33% to the growth of the global market during the forecast period. Technavio's analysts have elaborately explained the regional trends and drivers that shape the market during the forecast period.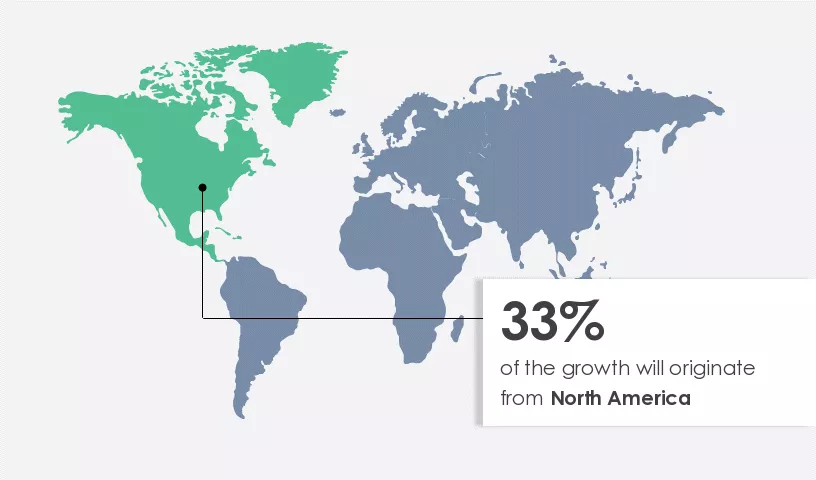 For more insights on the market share of various regions View the Sample PDF now!
The region has a stable growth rate, with most US states having hard water due to limestone surfaces. While the municipal water supply is not treated for hardness, consumers in North America are increasingly opting for advanced and automatic water softener systems. This trend is driven by factors such as growing consumer awareness, increasing expenditure on discretionary products, promotions by marketers, and rising homeownership among Millennials. These factors are expected to increase the adoption of water softeners in North America during the forecast period.
Take a quick look at various segments. View the Sample PDF now!
Covid Recovery Analysis
This water softener market research report provides a market forecast for each segment and analyzes their individual contributions to the overall market growth, considering the impact of COVID-19 and the recovery strategies for each segment. The pandemic led to an increase in demand for water softeners in North America, and in 2021, with the rollout of COVID-19 vaccinations, the demand for water softeners from the commercial segment also increased. Additionally, manufacturers are focusing on developing advanced technology-based water softening devices to address environmental concerns related to wastewater, which is expected to drive market growth in the region.
Who are the Major Water Softener Market Players?
Vendors are implementing various strategies, such as strategic alliances, partnerships, mergers and acquisitions, geographical expansion, and product/service launches, to enhance their presence in the Water Softener Market. One of the major vendor in the market include:
Kinetico Inc.- The key offering of the companay is water softeners such as Automatic 40, Automatic 8L and Autosoft 25L. The company also offers Aerator, Arsenic Guard, Calcite Backwashing Filter, Chloramine Reduction System, Dechlorinator, Macrolite Backwashing Filter, Neutralizer, Powerline PRO Series Filters, Scale Reduction System (SRS), and Sulfur Guard Backwashing Filter.
The report also includes detailed analyses of the competitive landscape of the market and information about 15 market vendors, including:
A. O. Smith Corp.
Aquia Water Treatment Systems LLC
BWT Holding GmbH
Culligan International Co.
Enviro Water Products
EVOQUA WATER TECHNOLOGIES CORP.
Haier Smart Home Co. Ltd.
Harvey Water Softeners Ltd.
Honeywell International Inc
Indian Ion Exchange and Chemicals Ltd.
KENT RO Systems Ltd.
NuvoH20 LLC
Pearl Water Technologies
Pentair Plc
Pure Aqua Inc.
Unilever PLC
US Water Systems Inc.
Whirlpool Corp.
3M Co.
Qualitative and quantitative analysis of vendors has been conducted to help clients understand the wider business environment as well as the strengths and weaknesses of key market players. Data is qualitatively analyzed to categorize vendors as pure play, category-focused, industry-focused, and diversified. Furthermore, it is also quantitatively analyzed to categorize vendors as dominant, leading, strong, tentative, and weak.
Segment Overview
The market research report forecasts market growth by revenue at global, regional & country levels and provides an analysis of the latest trends and growth opportunities from 2017 to 2027. 
End-User Outlook (USD Million, 2017 - 2027)
Product Outlook (USD Million, 2017 - 2027)
Region Outlook (USD Million, 2017 - 2027)

Europe

U.K.
Germany
France
Rest of Europe

Middle East & Africa

Saudi Arabia
South Africa
Rest of the Middle East & Africa
Water Softener Market Scope

Report Coverage

Details

Page number

167

Base year

2022

Historic period

2017-2021

Forecast period

2023-2027

Growth momentum & CAGR

Accelerate at a CAGR of 8.5%

Market growth 2023-2027

USD 879.16 million

Market structure

Fragmented

YoY growth 2022-2023(%)

7.5

Regional analysis

North America, Europe, APAC, South America, and Middle East and Africa

Performing market contribution

North America at 33%

Key countries

US, China, India, UK, and Germany

Competitive landscape

Leading Vendors, Market Positioning of Vendors, Competitive Strategies, and Industry Risks

Key companies profiled

A. O. Smith Corp., Aquia Water Treatment Systems LLC, BWT Holding GmbH, Culligan International Co., Enviro Water Products, EVOQUA WATER TECHNOLOGIES CORP., Haier Smart Home Co. Ltd., Harvey Water Softeners Ltd., Honeywell International Inc, Indian Ion Exchange and Chemicals Ltd., KENT RO Systems Ltd., Kinetico Inc., NuvoH20 LLC, Pearl Water Technologies, Pentair Plc, Pure Aqua Inc., Unilever PLC, US Water Systems Inc., Whirlpool Corp., and 3M Co.

Market dynamics

Parent market analysis, Market growth inducers and obstacles, Fast-growing and slow-growing segment analysis, COVID 19 impact and recovery analysis and future consumer dynamics, Market condition analysis for forecast period

Customization purview

If our report has not included the data that you are looking for, you can reach out to our analysts and get segments customized.
What are the Key Data Covered in this Water Softener Market Report?
CAGR of the market during the forecast period
Detailed information on factors that will drive the growth of the

Water Softener Market

between 2023 and 2027
Precise estimation of the size of the water softener market size and its contribution of the market in focus to the parent market
Accurate predictions about upcoming trends and changes in consumer behavior
Growth of the market industry across North America, Europe, APAC, South America, and Middle East and Africa
Thorough analysis of the market's competitive landscape and detailed information about vendors
Detailed analysis of customer landscape covering Diver of price sensitivity, Adoption of the lifecycle, and key purchase criteria
Vendor landscape comparing criticality of inputs and factors of differentiation
Exclusive Matrix on vendor position and classification
Comprehensive analysis of factors that will challenge the growth of water softener market vendors
We can help! Our analysts can customize this report to meet your requirements. Get in touch