Business Intelligence Market Report 2023-2027
The Business Intelligence Market size is estimated to grow at a CAGR of 8.49% between 2022 and 2027. The market size is forecast to increase by USD 12,144.6 million. The growth of the market depends on several factors, including mergers and acquisitions, product launches, and growing demand for BI in retail.
This business intelligence market report extensively covers market segmentation by end-user (BFSI, healthcare, ICT, government, and others), deployment (on-premise and cloud), and geography (North America, APAC, Europe, Middle East and Africa, and South America). It also includes an in-depth analysis of drivers, trends, and challenges. Furthermore, the report includes historic market data from 2017 to 2021.
What will be the Size of the Business Intelligence Market During the Forecast Period?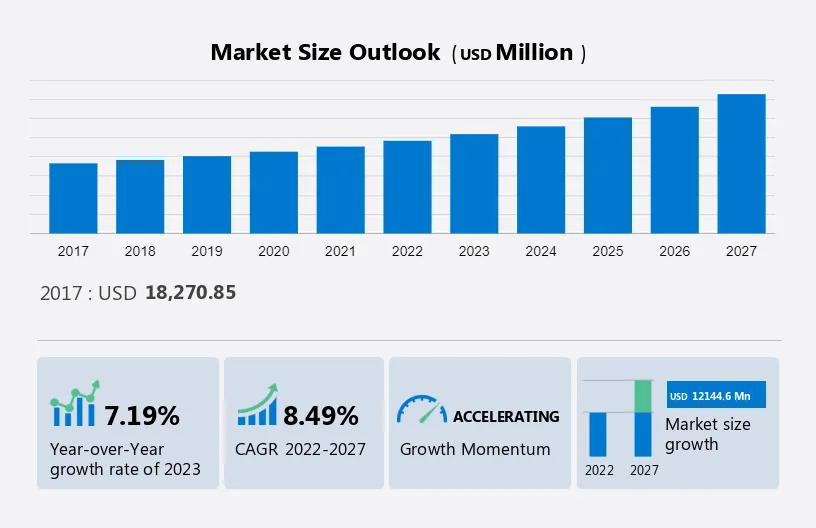 To learn more about this report, View Report Sample
Business Intelligence Market: Key Drivers, Trends, Challenges, and Customer Landscape
The growing demand for BI in retail is notably driving the market growth, although rising concern for data privacy may impede the market growth. Our researchers analyzed the data with 2022 as the base year, along with the key drivers, trends, and challenges. A holistic analysis of drivers will help companies refine their marketing strategies to gain a competitive advantage.
Key Business Intelligence Market Driver
Growing demand for BI in retail is notably driving the Business Intelligence (BI) Market growth. BI is important in the retail industry, where large amounts of data are generated daily from sales transactions, customer interactions, inventory management, and other sources. Retailers can use BI to gain operational insights, optimize strategies, and improve performance. BI tools can be used to analyze sales data by product, location, time period, customer segment, and other variables. It helps retailers spot trends, patterns, and opportunities for growth.

BI can also be used to analyze customer behavior, preferences, and demographics. This allows retailers to better understand their customers, personalize products and improve customer satisfaction. BI tools help retailers optimize inventory levels, reduce out-of-stocks and overstock, and improve the efficiency of their supply chains. BI tools help retailers monitor competitor performance, identify strengths and weaknesses, and adjust strategies accordingly. The rapidly growing retail sector is set to drive the growth of the market during the forecast period. 
Significant Business Intelligence Market Trends
The rising adoption of smart connected devices is a key trend influencing the Business Intelligence Market growth. The adoption of smart connected devices such as smartphones, tablets, wearables, and IoT devices is driving the growth of BI. Intelligently connected devices generate massive amounts of data that can be collected and analyzed by BI tools to generate valuable insights.
For example, a retailer can use data from her IoT sensors to monitor in-store foot traffic, track inventory levels, and optimize store layout. Similarly, manufacturers can use data from connected sensors to monitor device performance, identify maintenance needs, and optimize production processes. Around 21 billion smart gadgets are expected to be installed worldwide by 2025. As the need for machine-to-machine and machine-to-human interactions grows, it will become easier for end users to manage, monitor, and maintain their connected devices. Data from various technologies, such as radio frequency identification (RFID), sensors, barcodes, and global positioning systems, are used in business analytics.
Major Business Intelligence Market Challenge
Rising concern for data privacy is challenging the BI Market growth. IT deployments that use corporate data as part of the value chain face significant data security and privacy barriers. Data security and data protection are one of the biggest issues facing the BI and analytics systems market worldwide. Large clusters of disparate systems and data silos within an organization are connected by business analytics solutions to collect data, use it for insightful analysis, and predict future trends. Predictive models pose a security risk because they have access to all your organization's sensitive information. Administrative errors can open security loopholes that hackers can use to undermine entire organizations. This can ultimately lead to lost brand loyalty, costly litigation, and costly insurance claims.
Additionally, these technical issues, bugs, and interoperability errors cannot be fixed, resulting in system downtime. In the modern world, system failure is not an option, as it can damage a company's brand value. As a result, data security and privacy concerns will pose a major challenge to the BI Market during the forecast period. 
Key Business Intelligence Market Customer Landscape
The report includes the adoption lifecycle of the market, covering from the innovator's stage to the laggard's stage. It focuses on adoption rates in different regions based on penetration. Furthermore, the report also includes key purchase criteria and drivers of price sensitivity to help companies evaluate and develop their growth strategies.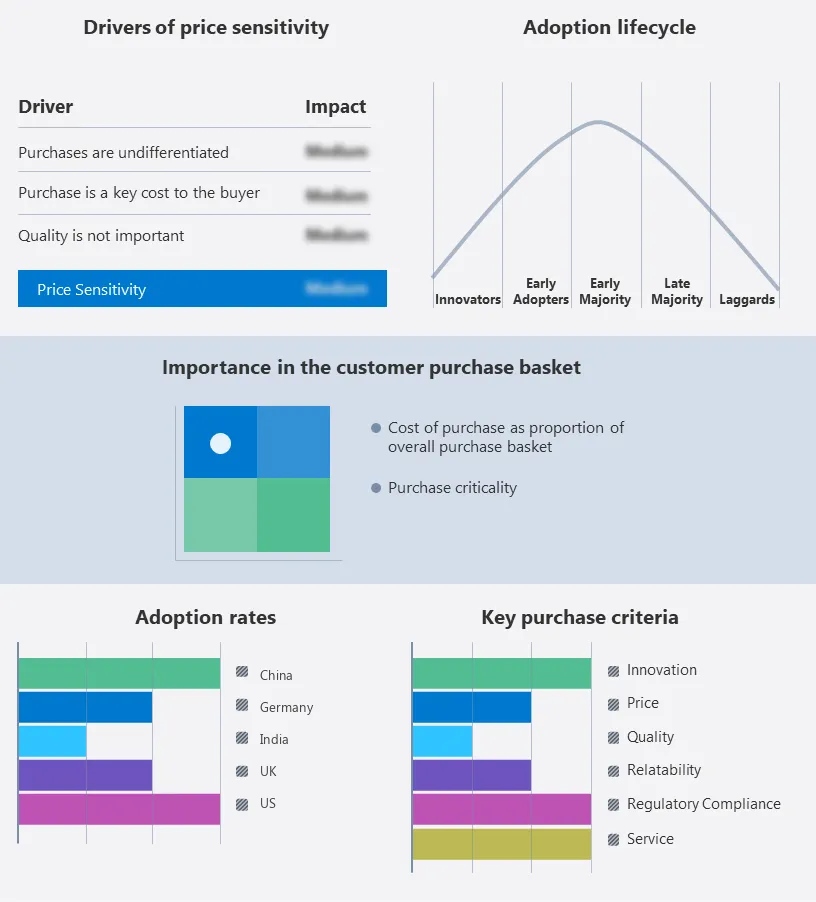 Global Business Intelligence Market Customer Landscape
What is the Fastest-Growing Segment in the Business Intelligence Market?
The market share growth by the BFSI segment will be significant during the forecast period. The banking, financial services, and insurance (BFSI) sector has evolved its capabilities due to the pace of digitization and adoption in recent years. Moreover, they are more competitive than ever and empowering our modern customers. In recent years, technology giants such as Google LLC, Amazon.com Inc., and Paytm have expanded into the financial sector by developing payment and banking apps for their customers. They entered FinTech by leveraging their active user base, partnering with banks,  leveraging the ease of integrating API payments into their services and gaining a foothold in a highly competitive market.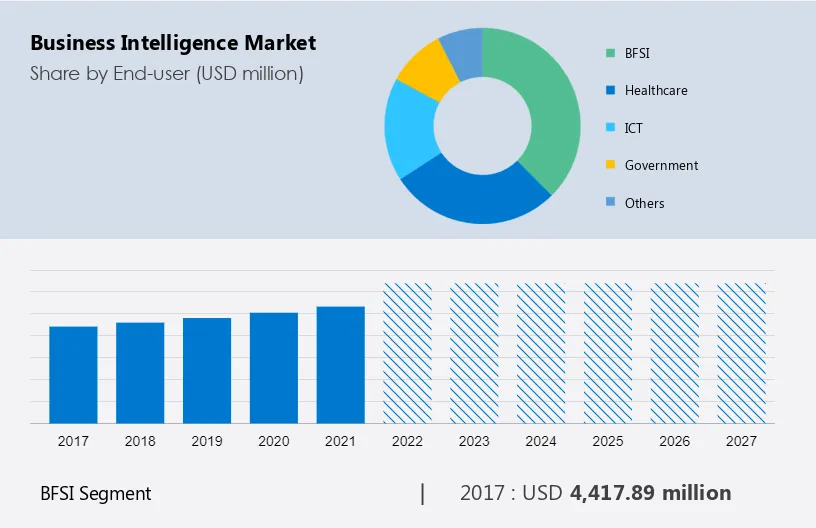 Get a glance at the market contribution of various segments View the PDF Sample
The BFSI segment was valued at USD 4,417.89 million in 2017 and continued to grow until 2021. Technologies and tools like BI and data analytics have always helped banks and financial institutions stay competitive while complying with all required regulations and meeting the digital needs of today's customers. Various leading providers are focused on winning deals to expand their presence. Data analytics and BI solutions help financial institutions make smarter decisions in both financial and operational areas and are expected to drive market growth during the forecast period. 
Which are the Key Regions for the Business Intelligence Market?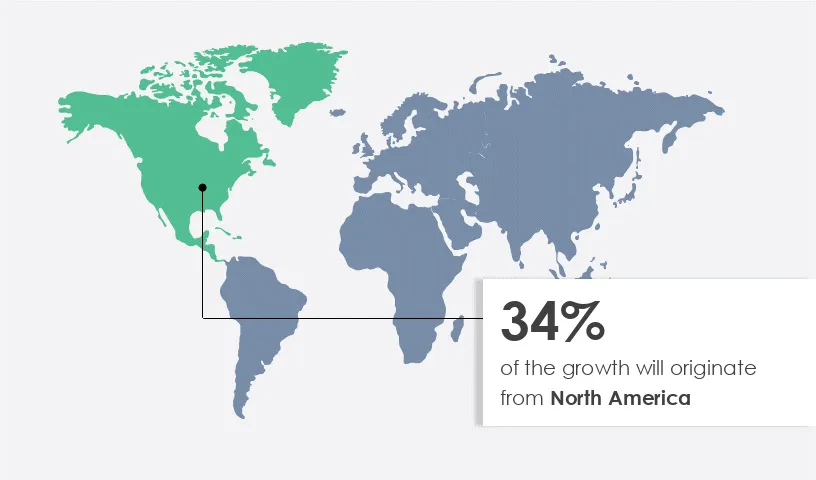 For more insights on the market share of various regions Download PDF Sample now!
North America is estimated to contribute 34% to the growth of the global business intelligence market during the forecast period. Technavio's analysts have elaborately explained the regional trends and drivers that shape the market during the forecast period.
The rise of digitization in the United States has increased the demand for BI software and solutions. In addition, a US company is using cloud services to develop its IT industry. Nearly two-thirds of net new private sector jobs are held by small and medium enterprises (SMEs). The use of BI is increasing in smaller organizations as more employees use BI tools and analytics. In addition, it is expected that BI platforms and software will increase rapidly due to the expanded use of cloud systems. Many companies are expanding their cloud systems. North America is an important market for BI platforms, primarily because it is an early adopter of complex technologies. Additionally, the region is one of the world's leading providers and consumers of data. The large amount of data generated in this region is driving the growth of the market.
COVID-19 had a significant impact on the market in 2020. The pandemic forced governments of many countries across the world to impose lockdowns in 2020, forcing people to stay home to prevent the spread of the virus. In 2020, as more people started working from home, cloud computing was widely adopted to improve data storage. In addition, with the spread of the Internet, there is a need for advanced technologies such as big data and machine learning for evaluating large amounts of data, as well as high demand for BI. 
Who are the Major Business Intelligence Market Vendors?
Vendors are implementing various strategies, such as strategic alliances, partnerships, mergers and acquisitions, geographical expansion, and product/service launches, to enhance their presence in the market.
Arbela Technologies Corp: The company's business intelligence and business analytics services are primarily action-focused. Their team of data engineers and analysts have extensive experience with Power BI, predictive analytics, IoT, and most data discovery tools and methods. 
The report also includes detailed analyses of the competitive landscape of the market and information about 15 market vendors, including:
Amazon.com Inc.
Global Software LLC
Hitachi Ltd.
Idera Inc.
InetSoft Technology Corp.
International Business Machines Corp.
Microsoft Corp.
MicroStrategy Inc.
Oracle Corp.
Palantir Technologies Inc.
Panorama Software Inc.
SAP SE
SAS Institute Inc.
ScienceSoft USA Corp.
Sisense Ltd.
Qualitative and quantitative analysis of vendors has been conducted to help clients understand the wider business environment as well as the strengths and weaknesses of key market players. Data is qualitatively analyzed to categorize vendors as pure play, category-focused, industry-focused, and diversified; it is quantitatively analyzed to categorize vendors as dominant, leading, strong, tentative, and weak.
Segment Overview
The business intelligence market report forecasts market growth by revenue at global, regional & country levels and provides an analysis of the latest trends and growth opportunities from 2017 to 2027. 
End-user Outlook (USD Million, 2017 - 2027)

BFSI
Healthcare
ICT
Government
Others
Deployment Outlook (USD Million, 2017 - 2027)
Region Outlook (USD Million, 2017 - 2027)

Europe

U.K.
Germany
France
Rest of Europe

South America
Middle East & Africa

Saudi Arabia
South Africa
Rest of the Middle East & Africa
Business Intelligence Market Scope

Report Coverage

Details

Page number

176

Base year

2022

Historic period

2017-2021

Forecast period

2023-2027

Growth momentum & CAGR

Accelerate at a CAGR of 8.49%

Market growth 2023-2027

USD 12,144.6 million

Market structure

Fragmented

YoY growth 2022-2023(%)

7.19

Regional analysis

North America, APAC, Europe, Middle East and Africa, and South America

Performing market contribution

North America at 34%

Key countries

US, China, India, UK, and Germany

Competitive landscape

Leading vendors, market positioning of vendors, competitive strategies, and industry risks

Key companies profiled

Amazon.com Inc., Arbela Technologies Corp., Global Software LLC, Hitachi Ltd., Idera Inc., InetSoft Technology Corp., International Business Machines Corp., Microsoft Corp., MicroStrategy Inc., Oracle Corp., Palantir Technologies Inc., Panorama Software Inc., SAP SE, SAS Institute Inc., ScienceSoft USA Corp., Sisense Ltd., TARGIT AS, TIBCO Software Inc., QlikTech international AB, and Salesforce.com Inc.

Market dynamics

Parent market analysis, Market growth inducers and obstacles, Fast-growing and slow-growing segment analysis, COVID-19 impact and recovery analysis and future consumer dynamics, Market condition analysis for forecast period

Customization purview

If our report has not included the data that you are looking for, you can reach out to our analysts and get segments customized.
What are the Key Data Covered in this Business Intelligence Market Research Report?
CAGR of the market during the forecast period
Detailed information on factors that will drive the growth of the

business intelligence market

between 2023 and 2027
Precise estimation of the size of the business intelligence market size and its contribution of the market in focus to the parent market
Accurate predictions about upcoming trends and changes in consumer behavior
Growth of the market industry across North America, APAC, Europe, Middle East and Africa, and South America
Thorough analysis of the market's competitive landscape and detailed information about vendors
Comprehensive analysis of factors that will challenge the growth of business intelligence market vendors
We can help! Our analysts can customize this market research report to meet your requirements. Get in touch