Electric Bus Market by Application, Type, and Geography Segments - Forecast 2023-2027
The  Electric bus market size is forecast to increase by 61.03 thousand units between 2022 and 2027, accelerating at a CAGR of 9.23%. In 2017, the US  held the largest market share, projecting an annual revenue of USD 0.81 thousand unit. The report includes a comprehensive outlook on the Electric Bus Market , offering forecasts for the industry segmented by Application, which comprises Intercity and Intra city. Additionally, it categorizes Type into Pure electric bus and Plug-in hybrid bus and covers Geography regions, including Asia, Europe, North America, and Rest of World (ROW). The report provides market size, historical data spanning from 2017 to 2021, and future projections, all presented in terms of value in (USD million/billion) for each of the mentioned segments.
What will be the Size of the Electric Bus Market During the Forecast Period?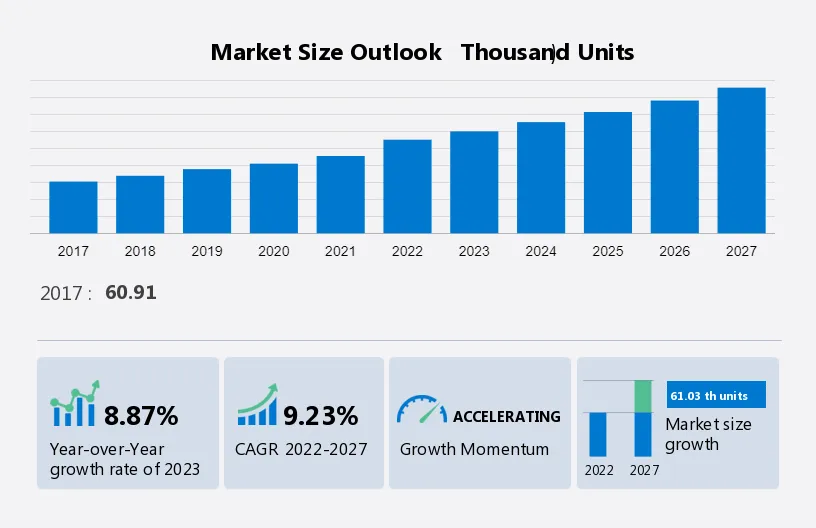 To learn more about this report, Download Report Sample
Electric Bus Market Analysis 
Reduction in battery prices is a key factor driving the market growth. Battery prices play a significant role in the total cost of electric bus production. To enhance efficiency, battery manufacturers are focusing on technological advancements in electric bus batteries, particularly in Li-ion batteries. These advancements have reduced the weight and increased the lifespan of electric buses compared to those using conventional lead-acid and VRLA batteries. Although the initial cost of electric buses is higher than conventional buses by around 30%-35%, any change in battery prices can significantly impact the overall cost of electric buses.
Battery manufacturers achieving economies of scale are continuously reducing battery prices, which will drive down the overall price of electric buses and propel the growth of the global electric bus market during the forecast period. A recent technological innovation involving silicon nanowires fused onto graphite powders promises increased battery range and reduced charge time and cost for electric vehicles. As battery prices decrease, electric buses are expected to approach cost parity with conventional buses, further boosting the electric bus market worldwide.
Electric Bus Market Trends
The growing attraction towards hybrid buses due to rising gasoline prices stresses their advantages, offering cleaner energy through a blend of fuel and battery, emitting net-zero emissions compared to single-fueled cars. These vehicles also benefit from regenerative braking, reduced fuel dependency, and weight savings. Contrarily, hydrogen buses present a promising advancement in zero-emission transportation, aligning with environmental initiatives to reduce carbon emissions. MiWay's collaboration with CUTRIC for a hydrogen bus  fuel-cell electric bus pilot reflects a commitment to exploring cleaner, more sustainable public transit solutions. While hybrid buses emphasize established technology and efficiency, hydrogen buses offer extended ranges and rapid refueling but require significant infrastructure investment and face challenges related to cost and technology maturity. Both technologies contribute to a greener future in public transportation, each with its distinct advantages and considerations.
The Electric bus focuses on reducing greenhouse gas emissions and promoting a more sustainable mode of transportation promotion net zero emission.
This transition aligns with the overarching goal of achieving net-zero emissions by minimizing greenhouse gas contributions from transportation activities.
 
Electric Bus Market Segment 
Intercity is the Leading Segment to Dominate the Market
The intercity segment is poised for substantial market share growth in the forecast period within the global electric bus market, showing a noteworthy increase compared to the intracity segment. From 33.25 thousand units in 2017, the intercity segment has demonstrated consistent growth with the prospect that electric mini bus pursuit of net-zero emissions.
In India, the Government is actively promoting the adoption of electric vehicles as part of its plan to replace internal combustion engine (ICE) vehicles by 2030. This initiative focuses on developing infrastructure for electric vehicles, including, electric shuttle bus and  electric mini bus, particularly in Tier-1 and Tier-2 cities.
The electric mini bus market's  provision of efficient and sustainable transport solutions for longer-distance travel between cities or urban centers. Electric mini bus, particularly those designed for intercity travel, aim to offer eco-friendly alternatives to conventional fuel-based transportation systems.
The burgeoning electric mini bus market in India has attracted various electric bus charging system manufacturers, with companies like ABB intending to set up around 4,500 electric vehicle charging stations in India by 2030.
Electric Bus Market  - Revenue Share by Application Segment, 2017 - 2027.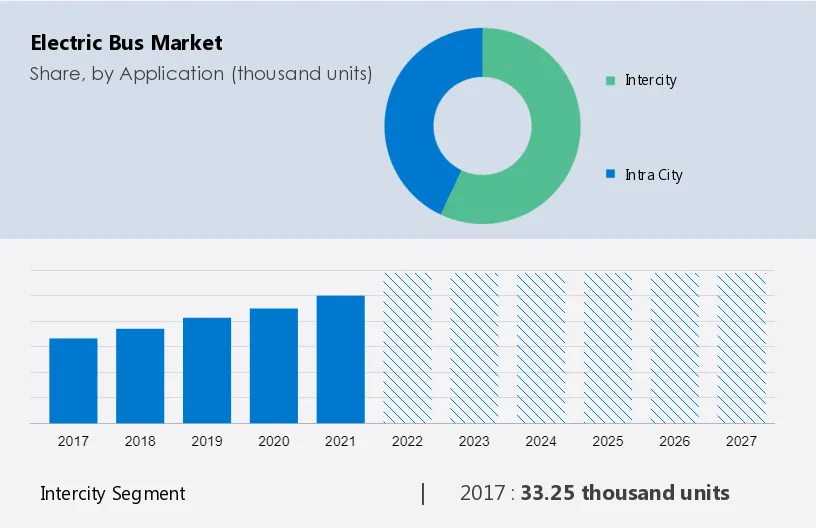 The electric shuttle bus market is indirectly related to the intercity segment as it contributes to sustainable transportation solutions that can complement intercity travel. While electric shuttle buses are primarily designed for shorter routes within cities, they can play a role in connecting passengers to larger transportation hubs or facilitating travel to nearby regions or towns.
Furthermore, these electric shuttle buses, if strategically integrated into intercity transportation networks, could provide an environmentally friendly and cost-effective means for travelers to access main intercity transportation services.
Asia Holds a Prominent Position in the Electric Bus Market
Asia is estimated to contribute 92% to the growth of the global market during the forecast period. Technavio's analysts have elaborately explained the regional trends and drivers that shape the market during the forecast period.China's electric bus market is experiencing steady growth, driven by the demand for efficient public transportation in metro cities like Bus Rapid Transit (BRT) and increased consumer awareness about the advantages of electric vehicles. Concurrently, India is also adopting electric buses to tackle air pollution from vehicular emissions. The growing adoption of electric buses in both countries is expected to have a positive impact on their respective markets during the forecast period.
Electric Bus Market Size, By Region, Global, 2017 - 2027.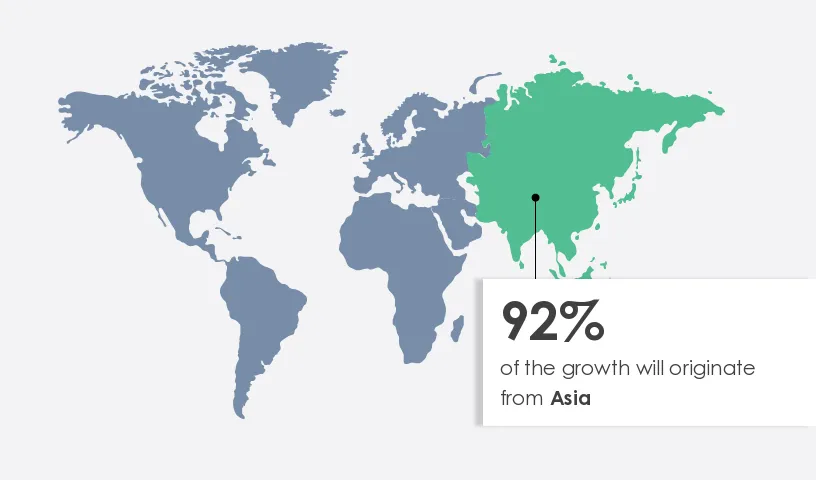 To understand geographic trends Download Report Sample
 Electric Bus Market Companies Overview
The Electric Bus Market is fragmented in nature. Some significant players include AB Volvo , BKM.BY, Bollore SE.
BYD Co. Ltd-  BYD specializes in electric buses featuring versatile charging options like wireless, overhead, AC, or DC charging. Additionally, the byd electric bus business segment centers on rechargeable batteries and photovoltaic products. They produce and sell lithium-ion, nickel, and iron batteries, as well as photovoltaic items, catering to byd electric bus , mobile phones, electric tools, and portable electronic instruments.BYD electric bus company has become the world's leading manufacturer of new energy vehicles.
Byd electric bus saves up to 75% of fuel cost compared with a diesel bus. The longer you drive, the more you save.
The research report also includes detailed analyses of the competitive landscape of the market and information about 15 market companies, including:
CNH Industrial NV, Complete Coach Works, Eletra, GreenPower Motor Co. Inc., Jiacngsu Alfa Bus Co. Ltd., Linkker Oy, Mercedes Benz Group AG, NFI Group Inc., POL-MOT Holding SA, Proterra Inc., Tata Sons Pvt. Ltd., TECNOBUS Spa, VDL Bus and Coach BV, Xiamen King Long United Automotive Industry Co. Ltd., Yinlong Energy China Ltd., and Zhongtong Bus Holding Co. Ltd.
Segment Overview
The market analysis report forecasts market growth by revenue at global, regional & country levels and provides an analysis of the latest trends and growth opportunities from 2017 - 2027.   
Application Outlook (Thousand Units, 2017 - 2027)
Type Outlook (Thousand Units, 2017 - 2027)

Pure electric bus
Plug-in hybrid bus

Region Outlook (Thousand Units, 2017 - 2027)

North America
Europe

The U.K.
Germany
France
Rest of Europe

Asia
ROW

Australia
Argentina
Rest of the world
Electric Bus Market Scope

Report Coverage

Details

Page number

161

Base year

2022

Historic period

2017 - 2021

Forecast period

2023-2027

Growth momentum & CAGR

Accelerate at a CAGR of 9.23%

Market growth 2023-2027

61.03 th units

Market structure

Fragmented

YoY growth 2022-2023(%)

8.87

Regional analysis

Asia, Europe, North America, and Rest of World (ROW)

Performing market contribution

Asia at 92%

Key countries

US, Canada, China, India, Germany, and UK

Competitive landscape

Leading Companies, Market Positioning of Companies, Competitive Strategies, and Industry Risks

Key companies profiled

AB Volvo, BKM.BY, Bollore SE, BYD Co. Ltd., CNH Industrial NV, Complete Coach Works, Eletra, GreenPower Motor Co. Inc., Jiangsu Alfa Bus Co. Ltd., Linkker Oy, Mercedes Benz Group AG, NFI Group Inc., POL-MOT Holding SA, Proterra Inc., Tata Sons Pvt. Ltd., TECNOBUS Spa, VDL Bus and Coach BV, Xiamen King Long United Automotive Industry Co. Ltd., Yinlong Energy China Ltd., and Zhongtong Bus Holding Co. Ltd.

Market dynamics

Parent market analysis, Market growth inducers and obstacles, Fast-growing and slow-growing segment analysis, COVID 19 impact and recovery analysis and future consumer dynamics, Market condition analysis for forecast period

Customization purview

If our report has not included the data that you are looking for, you can reach out to our analysts and get segments customized.
What are the Key Data Covered in this Electric Bus Market Research Report?
CAGR of the market during the forecast period
Detailed information on factors that will drive the growth of the

market 

between 2023 and 2027
Precise estimation of the size of the market  size and its contribution of the market in focus to the parent market
Accurate predictions about upcoming trends and changes in consumer behaviour
Growth of the market industry across Asia, Europe, North America, and Rest of World (ROW)
Thorough analysis of the market's competitive landscape and detailed information about companies
Comprehensive analysis of factors that will challenge the growth of market companies
We can help! Our analysts can customize this market research report to meet your requirements. 
1 Executive Summary
1.1 Market overview

Exhibit 01: Executive Summary – Chart on Market Overview
Exhibit 02: Executive Summary – Data Table on Market Overview
Exhibit 03: Executive Summary – Chart on Global Market Characteristics
Exhibit 04: Executive Summary – Chart on Market by Geography
Exhibit 05: Executive Summary – Chart on Market Segmentation by Application
Exhibit 06: Executive Summary – Chart on Market Segmentation by Type
Exhibit 07: Executive Summary – Chart on Incremental Growth
Exhibit 08: Executive Summary – Data Table on Incremental Growth
Exhibit 09: Executive Summary – Chart on Vendor Market Positioning
2 Market Landscape
2.1 Market ecosystem

Exhibit 10: Parent market
Exhibit 11: Market Characteristics
3 Market Sizing
3.1 Market definition

Exhibit 12: Offerings of vendors included in the market definition
3.2 Market segment analysis

Exhibit 13: Market segments
3.4 Market outlook: Forecast for 2022-2027

Exhibit 14: Chart on Global - Market size and forecast 2022-2027 (thousand units)
Exhibit 15: Data Table on Global - Market size and forecast 2022-2027 (thousand units)
Exhibit 16: Chart on Global Market- Year-over-year growth 2022-2027 (%)
Exhibit 17: Data Table on Global Market- Year-over-year growth 2022-2027 (%)
4 Historic Market Size
4.1 Global electric bus market 2017 - 2021

Exhibit 18: Historic Market Size – Data Table on Global electric bus market 2017 - 2021 (thousand units)
4.2 Application Segment Analysis 2017 - 2021

Exhibit 19: Historic Market Size – Application Segment 2017 - 2021 (thousand units)
4.3 Type Segment Analysis 2017 - 2021

Exhibit 20: Historic Market Size – Type Segment 2017 - 2021 (thousand units)
4.4 Geography Segment Analysis 2017 - 2021

Exhibit 21: Historic Market Size – Geography Segment 2017 - 2021 (thousand units)
4.5 Country Segment Analysis 2017 - 2021

Exhibit 22: Historic Market Size – Country Segment 2017 - 2021 (thousand units)
5 Five Forces Analysis
5.1 Five forces summary

Exhibit 23: Five forces analysis - Comparison between 2022 and 2027
5.2 Bargaining power of buyers

Exhibit 24: Chart on Bargaining power of buyers – Impact of key factors 2022 and 2027
5.3 Bargaining power of suppliers

Exhibit 25: Bargaining power of suppliers – Impact of key factors in 2022 and 2027
5.4 Threat of new entrants

Exhibit 26: Threat of new entrants – Impact of key factors in 2022 and 2027
5.5 Threat of substitutes

Exhibit 27: Threat of substitutes – Impact of key factors in 2022 and 2027
5.6 Threat of rivalry

Exhibit 28: Threat of rivalry – Impact of key factors in 2022 and 2027
5.7 Market condition

Exhibit 29: Chart on Market condition - Five forces 2022 and 2027
6 Market Segmentation by Application
6.1 Market segments

Exhibit 30: Chart on Application - Market share 2022-2027 (%)
Exhibit 31: Data Table on Application - Market share 2022-2027 (%)
6.2 Comparison by Application

Exhibit 32: Chart on Comparison by Application
Exhibit 33: Data Table on Comparison by Application
6.3 Intercity - Market size and forecast 2022-2027

Exhibit 34: Chart on Intercity - Market size and forecast 2022-2027 (thousand units)
Exhibit 35: Data Table on Intercity - Market size and forecast 2022-2027 (thousand units)
Exhibit 36: Chart on Intercity - Year-over-year growth 2022-2027 (%)
Exhibit 37: Data Table on Intercity - Year-over-year growth 2022-2027 (%)
6.4 Intra city - Market size and forecast 2022-2027

Exhibit 38: Chart on Intra city - Market size and forecast 2022-2027 (thousand units)
Exhibit 39: Data Table on Intra city - Market size and forecast 2022-2027 (thousand units)
Exhibit 40: Chart on Intra city - Year-over-year growth 2022-2027 (%)
Exhibit 41: Data Table on Intra city - Year-over-year growth 2022-2027 (%)
6.5 Market opportunity by Application

Exhibit 42: Market opportunity by Application (thousand units)
7 Market Segmentation by Type
7.1 Market segments

Exhibit 43: Chart on Type - Market share 2022-2027 (%)
Exhibit 44: Data Table on Type - Market share 2022-2027 (%)
7.2 Comparison by Type

Exhibit 45: Chart on Comparison by Type
Exhibit 46: Data Table on Comparison by Type
7.3 Pure electric bus - Market size and forecast 2022-2027

Exhibit 47: Chart on Pure electric bus - Market size and forecast 2022-2027 (thousand units)
Exhibit 48: Data Table on Pure electric bus - Market size and forecast 2022-2027 (thousand units)
Exhibit 49: Chart on Pure electric bus - Year-over-year growth 2022-2027 (%)
Exhibit 50: Data Table on Pure electric bus - Year-over-year growth 2022-2027 (%)
7.4 Plug-in hybrid bus - Market size and forecast 2022-2027

Exhibit 51: Chart on Plug-in hybrid bus - Market size and forecast 2022-2027 (thousand units)
Exhibit 52: Data Table on Plug-in hybrid bus - Market size and forecast 2022-2027 (thousand units)
Exhibit 53: Chart on Plug-in hybrid bus - Year-over-year growth 2022-2027 (%)
Exhibit 54: Data Table on Plug-in hybrid bus - Year-over-year growth 2022-2027 (%)
7.5 Market opportunity by Type

Exhibit 55: Market opportunity by Type (thousand units)
8 Customer Landscape
8.1 Customer landscape overview

Exhibit 56: Analysis of price sensitivity, lifecycle, customer purchase basket, adoption rates, and purchase criteria
9 Geographic Landscape
9.1 Geographic segmentation

Exhibit 57: Chart on Market share by geography 2022-2027 (%)
Exhibit 58: Data Table on Market share by geography 2022-2027 (%)
9.2 Geographic comparison

Exhibit 59: Chart on Geographic comparison
Exhibit 60: Data Table on Geographic comparison
9.3 APAC - Market size and forecast 2022-2027

Exhibit 61: Chart on APAC - Market size and forecast 2022-2027 (thousand units)
Exhibit 62: Data Table on APAC - Market size and forecast 2022-2027 (thousand units)
Exhibit 63: Chart on APAC - Year-over-year growth 2022-2027 (%)
Exhibit 64: Data Table on APAC - Year-over-year growth 2022-2027 (%)
9.4 Europe - Market size and forecast 2022-2027

Exhibit 65: Chart on Europe - Market size and forecast 2022-2027 (thousand units)
Exhibit 66: Data Table on Europe - Market size and forecast 2022-2027 (thousand units)
Exhibit 67: Chart on Europe - Year-over-year growth 2022-2027 (%)
Exhibit 68: Data Table on Europe - Year-over-year growth 2022-2027 (%)
9.5 North America - Market size and forecast 2022-2027

Exhibit 69: Chart on North America - Market size and forecast 2022-2027 (thousand units)
Exhibit 70: Data Table on North America - Market size and forecast 2022-2027 (thousand units)
Exhibit 71: Chart on North America - Year-over-year growth 2022-2027 (%)
Exhibit 72: Data Table on North America - Year-over-year growth 2022-2027 (%)
9.6 Rest of World (ROW) - Market size and forecast 2022-2027

Exhibit 73: Chart on Rest of World (ROW) - Market size and forecast 2022-2027 (thousand units)
Exhibit 74: Data Table on Rest of World (ROW) - Market size and forecast 2022-2027 (thousand units)
Exhibit 75: Chart on Rest of World (ROW) - Year-over-year growth 2022-2027 (%)
Exhibit 76: Data Table on Rest of World (ROW) - Year-over-year growth 2022-2027 (%)
9.7 China - Market size and forecast 2022-2027

Exhibit 77: Chart on China - Market size and forecast 2022-2027 (thousand units)
Exhibit 78: Data Table on China - Market size and forecast 2022-2027 (thousand units)
Exhibit 79: Chart on China - Year-over-year growth 2022-2027 (%)
Exhibit 80: Data Table on China - Year-over-year growth 2022-2027 (%)
9.8 India - Market size and forecast 2022-2027

Exhibit 81: Chart on India - Market size and forecast 2022-2027 (thousand units)
Exhibit 82: Data Table on India - Market size and forecast 2022-2027 (thousand units)
Exhibit 83: Chart on India - Year-over-year growth 2022-2027 (%)
Exhibit 84: Data Table on India - Year-over-year growth 2022-2027 (%)
9.9 US - Market size and forecast 2022-2027

Exhibit 85: Chart on US - Market size and forecast 2022-2027 (thousand units)
Exhibit 86: Data Table on US - Market size and forecast 2022-2027 (thousand units)
Exhibit 87: Chart on US - Year-over-year growth 2022-2027 (%)
Exhibit 88: Data Table on US - Year-over-year growth 2022-2027 (%)
9.10 Germany - Market size and forecast 2022-2027

Exhibit 89: Chart on Germany - Market size and forecast 2022-2027 (thousand units)
Exhibit 90: Data Table on Germany - Market size and forecast 2022-2027 (thousand units)
Exhibit 91: Chart on Germany - Year-over-year growth 2022-2027 (%)
Exhibit 92: Data Table on Germany - Year-over-year growth 2022-2027 (%)
9.11 UK - Market size and forecast 2022-2027

Exhibit 93: Chart on UK - Market size and forecast 2022-2027 (thousand units)
Exhibit 94: Data Table on UK - Market size and forecast 2022-2027 (thousand units)
Exhibit 95: Chart on UK - Year-over-year growth 2022-2027 (%)
Exhibit 96: Data Table on UK - Year-over-year growth 2022-2027 (%)
9.12 Canada - Market size and forecast 2022-2027

Exhibit 97: Chart on Canada - Market size and forecast 2022-2027 (thousand units)
Exhibit 98: Data Table on Canada - Market size and forecast 2022-2027 (thousand units)
Exhibit 99: Chart on Canada - Year-over-year growth 2022-2027 (%)
Exhibit 100: Data Table on Canada - Year-over-year growth 2022-2027 (%)
9.13 Market opportunity by geography

Exhibit 101: Market opportunity by geography (thousand units)
10 Drivers, Challenges, and Trends
10.3 Impact of drivers and challenges

Exhibit 102: Impact of drivers and challenges in 2022 and 2027
11 Vendor Landscape
11.2 Vendor landscape

Exhibit 103: Overview on Criticality of inputs and Factors of differentiation
11.3 Landscape disruption

Exhibit 104: Overview on factors of disruption
11.4 Industry risks

Exhibit 105: Impact of key risks on business
12 Vendor Analysis
12.1 Vendors covered

Exhibit 106: Vendors covered
12.2 Market positioning of vendors

Exhibit 107: Matrix on vendor position and classification
12.3 AB Volvo

Exhibit 108: AB Volvo - Overview
Exhibit 109: AB Volvo - Business segments
Exhibit 110: AB Volvo - Key offerings
Exhibit 111: AB Volvo - Segment focus
12.4 BKM.BY

Exhibit 112: BKM.BY - Overview
Exhibit 113: BKM.BY - Product / Service
Exhibit 114: BKM.BY - Key offerings
12.5 Bollore SE

Exhibit 115: Bollore SE - Overview
Exhibit 116: Bollore SE - Business segments
Exhibit 117: Bollore SE - Key offerings
Exhibit 118: Bollore SE - Segment focus
12.6 BYD Co. Ltd.

Exhibit 119: BYD Co. Ltd. - Overview
Exhibit 120: BYD Co. Ltd. - Business segments
Exhibit 121: BYD Co. Ltd. - Key news
Exhibit 122: BYD Co. Ltd. - Key offerings
Exhibit 123: BYD Co. Ltd. - Segment focus
12.7 CNH Industrial NV

Exhibit 124: CNH Industrial NV - Overview
Exhibit 125: CNH Industrial NV - Business segments
Exhibit 126: CNH Industrial NV - Key news
Exhibit 127: CNH Industrial NV - Key offerings
Exhibit 128: CNH Industrial NV - Segment focus
12.8 Complete Coach Works

Exhibit 129: Complete Coach Works - Overview
Exhibit 130: Complete Coach Works - Product / Service
Exhibit 131: Complete Coach Works - Key offerings
12.9 Eletra

Exhibit 132: Eletra - Overview
Exhibit 133: Eletra - Product / Service
Exhibit 134: Eletra - Key offerings
12.10 GreenPower Motor Co. Inc.

Exhibit 135: GreenPower Motor Co. Inc. - Overview
Exhibit 136: GreenPower Motor Co. Inc. - Product / Service
Exhibit 137: GreenPower Motor Co. Inc. - Key news
Exhibit 138: GreenPower Motor Co. Inc. - Key offerings
12.11 Jiangsu Alfa Bus Co. Ltd.

Exhibit 139: Jiangsu Alfa Bus Co. Ltd. - Overview
Exhibit 140: Jiangsu Alfa Bus Co. Ltd. - Product / Service
Exhibit 141: Jiangsu Alfa Bus Co. Ltd. - Key offerings
12.12 Linkker Oy

Exhibit 142: Linkker Oy - Overview
Exhibit 143: Linkker Oy - Product / Service
Exhibit 144: Linkker Oy - Key offerings
12.13 Mercedes Benz Group AG

Exhibit 145: Mercedes Benz Group AG - Overview
Exhibit 146: Mercedes Benz Group AG - Business segments
Exhibit 147: Mercedes Benz Group AG - Key offerings
Exhibit 148: Mercedes Benz Group AG - Segment focus
12.14 Proterra Inc.

Exhibit 149: Proterra Inc. - Overview
Exhibit 150: Proterra Inc. - Product / Service
Exhibit 151: Proterra Inc. - Key news
Exhibit 152: Proterra Inc. - Key offerings
12.15 TECNOBUS Spa

Exhibit 153: TECNOBUS Spa - Overview
Exhibit 154: TECNOBUS Spa - Product / Service
Exhibit 155: TECNOBUS Spa - Key offerings
12.16 Xiamen King Long United Automotive Industry Co. Ltd.

Exhibit 156: Xiamen King Long United Automotive Industry Co. Ltd. - Overview
Exhibit 157: Xiamen King Long United Automotive Industry Co. Ltd. - Product / Service
Exhibit 158: Xiamen King Long United Automotive Industry Co. Ltd. - Key offerings
12.17 Yinlong Energy China Ltd.

Exhibit 159: Yinlong Energy China Ltd. - Overview
Exhibit 160: Yinlong Energy China Ltd. - Product / Service
Exhibit 161: Yinlong Energy China Ltd. - Key offerings
13 Appendix
13.2 Inclusions and exclusions checklist

Exhibit 162: Inclusions checklist
Exhibit 163: Exclusions checklist
13.3 Currency conversion rates for US$

Exhibit 164: Currency conversion rates for US$
13.4 Research methodology

Exhibit 165: Research methodology
Exhibit 166: Validation techniques employed for market sizing
Exhibit 167: Information sources
13.5 List of abbreviations

Exhibit 168: List of abbreviations