The fitness app market size is estimated to grow at a CAGR of 17.1% between 2022 and 2027. The market size is forecast to increase by USD 45.16 billion. The growth of the market depends on several factors, including increasing use of mobile apps, growing adoption of wearable devices, and Increasing awareness about the benefits of a healthy lifestyle. 
This fitness app market report extensively covers market segmentation by gender (female and male), application (lifestyle monitoring, health monitoring, and others), and geography (North America, APAC, Europe, South America, and Middle East and Africa). It also includes an in-depth analysis of drivers, trends, and challenges. Furthermore, the report includes historic market data from 2017 to 2021.
What will be the size of the Fitness App Market During the Forecast Period?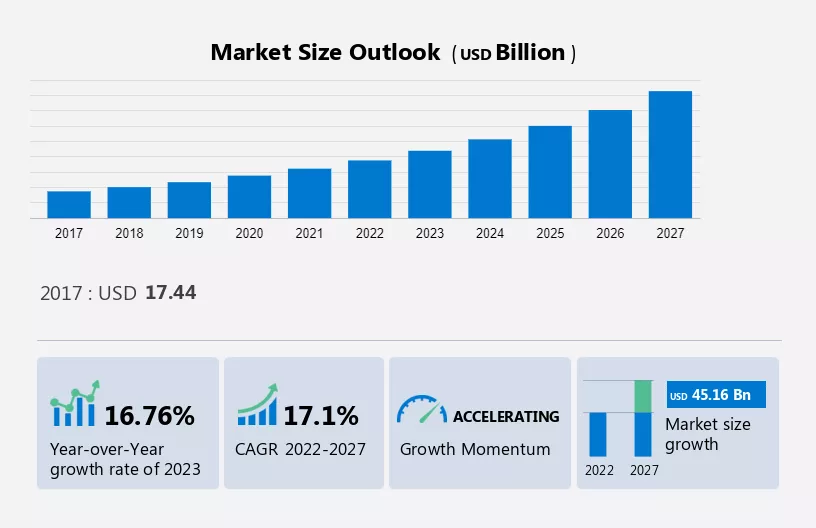 To learn more about this report, View Report Sample
Fitness App Market: Key Drivers, Trends, Challenges, and Customer Landscape
The increasing awareness about the benefits of a healthy lifestyle is notably driving the market growth, although factors such as a lack of awareness about fitness apps may impede the market growth. Our researchers analyzed the data with 2022 as the base year and the key drivers, trends, and challenges. A holistic analysis of drivers will help companies refine their marketing strategies to gain a competitive advantage.
Key Fitness App Market Driver
The increasing awareness about the benefits of a healthy lifestyle is notably driving market growth. People are being pushed to choose daily exercise due to their hectic work schedules and various diseases linked to their lifestyles. Around the world, a large number of people are identifying as overweight or obese. While obesity and overweight problems have been widespread in high-income nations, they are now becoming more prevalent in low- and middle-income nations, especially in urban areas, as a result of rising fast food or junk food consumption due to their convenience.
Furthermore, obesity and excessive weight have a significant effect on the cancer incidence rate. Compared to men, women have a twofold increased risk of developing cancers linked to obesity. Consumers exposed to a variety of media outlets, such as television and the internet, have gradually become more aware of the advantages of leading a healthy lifestyle. Therefore, the adoption of fitness activities has increased due to the increased awareness of lifestyle-related diseases and their treatments spread by numerous health organizations and governments worldwide. Thus, such factors will propel the growth of the market during the forecast period. 
Significant Fitness App Market Trends
The rising investments are an emerging trend in market growth. Companies that have potential are given funding by venture capital firms. They contribute money in exchange for ownership and some degree of control over the direction and management of startups. Numerous startups creating technology-enabled digital health products, such as wearable technology, fitness applications, and personalized health applications, are financed by venture capital firms. 
Funding is necessary for startups, SMEs, and big businesses to create and market their products. Numerous venture capitalists are funding fitness startups in order to take advantage of the market's explosive growth potential. With more than 4 million users across India, as well as in cities in the US, Canada, and Australia, Fittr is one of the most popular fitness apps in the country. With Series A funding of USD 11.5 million starting in September 2021, Fittr intended to expand its global presence and accelerate the growth of its platform by providing sports nutrition, sports fitness, and emotional well-being. Rising venture capital funding for fitness startups will result in the development and upgrade of apps, which, in turn, will drive the growth of the global market during the forecast period.
Major Fitness App Market Challenge
The lack of awareness about fitness apps is a major challenge impeding market growth. Due to the population's ignorance of fitness apps and other smart products and technology, vendors struggle to establish themselves in developing markets. Vendors need to spread awareness of the advantages of fitness apps among the public in order to enter emerging markets. Additionally, trackers and fitness apps are used by connected fitness equipment to monitor users' fitness levels. In developing nations, however, connected fitness equipment is not widely used. Furthermore, as people in developing nations have a high level of price sensitivity, they frequently compare the price of connected fitness equipment that uses fitness apps with the price of conventional fitness products rather than the features and advantages of the former.
In emerging economies, the majority of customers still use conventional gym equipment. When compared to conventional gym equipment, the cost of connected gym equipment is very high, which has a negative effect on its uptake. Due to connected gym equipment's high price, people in developing nations tend to spend less on it due to low per-capita income. Thus, such factors will negatively impact the growth of the market during the forecast period.
Key Fitness App Market Customer Landscape
The report includes the adoption lifecycle of the market, covering from the innovator's stage to the laggard's stage. It focuses on adoption rates in different regions based on penetration. Furthermore, the report also includes key purchase criteria and drivers of price sensitivity to help companies evaluate and develop their growth strategies.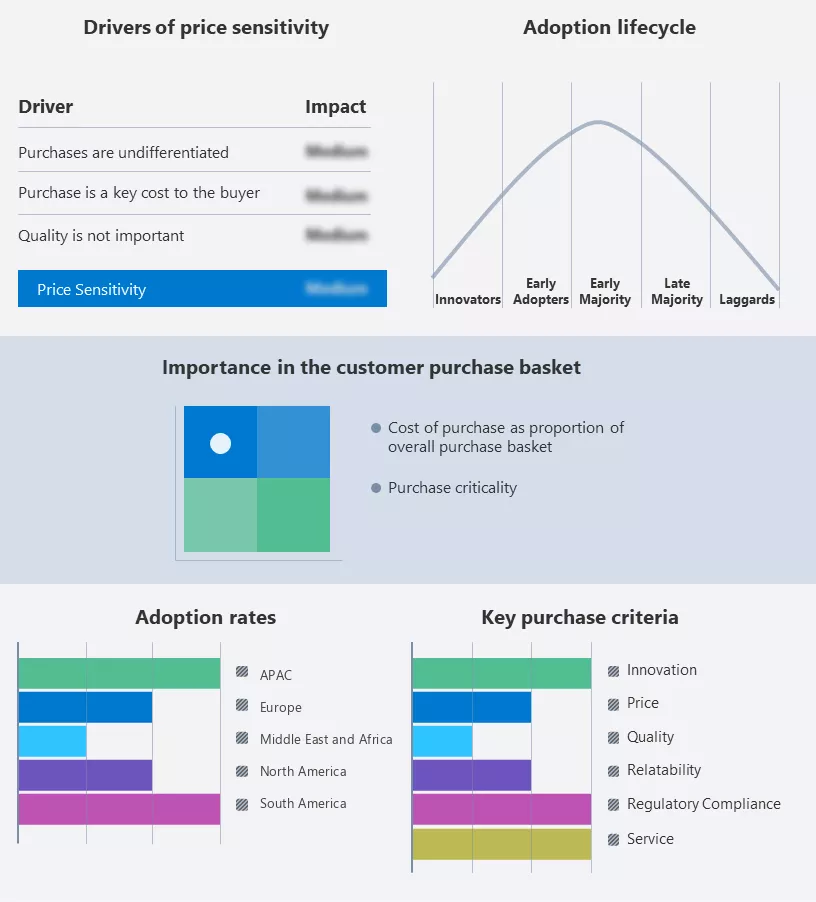 Global Fitness App Market Customer Landscape
Who are the Major Fitness App Market Vendors?
Vendors are implementing various strategies, such as strategic alliances, partnerships, mergers and acquisitions, geographical expansion, and product/service launches, to enhance their presence in the market.
Azumio Inc. - The company focuses on improving people's health and wellness by influencing behavior through the use of food AI and other AI solutions and also through innovative mobile applications. The key offerings of the company fitness app such as Instant Heart Rate, Glucose Buddy, Fitness Buddy, Calorie Mama, Argus, Sleep Time.
The report also includes detailed analyses of the competitive landscape of the market and information about 15 market vendors, including:
Adidas AG
Alphabet Inc.
ASICS Corp.
BetterMe Ltd.
Diverse Retails Pvt. Ltd.
Fiit Ltd.
Fitness Connection
Fooducate Ltd.
Garmin Ltd.
Jefit Inc.
MINDBODY Inc.
Nike Inc.
PEAR Sports LLC
Polar Electro Oy
Samsung Electronics Co. Ltd.
Under Armour Inc.
Wahoo Fitness LLC
WellDoc Inc.
YAZIO GmbH
Qualitative and quantitative analysis of vendors has been conducted to help clients understand the wider business environment as well as the strengths and weaknesses of key market players. Data is qualitatively analyzed to categorize vendors as pure play, category-focused, industry-focused, and diversified; it is quantitatively analyzed to categorize vendors as dominant, leading, strong, tentative, and weak.
What is the Fastest-Growing Segment in the Fitness App Market?
The market share growth by the female segment will be significant during the forecast period. Compared to men, women are more likely to download apps for fitness and health. Women are increasingly using fitness trackers, which is fueling the market's expansion.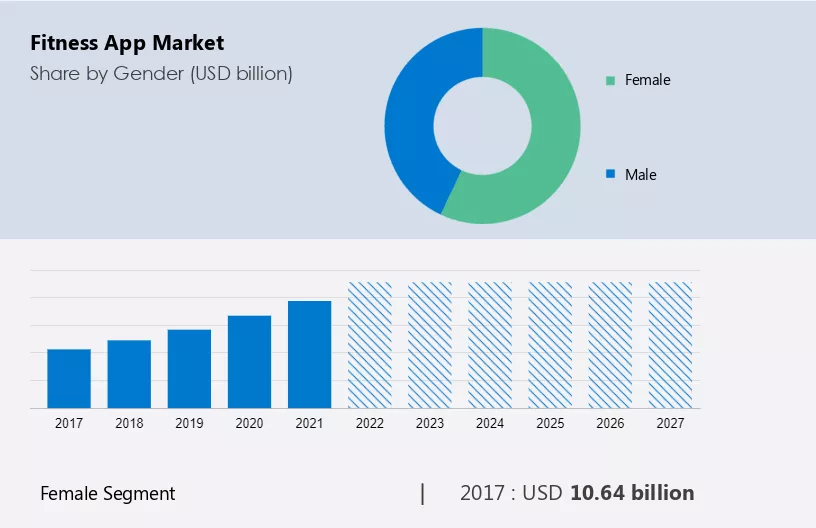 Get a glance at the market contribution of various segments View the PDF Sample
The female segment was valued at USD 10.64 billion in 2017 and continued to grow until 2021. Women are more likely than men to download fitness apps, which are then followed by apps for tracking medical conditions, medical information, and weight management tools like Weight Watchers and Calorie Counter. The emphasis among vendors is on providing fitness apps that are appropriate for women. For instance, Adidas provides a fitness app for women only called All Day. Additionally, pregnancy-related apps are more popular than other types of apps among women who use health and fitness apps. Pregnancy-related apps are downloaded by 47% of all female subscribers who use one or more mobile health apps. Therefore, the preference of women to track their health and fitness will contribute to the growth of the global market during the forecast period.
Which are the Key Regions for the Fitness App Market?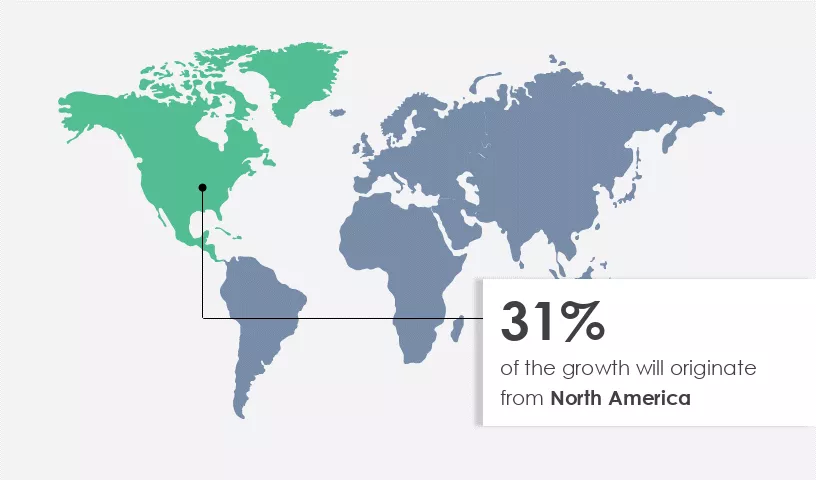 For more insights on the market share of various regions Download PDF Sample now!
North America is estimated to contribute 31% to the growth of the global market during the forecast period. Technavio's analysts have elaborately explained the regional trends and drivers that shape the market during the forecast period.
One of the biggest markets for fitness apps is present in North America, where the US and Canada are the top two competitors. The prevalence of fitness apps in North America is due to the presence of a sizable population that is health-conscious and has access to connected fitness equipment. The demand for fitness apps in North America has also increased due to the rising prevalence of age-related health issues. Furthermore, the prevalence of chronic illnesses like diabetes and cardiovascular conditions has increased, which has resulted in a rise in the use of different fitness equipment. As a result, there was an increase in US health club memberships on an annual basis. To increase membership, health clubs and gyms across the nation are implementing buddy systems, health support groups, and connected gym equipment while concentrating on the younger demographic. Such factors will boost market growth during the forecast period.
The Centers for Disease Control and Prevention (CDC) classified obesity as a widespread national disease in 2020, and it has grown to be a major public health issue in the region. Despite widespread knowledge of the advantages of healthy diets and physical activity due to health professionals, the media, and public education campaigns, the incidence of obesity in the region increased by more than twice over the previous forty years. Mexico and the US are the two countries in the region with the highest rates of obesity. The adoption of health and fitness apps will be influenced by this factor, thereby, driving the regional market growth during the forecast period. 
The regional market is expanding primarily due to high internet penetration and an increase in the number of unique mobile subscribers. Additionally, the area has a well-developed infrastructure for telecommunications networks that enables mobile phone users to access the internet at any time and from any location. Furthermore, some of the biggest crowdfunding websites, including Kickstarter and Indiegogo, are located in North America. These platforms assist startups in obtaining funding for the creation of cutting-edge products and services. Crowdfunding platforms provide a well-developed ecosystem to market participants, such as app developers, wearable device manufacturers, and smartphone manufacturers, to enter the market and gain market share. Hence, such factors will also influence the growth of the regional market during the forecast period. 
In 2020, the demand for fitness apps witnessed a rapid increase owing to the spread of COVID-19. It was mainly due to the temporary shutdowns of the fitness centers in the region, and people were following the fitness regime at home. Thus, to track those activities, the download of fitness apps witnessed growth in 2020, and it is expected to remain the same during the forecast period.
Segment Overview
The fitness app market report forecasts market growth by revenue at global, regional & country levels and provides an analysis of the latest trends and growth opportunities from 2017 to 2027. 
Gender Outlook (USD Billion, 2017 - 2027)
Application Outlook (USD Billion, 2017 - 2027)

Lifestyle monitoring
Health monitoring
Others
Region Outlook (USD Billion, 2017 - 2027)

Europe

U.K.
Germany
France
Rest of Europe

Middle East & Africa

Saudi Arabia
South Africa
Rest of the Middle East & Africa

South America
Parent Market Analysis
Technavio categorizes the global fitness app market as a part of the global application software market within the global IT software market. The overall global IT software market covers companies that are engaged in developing and producing application and system software. Our market research report has extensively covered external factors influencing the parent market growth during the forecast period.
Fitness App Market Scope

Report Coverage

Details

Page number

168

Base year

2022

Historic period

2017-2021

Forecast period

2023-2027

Growth momentum & CAGR

Accelerate at a CAGR of 17.1%

Market growth 2023-2027

USD 45.16 billion

Market structure

Fragmented

YoY growth 2022-2023(%)

16.76

Regional analysis

North America, APAC, Europe, South America, and Middle East and Africa

Performing market contribution

North America at 31%

Key countries

US, China, Japan, South Korea, and Germany

Competitive landscape

Leading Vendors, Market Positioning of Vendors, Competitive Strategies, and Industry Risks

Key companies profiled

Adidas AG, Alphabet Inc., ASICS Corp., Azumio Inc., BetterMe Ltd., Diverse Retails Pvt. Ltd., Fiit Ltd., Fitness Connection, Fooducate Ltd., Garmin Ltd., Jefit Inc., MINDBODY Inc., Nike Inc., PEAR Sports LLC, Polar Electro Oy, Samsung Electronics Co. Ltd., Under Armour Inc., Wahoo Fitness LLC, WellDoc Inc., and YAZIO GmbH

Market dynamics

Parent market analysis, Market growth inducers and obstacles, Fast-growing and slow-growing segment analysis, COVID-19 impact and recovery analysis and future consumer dynamics, Market condition analysis for the forecast period. 

Customization purview

If our report has not included the data that you are looking for, you can reach out to our analysts and get segments customized.
What are the Key Data Covered in this Fitness App Market Research Report?
CAGR of the market during the forecast period
Detailed information on factors that will drive the growth of the fitness app market between 2023 and 2027
Precise estimation of the size of the fitness app market size and its contribution to the market in focus on the parent market
Accurate predictions about upcoming trends and changes in consumer behavior
Growth of the market industry across North America, APAC, Europe, South America, and Middle East and Africa
Thorough analysis of the market's competitive landscape and detailed information about vendors
Comprehensive analysis of factors that will challenge the growth of fitness app market vendors
We can help! Our analysts can customize this market research report to meet your requirements. Get in touch