Mobile Application Market Statistics
The Global Mobile Apps Market size is estimated to grow by USD 1,095.9 billion between 2022 and 2027 accelerating at a compound annual growth rate (CAGR) of 22.97%. Growing penetration of smartphones, increasing focus on AR apps, and growing m-commerce industry are the three primary factors driving the market growth.
This mobile apps market report extensively covers market segmentation by Platform (android market, ios market, and others), Type (gaming, music and entertainment, health and fitness, social networking, and others), and Geography (APAC, North America, Europe, South America, and Middle East and Africa). It also includes an in-depth analysis of drivers, trends, and challenges. 
What will be the Size of the Mobile Apps Market During the Forecast Period?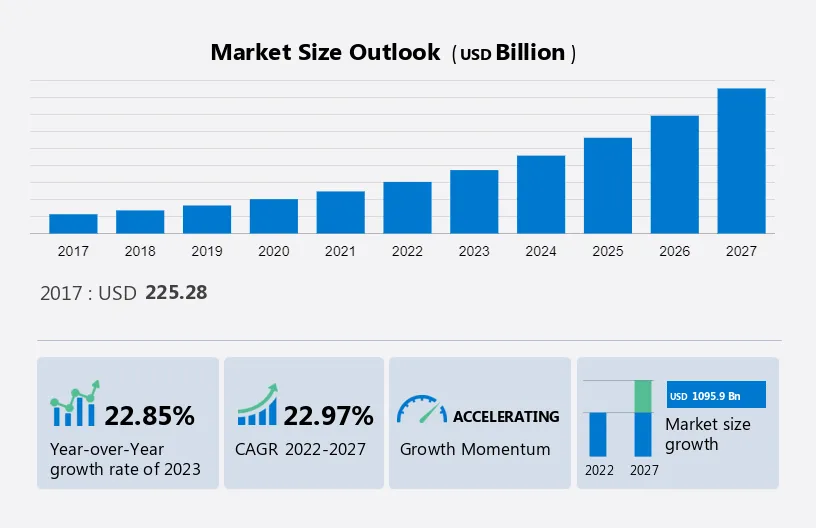 To learn more about this report, Request Free Sample in PDF
Mobile Apps Market: Key Drivers, Trends, and Challenges
 Our researchers analyzed the data with 2022 as the base year and the key drivers, trends, and challenges. A holistic analysis of upcoming trends and challenges will help companies refine their marketing strategies to gain a competitive advantage.
Key Mobile Apps Market Drivers
The growing penetration of smartphones is a major factor driving the market growth. The global mobile app market is thriving thanks to the widespread use of smartphones worldwide. Low-priced smartphones are particularly in high demand in countries like India, Vietnam, the Philippines, Sri Lanka, Pakistan, Spain, and Greece. Brands like Nokia and Chinese manufacturers such as Xiaomi, OPPO, and OnePlus are capitalizing on this trend by offering feature-rich smartphones at affordable prices. To keep up with user expectations, smartphone manufacturers are continuously enhancing processing speeds, battery life, storage, display quality, and software capabilities. These improvements support advanced functions like multitasking, where users can operate multiple mobile apps simultaneously.
Additionally, smartphone features are constantly being upgraded, with offerings like unlimited data storage and backup facilities provided by Google's Pixel smartphone through Google Drive. As a result, the increasing adoption of smartphones is expected to drive the growth of the global mobile apps market.
Significant Mobile Apps Market Trends
The increasing number of mobile apps for IoT devices is a significant mobile apps market trend. IoT is the interconnection of physical devices and machines through software and sensors. The demand for IoT devices is rapidly increasing due to their flexibility, ease of use, and connected mobility features. Integration with smartphones through mobile apps is driving this demand. As the number of smartphones continues to rise, IoT devices such as smartwatches and smart glasses can be seamlessly integrated using mobile apps. This trend is expected to drive market growth for IoT devices integrated with mobile apps.
Major Mobile Apps Market Challenges
The cost associated with mobile app development and operations is a major challenge hindering market growth. Mobile apps serve as technological tools to facilitate user activities. While low-cost mobile apps are easily developed, the rising demand for mobile apps necessitates additional support activities, such as administrative support, maintenance, and infrastructure services. These activities incur higher costs than the app development itself. Functional services like SMS, push notifications, and email, along with administrative services such as content management and data analytics, contribute to the overall cost. Infrastructure costs, including server hosting, data storage, load balancers, and security servers, further increase expenses. IT support services for bug fixing, updates, and API management also add to the costs. The growing load on mobile apps intensifies the need for support activities, impeding market growth.
What is the Fastest-Growing Segments in the Mobile Apps Market?
The market share growth by the Android market segment will be significant during the forecast period. The Android operating system is an important platform used to publish mobile applications in the market. Apps like Google Drive and Tinder are some of the most profitable apps in the Google Play Store. By 2022, the Google Play Store has about 3.553 million apps available to Android users. Over the years, the Google Play Store has become the preferred mobile app development platform for developers. This is mainly due to the increasing use of Android smartphones worldwide, which has resulted in increased demand for the Android operating system.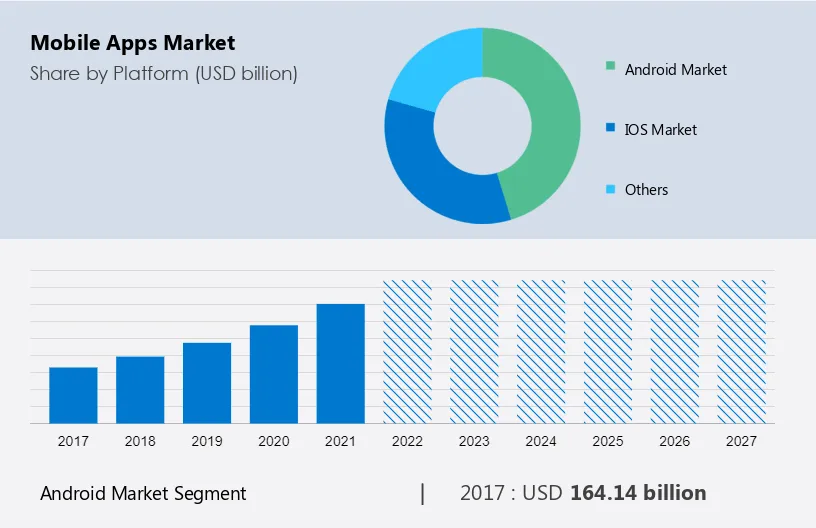 Get a glance at the market contribution of various segments View the PDF Sample
The Android market segment was valued at USD 164.14 billion in 2017 and continued to grow until 2021. The new Android software launches and feature upgrades are increasing the demand for Android-based mobile apps worldwide. The new operating system includes artificial intelligence features, a simpler navigation system than previous Android versions, and a dedicated night mode. This will lead to an increase in the number of users using Android mobile applications, thereby driving the growth of the market.
Which are the Key Regions for the Mobile Apps Market?
For more insights on the market share of various regions Download PDF Sample now!
APAC is estimated to contribute 37% to the growth of the global market during the forecast period. Technavio's analysts have elaborately explained the regional trends and drivers that shape the market during the forecast period.
The APAC region dominates the market due to its large mobile customer base, which has been growing as a result of increased disposable income among consumers. The mobile customer base is determined by unique mobile subscribers, representing individual customers who can have one or multiple cellular connections. By 2022, Asia-Pacific is expected to have over 1.8 billion unique mobile subscribers, projected to reach 2-2.5 billion by 2025. This has led to the widespread adoption of smartphones, particularly in countries like China and India.
In 2020, the COVID-19 pandemic and subsequent lockdown measures prompted increased demand for recreational activities, including mobile app usage. People turned to various apps such as health and fitness, gaming, and education to alleviate boredom while staying at home. Governments worldwide also launched COVID tracking and vaccination apps, which gained significant traction among consumers for tracking vaccination status, obtaining vaccination certificates, and receiving updated information from authorities. These factors positively influenced the market's growth.
Technavio's Exclusive Mobile Apps Market Customer Landscape
The report includes the adoption lifecycle of the market, covering from the innovator's stage to the laggard's stage. It focuses on adoption rates in different regions based on penetration. Furthermore, the report also includes key purchase criteria and drivers of price sensitivity to help companies evaluate and develop their growth strategies.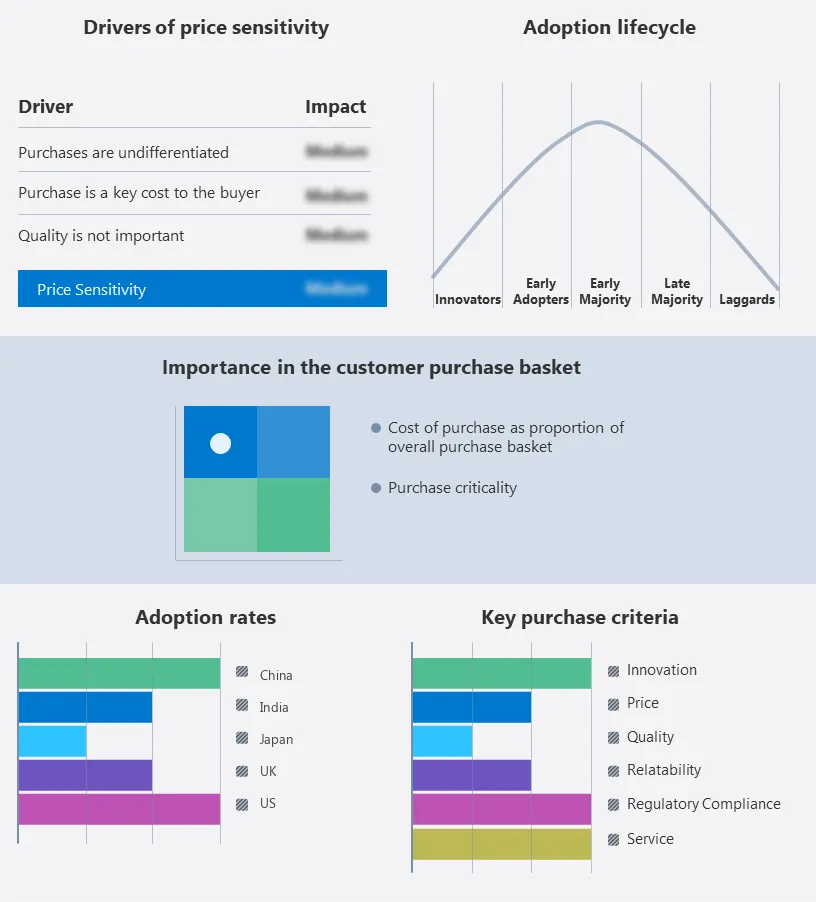 Global Mobile Apps Market Customer Landscape
Who are the Major Mobile Apps Market Vendors?
Vendors are implementing various strategies, such as strategic alliances, partnerships, mergers and acquisitions, geographical expansion, and product/service launches, to enhance their presence in the market.
Xiaomi Communications Co. Ltd.- The company offers mobile apps such as Xiaomi wear, Mi mover, Mi store, Mi fit, and Mi wi fi.
The report also includes detailed analyses of the competitive landscape of the market and information about 10 market vendors, including:
Alphabet Inc.
Amazon.com Inc.
ANI Technologies Pvt. Ltd.
ASICS Corp.
Canva Pty Ltd.
Electronic Arts Inc.
Grab Holdings Ltd.
Meta Platforms Inc.
Microsoft Corp.
Mozilla Corp.
Netflix Inc.
Niantic Inc.
One97 Communications Ltd.
Spotify Technology SA
The Gap Inc.
Uber Technologies Inc.
Ubisoft Entertainment SA
Walmart Inc.
Zomato Media Pvt. Ltd.
Qualitative and quantitative analysis of vendors has been conducted to help clients understand the wider business environment as well as the strengths and weaknesses of key market players. Data is qualitatively analyzed to categorize vendors as pure play, category-focused, industry-focused, and diversified; it is quantitatively analyzed to categorize vendors as dominant, leading, strong, tentative, and weak.
Segment Overview
The mobile apps market report forecasts market growth by revenue at global, regional & country levels and provides an analysis of the latest trends and growth opportunities from 2017 to 2027. 
Platform Outlook (USD Billion, 2017 - 2027)

Android market
IOS market
Others

Type Outlook (USD Billion, 2017 - 2027)

Gaming
Music and entertainment
Health and fitness
Social networking
Others

Region Outlook (USD Billion, 2017 - 2027)

Europe

U.K.
Germany
France
Rest of Europe

South America
Middle East & Africa

Saudi Arabia
South Africa
Rest of the Middle East & Africa
Mobile Apps Market Scope

Report Coverage

Details

Page number

176

Base year

2022

Historic period

2017-2021

Forecast period

2023-2027

Growth momentum & CAGR

Accelerate at a CAGR of 22.97%

Market growth 2023-2027

USD 1,095.9 billion

Market structure

Fragmented

YoY growth 2022-2023(%)

22.85

Regional analysis

APAC, North America, Europe, South America, and Middle East and Africa

Performing market contribution

APAC at 37%

Key countries

US, China, Japan, India, and UK

Competitive landscape

Leading Vendors, Market Positioning of Vendors, Competitive Strategies, and Industry Risks

Key companies profiled

Alphabet Inc., Amazon.com Inc., ANI Technologies Pvt. Ltd., ASICS Corp., Canva Pty Ltd., Electronic Arts Inc., Grab Holdings Ltd., Meta Platforms Inc., Microsoft Corp., Mozilla Corp., Netflix Inc., Niantic Inc., One97 Communications Ltd., Spotify Technology SA, The Gap Inc., Uber Technologies Inc., Ubisoft Entertainment SA, Walmart Inc., Xiaomi Communications Co. Ltd., and Zomato Media Pvt. Ltd.

Market dynamics

Parent market analysis, Market growth inducers and obstacles, Fast-growing and slow-growing segment analysis, COVID 19 impact and recovery analysis and future consumer dynamics, Market condition analysis for forecast period

Customization purview

If our report has not included the data that you are looking for, you can reach out to our analysts and get segments customized.
What are the Key Data Covered in this Mobile Apps Market Research Report?
CAGR of the market during the forecast period
Detailed information on factors that will drive the growth of the

mobile apps market

between 2023 and 2027
Precise estimation of the size of the mobile apps market size and its contribution of the market in focus to the parent market
Detailed analysis of customer landscape covering price sensitivity, adoption of the lifecycle, and key purchase criteria 
Vendor landscape comparing criticality of inputs and factors of differentiation
Exclusive Matrix on vendor position and classification
Accurate predictions about upcoming trends and changes in consumer behavior
Growth of the market industry across APAC, North America, Europe, South America, and Middle East and Africa
A thorough analysis of the market's competitive landscape and detailed information about vendors
Comprehensive analysis of factors that will challenge the growth of mobile apps market vendors
We can help! Our analysts can customize this market research report to meet your requirements. Get in touch