Hydrogen Generation Market Analysis Report 2023-2027:
The hydrogen generation market size is forecast to increase by USD 47.84 billion and is estimated to grow at a CAGR of 5.58% between 2023 and 2027.  The report includes historic market data from 2017 to 2021. The market is witnessing a growing demand for the decline in fuel cell costs, advancements in carbon capture technologies, and government incentives for fuel cell vehicles (FCVs).
Hydrogen Generation Market Overview :
The market segmentation by Application as the chemical industry, refinery industry, metal processing industry, and others.
Chemical Industry is fastest growing segment during the forecast year
The Chemical industry  was the largest segment and was valued at USD 94.08 billion in 2017
The Regional Analysis consists of APAC, Europe, North America, Middle East and Africa, and South America
APAC  is is most dominating region during the forecast period
 It also includes an in-depth analysis of drivers (factors influencing market growth), trends (emerging patterns or shifts in consumer behavior), and challenges (barriers or obstacles faced by the industry)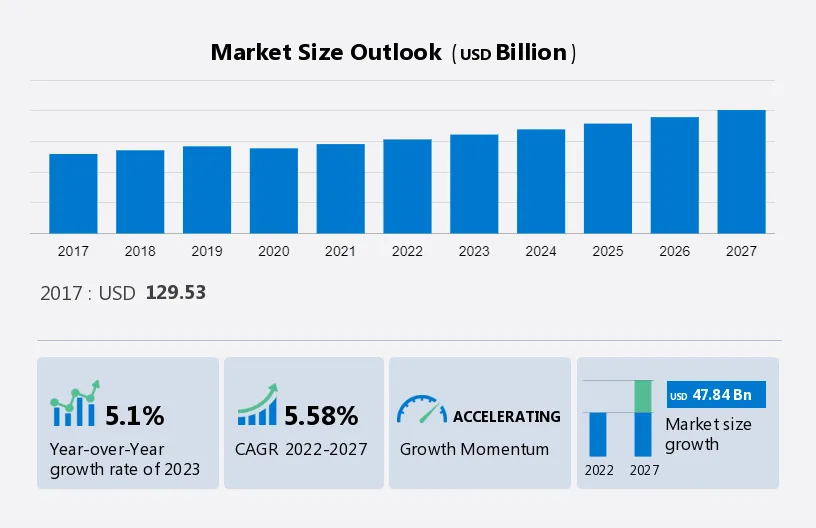 To learn more about this report, View Report Sample
Hydrogen Generation Market Trends 
The primary trend in the market is the decrease in fuel cell prices, attributed to increased R&D investments. Various factors have contributed to cost reduction, such as decreased Pt loading on the anode, optimized bipolar plate formation, welding costs, and improved gas diffusion layers based on OEM feedback.
The declining production costs of fuel cell systems are enabling their widespread adoption in different sectors. As fuel cell applications increase, there will be a surge in demand for hydrogen gas, fostering market growth.
Largest-Growing Segments 
By Application Insights
Hydrogen plays a crucial role in the chemical industry as a primary supply for various processes. It is used in the synthesis of methanol and ammonia, vital in manufacturing fertilizers and polymers. Additionally, hydrogen is utilized in producing paints, synthetic fibers, nylon, and polyurethane elastomers. Ammonia, produced using hydrogen, is essential for urea-based fertilizers. With increasing investments in the agriculture sector, the fertilizer industry is expanding ammonia capacity, leading to significant growth in the global ammonia gas capacity. Moreover, hydrogen is used in methanol production, which is increasingly used as a direct or blended fuel. The rising demand for fertilizers and fuels is driving the hydrogen generation market's growth, particularly in the chemical industry segment during the forecast period.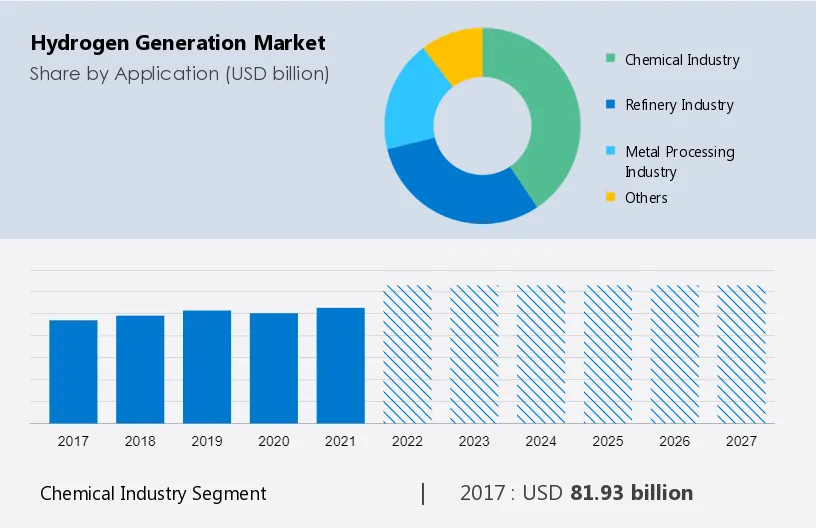 Get a glance at the market contribution of various segments View the PDF Sample
Hydrogen Generation Market Regional Analysis
For more insights on the market share of various regions Download PDF Sample now!
APAC is estimated to contribute 56% to the growth of the global market during the forecast period. Technavio's analysts have elaborately explained the regional trends and drivers that shape the market during the forecast period.
The refinery industry in APAC is driven by the huge local demand for refined petroleum products such as gasoline and diesel. This demand is driven by countries that register a healthy GDP growth rate, majorly India and China. In line with several government regulations, oil and gas refineries need to reduce the sulfur content in diesel. For this, these refineries need to increase the level of hydrogen. In November 2022, Indian Oil Corporation Limited (IOCL), its subsidiary Chennai Petroleum Corporation Limited (CPCL), and other equity partners formed a joint venture to build the planned Nagapattinam refinery and petrochemicals project in the state of Tamil Nadu, India.  Such investments would have a long-term positive impact on the market and would also drive the growth of the market in focus during the forecast period.
Many end-user industries, such as chemicals, refining, electronics, and industrial manufacturing, which use hydrogen gas extensively, faced certain challenges following the outbreak of COVID-19.  The region is anticipated to witness high adoption of fuel cells during the forecast period. Such fuel cells, which use hydrogen as the key compound to generate power, are seen as a better alternative to lithium-ion batteries. This would, thus, increase the demand for hydrogen generation, and hence, it is expected that the regional market for hydrogen generation is likely to show significant growth during the second half of the forecast period.
Key Driver of Hydrogen Generation Market
The growing demand for fertilizers is notably driving market growth. The demand for food is expected to double with the rise in population. To meet this growing demand, intensive farming, protective cropping methods, and the best fertilizer management practices will be required for increasing agricultural production. 
For fertilizer management, nitrogen fertilizers will be used. Ammonia is one of the major components used in nitrogen fertilizers, with ammonium nitrate being the preferred form. With the rising global population, there will be a huge demand for agricultural products, leading to the requirement for better fertilization management systems. This will increase the demand for ammonia to manufacture these systems, thereby driving the growth of the market.
Significance Challenges of Hydrogen Generation Market
Competition from alternative technologies is the major challenge impeding market growth. Fuel cell technology is a highly competitive market. Many local and international companies in the market face stiff competition from alternative technologies, such as solar energy, batteries, and internal combustion engines (ICEs). These technologies have already been established, making it a challenge for fuel cells to gain wider acceptance. 
For instance, batteries are used as a backup power solution in a wide range of industrial, commercial, and residential applications. They are also extensively used in the transportation and telecom sectors. It has, therefore, limited the deployment of fuel cells to power light-duty vehicles for APUs and unmanned aerial vehicles (UAVs) in the defense sector as well as in commercial applications. With fuel cell technology still lagging behind other renewable technologies and the huge market that batteries have gained owing to their availability in different sizes and power ranges, it has become a challenge to establish a similar, competitive fuel cell-based business.
Hydrogen Generation Market Customer Landscape
The market research report includes the adoption lifecycle of the market, covering from the innovator's stage to the laggard's stage. It focuses on adoption rates in different regions based on penetration. Furthermore, the report also includes key purchase criteria and drivers of price sensitivity to help companies evaluate and develop their growth strategies.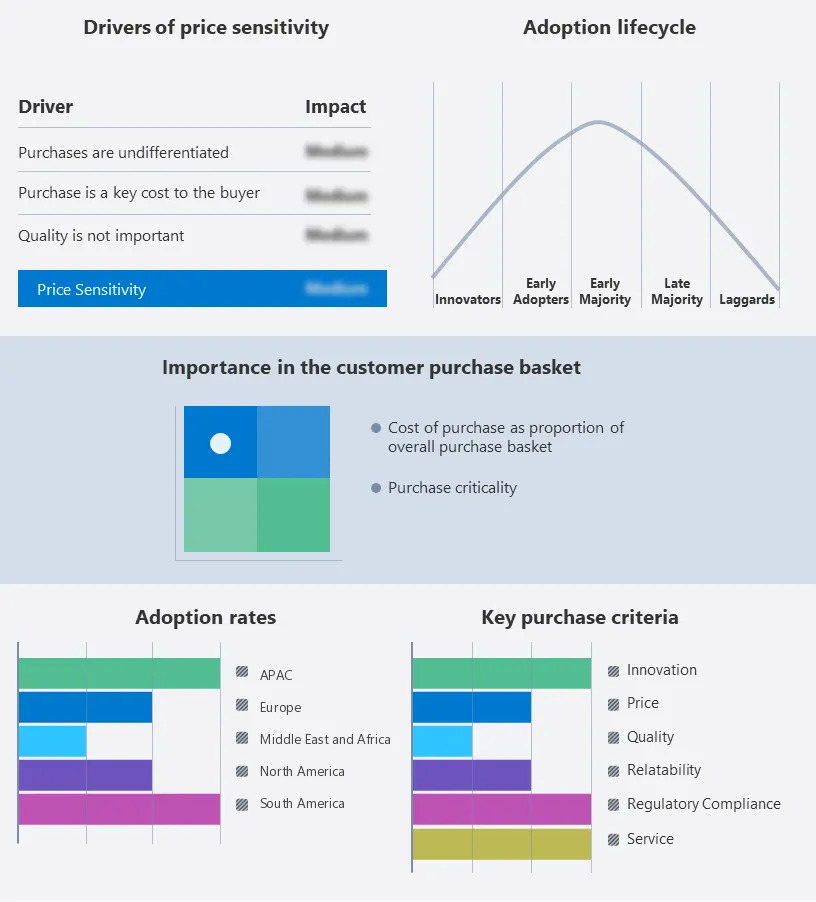 Global Hydrogen Generation Market Customer Landscape
Major Hydrogen Generation Market Companies
Companies are implementing various strategies, such as strategic alliances, partnerships, mergers and acquisitions, geographical expansion, and product/service launches, to enhance their presence in the market.
McPhy Energy SA - The company offers hydrogen generation solutions such as Augmented McLyzer. Under this segment, the company offers its research and development, engineering, and production solution for the merchant hydrogen market and renewable energy markets.
The research report also includes detailed analyses of the competitive landscape of the market and information about 15 market companies, including:
Air Liquide SA
Air Products and Chemicals Inc.
Claind Srl
Cummins Inc.
FuelCell Energy Inc
Green Hydrogen Systems
Hiringa Energy Ltd.
Hyster Yale Materials Handling Inc.
ITM Power plc
Iwatani Corp.
Linde Plc
Mahler AGS GmbH
McPhy Energy SA
Messer SE and Co. KGaA
Nel ASA
Parker Hannifin Corp.
SHOWA DENKO K.K.
Teledyne Technologies Inc.
Xebec Adsorption Inc.
Mitsubishi Chemical Holdings Corp.
Qualitative and quantitative analysis of companies has been conducted to help clients understand the wider business environment as well as the strengths and weaknesses of key market players. Data is qualitatively analyzed to categorize companies as pure play, category-focused, industry-focused, and diversified; it is quantitatively analyzed to categorize companies as dominant, leading, strong, tentative, and weak.
Segment Overview
The hydrogen generation market report forecasts market growth by revenue at global, regional & country levels and provides an analysis of the latest trends and growth opportunities from 2017 to 2027. 
Delivery Mode Outlook (USD Billion, 2017 - 2027)
Application Outlook (USD Billion, 2017 - 2027)

Chemical industry
Refinery industry
Metal processing industry
Others

Region Outlook (USD Billion, 2017 - 2027)

APAC
Europe

The U.K.
Germany
France
Rest of Europe

North America

Middle East & Africa

Saudi Arabia
South Africa
Rest of the Middle East & Africa

South America
Hydrogen Generation Market Scope

Report Coverage

Details

Page number

172

Base year

2022

Historic period

2017-2021

Forecast period

2023-2027

Growth momentum & CAGR

Accelerate at a CAGR of 5.58%

Market growth 2023-2027

USD 47.84 billion

Market structure

Fragmented

YoY growth 2022-2023(%)

5.1

Regional analysis

APAC, Europe, North America, Middle East and Africa, and South America

Performing market contribution

APAC at 56%

Key countries

US, China, Japan, Germany, and France

Competitive landscape

Leading Companies, Market Positioning of Companies, Competitive Strategies, and Industry Risks

Key companies profiled

Air Liquide SA, Air Products and Chemicals Inc., Claind Srl, Cummins Inc., FuelCell Energy Inc, Green Hydrogen Systems, Hiringa Energy Ltd., Hyster Yale Materials Handling Inc., ITM Power plc, Iwatani Corp., Linde Plc, Mahler AGS GmbH, McPhy Energy SA, Messer SE and Co. KGaA, Nel ASA, Parker Hannifin Corp., SHOWA DENKO K.K., Teledyne Technologies Inc., Xebec Adsorption Inc., and Mitsubishi Chemical Holdings Corp.

Market dynamics

Parent market analysis, Market growth inducers and obstacles, Fast-growing and slow-growing segment analysis, COVID 19 impact and recovery analysis and future consumer dynamics, Market condition analysis for forecast period

Customization purview

If our report has not included the data that you are looking for, you can reach out to our analysts and get segments customized.
What are the Key Data Covered in this Hydrogen Generation Market Research Report?
CAGR of the market during the forecast period
Detailed information on factors that will drive the growth of the

market 

between 2023 and 2027
Precise estimation of the size of the market  size and its contribution of the market in focus to the parent market
Accurate predictions about upcoming trends and changes in consumer behaviour
Growth of the market industry across APAC, Europe, North America, Middle East and Africa, and South America
Thorough analysis of the market's competitive landscape and detailed information about companies
Comprehensive analysis of factors that will challenge the growth of market companies
We can help! Our analysts can customize this market research report to meet your requirements. 
1 Executive Summary
1.1 Market overview

Exhibit 01: Executive Summary – Chart on Market Overview
Exhibit 02: Executive Summary – Data Table on Market Overview
Exhibit 03: Executive Summary – Chart on Global Market Characteristics
Exhibit 04: Executive Summary – Chart on Market by Geography
Exhibit 05: Executive Summary – Chart on Market Segmentation by Delivery Mode
Exhibit 06: Executive Summary – Chart on Market Segmentation by Application
Exhibit 07: Executive Summary – Chart on Incremental Growth
Exhibit 08: Executive Summary – Data Table on Incremental Growth
Exhibit 09: Executive Summary – Chart on Vendor Market Positioning
2 Market Landscape
2.1 Market ecosystem

Exhibit 10: Parent market
Exhibit 11: Market Characteristics
3 Market Sizing
3.1 Market definition

Exhibit 12: Offerings of vendors included in the market definition
3.2 Market segment analysis

Exhibit 13: Market segments
3.4 Market outlook: Forecast for 2022-2027

Exhibit 14: Chart on Global - Market size and forecast 2022-2027 ($ billion)
Exhibit 15: Data Table on Global - Market size and forecast 2022-2027 ($ billion)
Exhibit 16: Chart on Global Market: Year-over-year growth 2022-2027 (%)
Exhibit 17: Data Table on Global Market: Year-over-year growth 2022-2027 (%)
4 Historic Market Size
4.1 Global hydrogen generation market 2017 - 2021

Exhibit 18: Historic Market Size – Data Table on Global hydrogen generation market 2017 - 2021 ($ billion)
4.2 By Delivery mode Segment Analysis 2017 - 2021

Exhibit 19: Historic Market Size – By Delivery mode Segment 2017 - 2021 ($ billion)
4.3 By Application Segment Analysis 2017 - 2021

Exhibit 20: Historic Market Size – By Application Segment 2017 - 2021 ($ billion)
4.4 Geography Segment Analysis 2017 - 2021

Exhibit 21: Historic Market Size – Geography Segment 2017 - 2021 ($ billion)
4.5 Country Segment Analysis 2017 - 2021

Exhibit 22: Historic Market Size – Country Segment 2017 - 2021 ($ billion)
5 Five Forces Analysis
5.1 Five forces summary

Exhibit 23: Five forces analysis - Comparison between 2022 and 2027
5.2 Bargaining power of buyers

Exhibit 24: Chart on Bargaining power of buyers – Impact of key factors 2022 and 2027
5.3 Bargaining power of suppliers

Exhibit 25: Bargaining power of suppliers – Impact of key factors in 2022 and 2027
5.4 Threat of new entrants

Exhibit 26: Threat of new entrants – Impact of key factors in 2022 and 2027
5.5 Threat of substitutes

Exhibit 27: Threat of substitutes – Impact of key factors in 2022 and 2027
5.6 Threat of rivalry

Exhibit 28: Threat of rivalry – Impact of key factors in 2022 and 2027
5.7 Market condition

Exhibit 29: Chart on Market condition - Five forces 2022 and 2027
6 Market Segmentation by Delivery Mode
6.1 Market segments

Exhibit 30: Chart on Delivery Mode - Market share 2022-2027 (%)
Exhibit 31: Data Table on Delivery Mode - Market share 2022-2027 (%)
6.2 Comparison by Delivery Mode

Exhibit 32: Chart on Comparison by Delivery Mode
Exhibit 33: Data Table on Comparison by Delivery Mode
6.3 Merchant - Market size and forecast 2022-2027

Exhibit 34: Chart on Merchant - Market size and forecast 2022-2027 ($ billion)
Exhibit 35: Data Table on Merchant - Market size and forecast 2022-2027 ($ billion)
Exhibit 36: Chart on Merchant - Year-over-year growth 2022-2027 (%)
Exhibit 37: Data Table on Merchant - Year-over-year growth 2022-2027 (%)
6.4 Captive - Market size and forecast 2022-2027

Exhibit 38: Chart on Captive - Market size and forecast 2022-2027 ($ billion)
Exhibit 39: Data Table on Captive - Market size and forecast 2022-2027 ($ billion)
Exhibit 40: Chart on Captive - Year-over-year growth 2022-2027 (%)
Exhibit 41: Data Table on Captive - Year-over-year growth 2022-2027 (%)
6.5 Market opportunity by Delivery Mode

Exhibit 42: Market opportunity by Delivery Mode ($ billion)
7 Market Segmentation by Application
7.1 Market segments

Exhibit 43: Chart on Application - Market share 2022-2027 (%)
Exhibit 44: Data Table on Application - Market share 2022-2027 (%)
7.2 Comparison by Application

Exhibit 45: Chart on Comparison by Application
Exhibit 46: Data Table on Comparison by Application
7.3 Chemical industry - Market size and forecast 2022-2027

Exhibit 47: Chart on Chemical industry - Market size and forecast 2022-2027 ($ billion)
Exhibit 48: Data Table on Chemical industry - Market size and forecast 2022-2027 ($ billion)
Exhibit 49: Chart on Chemical industry - Year-over-year growth 2022-2027 (%)
Exhibit 50: Data Table on Chemical industry - Year-over-year growth 2022-2027 (%)
7.4 Refinery industry - Market size and forecast 2022-2027

Exhibit 51: Chart on Refinery industry - Market size and forecast 2022-2027 ($ billion)
Exhibit 52: Data Table on Refinery industry - Market size and forecast 2022-2027 ($ billion)
Exhibit 53: Chart on Refinery industry - Year-over-year growth 2022-2027 (%)
Exhibit 54: Data Table on Refinery industry - Year-over-year growth 2022-2027 (%)
7.5 Metal processing industry - Market size and forecast 2022-2027

Exhibit 55: Chart on Metal processing industry - Market size and forecast 2022-2027 ($ billion)
Exhibit 56: Data Table on Metal processing industry - Market size and forecast 2022-2027 ($ billion)
Exhibit 57: Chart on Metal processing industry - Year-over-year growth 2022-2027 (%)
Exhibit 58: Data Table on Metal processing industry - Year-over-year growth 2022-2027 (%)
7.6 Others - Market size and forecast 2022-2027

Exhibit 59: Chart on Others - Market size and forecast 2022-2027 ($ billion)
Exhibit 60: Data Table on Others - Market size and forecast 2022-2027 ($ billion)
Exhibit 61: Chart on Others - Year-over-year growth 2022-2027 (%)
Exhibit 62: Data Table on Others - Year-over-year growth 2022-2027 (%)
7.7 Market opportunity by Application

Exhibit 63: Market opportunity by Application ($ billion)
8 Customer Landscape
8.1 Customer landscape overview

Exhibit 64: Analysis of price sensitivity, lifecycle, customer purchase basket, adoption rates, and purchase criteria
9 Geographic Landscape
9.1 Geographic segmentation

Exhibit 65: Chart on Market share by geography 2022-2027 (%)
Exhibit 66: Data Table on Market share by geography 2022-2027 (%)
9.2 Geographic comparison

Exhibit 67: Chart on Geographic comparison
Exhibit 68: Data Table on Geographic comparison
9.3 APAC - Market size and forecast 2022-2027

Exhibit 69: Chart on APAC - Market size and forecast 2022-2027 ($ billion)
Exhibit 70: Data Table on APAC - Market size and forecast 2022-2027 ($ billion)
Exhibit 71: Chart on APAC - Year-over-year growth 2022-2027 (%)
Exhibit 72: Data Table on APAC - Year-over-year growth 2022-2027 (%)
9.4 Europe - Market size and forecast 2022-2027

Exhibit 73: Chart on Europe - Market size and forecast 2022-2027 ($ billion)
Exhibit 74: Data Table on Europe - Market size and forecast 2022-2027 ($ billion)
Exhibit 75: Chart on Europe - Year-over-year growth 2022-2027 (%)
Exhibit 76: Data Table on Europe - Year-over-year growth 2022-2027 (%)
9.5 North America - Market size and forecast 2022-2027

Exhibit 77: Chart on North America - Market size and forecast 2022-2027 ($ billion)
Exhibit 78: Data Table on North America - Market size and forecast 2022-2027 ($ billion)
Exhibit 79: Chart on North America - Year-over-year growth 2022-2027 (%)
Exhibit 80: Data Table on North America - Year-over-year growth 2022-2027 (%)
9.6 Middle East and Africa - Market size and forecast 2022-2027

Exhibit 81: Chart on Middle East and Africa - Market size and forecast 2022-2027 ($ billion)
Exhibit 82: Data Table on Middle East and Africa - Market size and forecast 2022-2027 ($ billion)
Exhibit 83: Chart on Middle East and Africa - Year-over-year growth 2022-2027 (%)
Exhibit 84: Data Table on Middle East and Africa - Year-over-year growth 2022-2027 (%)
9.7 South America - Market size and forecast 2022-2027

Exhibit 85: Chart on South America - Market size and forecast 2022-2027 ($ billion)
Exhibit 86: Data Table on South America - Market size and forecast 2022-2027 ($ billion)
Exhibit 87: Chart on South America - Year-over-year growth 2022-2027 (%)
Exhibit 88: Data Table on South America - Year-over-year growth 2022-2027 (%)
9.8 China - Market size and forecast 2022-2027

Exhibit 89: Chart on China - Market size and forecast 2022-2027 ($ billion)
Exhibit 90: Data Table on China - Market size and forecast 2022-2027 ($ billion)
Exhibit 91: Chart on China - Year-over-year growth 2022-2027 (%)
Exhibit 92: Data Table on China - Year-over-year growth 2022-2027 (%)
9.9 US - Market size and forecast 2022-2027

Exhibit 93: Chart on US - Market size and forecast 2022-2027 ($ billion)
Exhibit 94: Data Table on US - Market size and forecast 2022-2027 ($ billion)
Exhibit 95: Chart on US - Year-over-year growth 2022-2027 (%)
Exhibit 96: Data Table on US - Year-over-year growth 2022-2027 (%)
9.10 Japan - Market size and forecast 2022-2027

Exhibit 97: Chart on Japan - Market size and forecast 2022-2027 ($ billion)
Exhibit 98: Data Table on Japan - Market size and forecast 2022-2027 ($ billion)
Exhibit 99: Chart on Japan - Year-over-year growth 2022-2027 (%)
Exhibit 100: Data Table on Japan - Year-over-year growth 2022-2027 (%)
9.11 Germany - Market size and forecast 2022-2027

Exhibit 101: Chart on Germany - Market size and forecast 2022-2027 ($ billion)
Exhibit 102: Data Table on Germany - Market size and forecast 2022-2027 ($ billion)
Exhibit 103: Chart on Germany - Year-over-year growth 2022-2027 (%)
Exhibit 104: Data Table on Germany - Year-over-year growth 2022-2027 (%)
9.12 France - Market size and forecast 2022-2027

Exhibit 105: Chart on France - Market size and forecast 2022-2027 ($ billion)
Exhibit 106: Data Table on France - Market size and forecast 2022-2027 ($ billion)
Exhibit 107: Chart on France - Year-over-year growth 2022-2027 (%)
Exhibit 108: Data Table on France - Year-over-year growth 2022-2027 (%)
9.13 Market opportunity by geography

Exhibit 109: Market opportunity by geography ($ billion)
10 Drivers, Challenges, and Trends
10.3 Impact of drivers and challenges

Exhibit 110: Impact of drivers and challenges in 2022 and 2027
11 Vendor Landscape
11.2 Vendor landscape

Exhibit 111: Overview on Criticality of inputs and Factors of differentiation
11.3 Landscape disruption

Exhibit 112: Overview on factors of disruption
11.4 Industry risks

Exhibit 113: Impact of key risks on business
12 Vendor Analysis
12.1 Vendors covered

Exhibit 114: Vendors covered
12.2 Market positioning of vendors

Exhibit 115: Matrix on vendor position and classification
12.3 Air Liquide SA

Exhibit 116: Air Liquide SA - Overview
Exhibit 117: Air Liquide SA - Business segments
Exhibit 118: Air Liquide SA - Key news
Exhibit 119: Air Liquide SA - Key offerings
Exhibit 120: Air Liquide SA - Segment focus
12.4 Air Products and Chemicals Inc.

Exhibit 121: Air Products and Chemicals Inc. - Overview
Exhibit 122: Air Products and Chemicals Inc. - Business segments
Exhibit 123: Air Products and Chemicals Inc. - Key news
Exhibit 124: Air Products and Chemicals Inc. - Key offerings
Exhibit 125: Air Products and Chemicals Inc. - Segment focus
12.5 Claind Srl

Exhibit 126: Claind Srl - Overview
Exhibit 127: Claind Srl - Product / Service
Exhibit 128: Claind Srl - Key offerings
12.6 Cummins Inc.

Exhibit 129: Cummins Inc. - Overview
Exhibit 130: Cummins Inc. - Business segments
Exhibit 131: Cummins Inc. - Key offerings
Exhibit 132: Cummins Inc. - Segment focus
12.7 ITM Power plc

Exhibit 133: ITM Power plc - Overview
Exhibit 134: ITM Power plc - Product / Service
Exhibit 135: ITM Power plc - Key offerings
12.8 Iwatani Corp.

Exhibit 136: Iwatani Corp. - Overview
Exhibit 137: Iwatani Corp. - Business segments
Exhibit 138: Iwatani Corp. - Key offerings
Exhibit 139: Iwatani Corp. - Segment focus
12.9 Linde Plc

Exhibit 140: Linde Plc - Overview
Exhibit 141: Linde Plc - Business segments
Exhibit 142: Linde Plc - Key news
Exhibit 143: Linde Plc - Key offerings
Exhibit 144: Linde Plc - Segment focus
12.10 Mahler AGS GmbH

Exhibit 145: Mahler AGS GmbH - Overview
Exhibit 146: Mahler AGS GmbH - Product / Service
Exhibit 147: Mahler AGS GmbH - Key offerings
12.11 McPhy Energy SA

Exhibit 148: McPhy Energy SA - Overview
Exhibit 149: McPhy Energy SA - Product / Service
Exhibit 150: McPhy Energy SA - Key offerings
12.12 Messer SE and Co. KGaA

Exhibit 151: Messer SE and Co. KGaA - Overview
Exhibit 152: Messer SE and Co. KGaA - Product / Service
Exhibit 153: Messer SE and Co. KGaA - Key offerings
12.13 Nel ASA

Exhibit 154: Nel ASA - Overview
Exhibit 155: Nel ASA - Business segments
Exhibit 156: Nel ASA - Key offerings
Exhibit 157: Nel ASA - Segment focus
12.14 Parker Hannifin Corp.

Exhibit 158: Parker Hannifin Corp. - Overview
Exhibit 159: Parker Hannifin Corp. - Business segments
Exhibit 160: Parker Hannifin Corp. - Key news
Exhibit 161: Parker Hannifin Corp. - Key offerings
Exhibit 162: Parker Hannifin Corp. - Segment focus
12.15 SHOWA DENKO K.K.

Exhibit 163: SHOWA DENKO K.K. - Overview
Exhibit 164: SHOWA DENKO K.K. - Business segments
Exhibit 165: SHOWA DENKO K.K. - Key news
Exhibit 166: SHOWA DENKO K.K. - Key offerings
Exhibit 167: SHOWA DENKO K.K. - Segment focus
12.16 Teledyne Technologies Inc.

Exhibit 168: Teledyne Technologies Inc. - Overview
Exhibit 169: Teledyne Technologies Inc. - Business segments
Exhibit 170: Teledyne Technologies Inc. - Key offerings
Exhibit 171: Teledyne Technologies Inc. - Segment focus
12.17 Xebec Adsorption Inc.

Exhibit 172: Xebec Adsorption Inc. - Overview
Exhibit 173: Xebec Adsorption Inc. - Business segments
Exhibit 174: Xebec Adsorption Inc. - Key news
Exhibit 175: Xebec Adsorption Inc. - Key offerings
Exhibit 176: Xebec Adsorption Inc. - Segment focus
13 Appendix
13.2 Inclusions and exclusions checklist

Exhibit 177: Inclusions checklist
Exhibit 178: Exclusions checklist
13.3 Currency conversion rates for US$

Exhibit 179: Currency conversion rates for US$
13.4 Research methodology

Exhibit 180: Research methodology
Exhibit 181: Validation techniques employed for market sizing
Exhibit 182: Information sources
13.5 List of abbreviations

Exhibit 183: List of abbreviations