Over the top (OTT) Market Statistics
The Global Over The Top (OTT) Market size is estimated to grow by USD 439.12 billion between 2022 and 2027 accelerating at a compound annual growth rate (CAGR) of 24.85%. The growth of the market depends on factors such as the growing preference for cloud streaming services, the renewal of shows across online streaming channels, and the growing adoption of target advertisement-based streaming apps.
This report extensively covers market segmentation by content type (video, text and /images, VoIP, and music streaming), device (smartphone and tablet, laptop and desktop, and smart tv), and geography (North America, Europe, APAC, South America, and Middle East and Africa). It also includes an in-depth OTT industry overview of drivers, trends, and challenges. 
What will be the Size of the Over the Top (OTT) Market During the Forecast Period?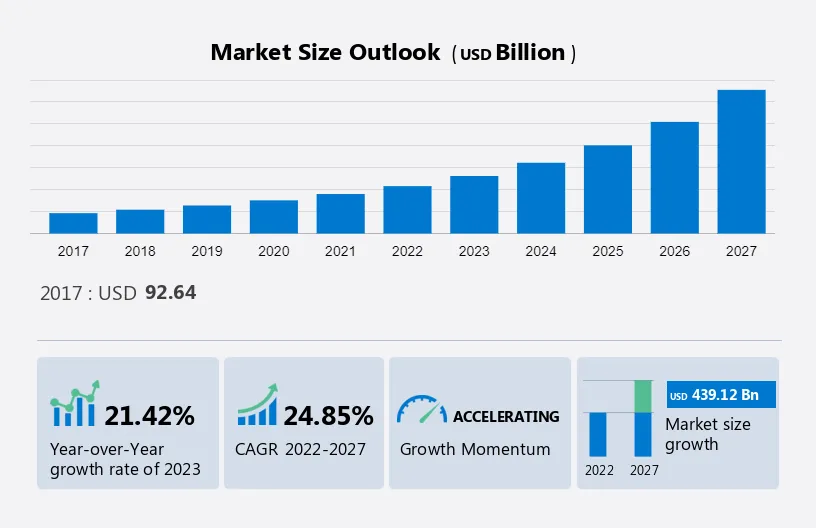 To learn more about this report, Request Free Sample in PDF
Over the Top (OTT) Market: Key Drivers, Trends, and Challenges
 Our researchers analyzed the data with 2022 as the base year and the key drivers, trends, and challenges. A holistic analysis of upcoming trends and challenges will help companies refine their marketing strategies to gain a competitive advantage.
Key Over-the-Top (OTT) Market Drivers
Growing preference for cloud streaming services is a major Over the Top (OTT) market driver. Advancements in wired and wireless technologies, such as 3G, 4G, and 5G, are driving global adoption of cloud streaming services. These services prevent illegal downloading and sharing of video and audio files. Vendors use push strategies, like the freemium model, to convert free users to premium services, ensuring sustainability. Consumers are shifting to paid premium services for features like ad-free listening, high-quality audio, and the ability to download and skip tracks.
Cloud-based streaming is replacing traditional music systems, offering storage, streaming, and sharing across devices. Companies like Amazon and Google rely on the cloud to meet the demand for music, movies, and videos. Cloud streaming generates higher revenues for content companies and provides social media integration for personalized preferences and sharing. With growing internet penetration and improved services, consumers will increasingly adopt cloud streaming.
Significant Over-the-Top (OTT) Market Trends
The growing number of partnerships and acquisitions is an ongoing Over the Top (OTT) market trend. The global OTT market is growing with the increasing demand for audio and video OTT content. To capitalize on the growing demand for OTT content, vendors are forming strategic partnerships to gain a competitive edge over their competitors, which will help them to increase their customer base. Some of the significant partnerships and acquisitions are mentioned below: 
In September 2021, Amazon Prime Video launched its channels vertical in India by tying up with eight other subscription-based OTT video streaming players. Prime Video Channels will act as an intermediary for movies from Lionsgate Play, Eros Now, and MUBI, Bengali OTT player Hoichoi, Malayalam's manoramaMAX, documentaries from DocuBay, short films from ShortsTV and wildlife, adventure, science, and food and lifestyle content from discovery+. 
In September 2021, Indian OTT space, Zee Entertainment Enterprises Ltd (ZEEL), and Sony Pictures Networks India (SPNI) entered into a merger to grow the profit and market share across South Asia. These types of partnerships and acquisitions will increase access to new digital audio and video content, which will drive the growth of the market during the forecast period.All these factors are boosting the growth of the market.
Major Over-the-Top (OTT) Market Challenges
Illegal downloading and piracy are major restraints hindering the over the top market growth. Piracy poses a major challenge in the global OTT market, impacting subscriptions worldwide. While some countries in Europe have piracy laws, many others lack strict regulations. Copyright piracy is widespread in countries like Portugal, the Netherlands, Spain, Latvia, and Bulgaria. Switzerland's laws protect torrent users but prohibit uploading files. The shift to digital music and the availability of content online has made piracy harder to combat. The lack of digital piracy laws in many countries and the use of VPNs contribute to the problem. Canada, Brazil, and India face significant piracy issues, affecting revenue for broadcasters and original streaming services. Despite copyright laws, piracy continues due to circumvention techniques.
What is the Fastest-Growing Segments in the Over the Top (OTT) Market?
The video segment is expected to experience significant market share growth in the forecast period. The video on demand market will witness substantial growth due to the increasing availability of video content. OTT services in the video category can be divided into subscription video-on-demand (SVOD), advertising-based video-on-demand (AVOD), and transactional video-on-demand (TVOD). SVOD allows users to access video content for a limited period by paying a subscription fee. AVOD involves generating revenue through advertisements while users stream videos, with the content being free to watch. Platforms like YouTube operate on the AVOD model.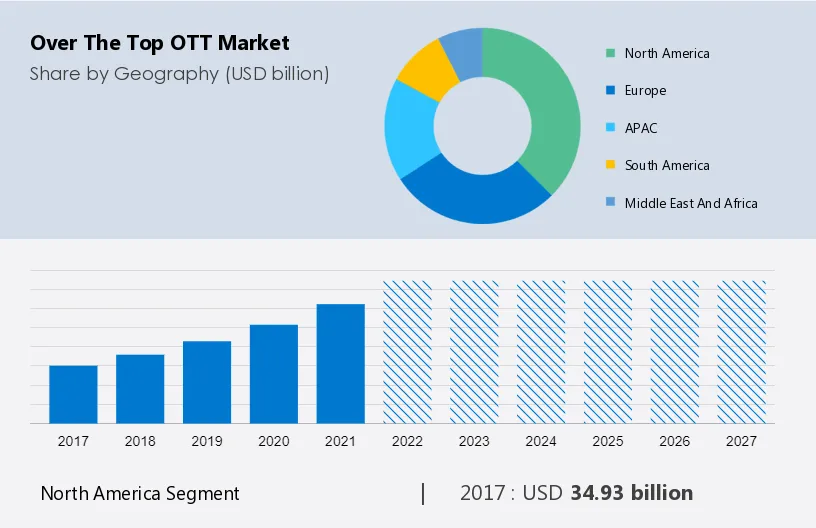 Get a glance at the market contribution of various segments View the PDF Sample
The video segment witnessed substantial growth, with a value of USD 60.25 billion in 2017, continuing to rise until 2021. The increased adoption of smart devices like smartphones and tablets has fueled the demand for video content. Furthermore, advancements in mobile networks, particularly investments in 4G and preparations for the 5G network, have further amplified the need for video content. The upcoming 5G network promises enhanced performance, including faster data rates, lower latency, and increased traffic capacity, encouraging seamless downloading and streaming of video content on mobile devices. Consequently, video-on-demand subscriptions have also surged, contributing to the growth of the global OTT market.
Which are the Key Regions for the Over the Top (OTT) Market?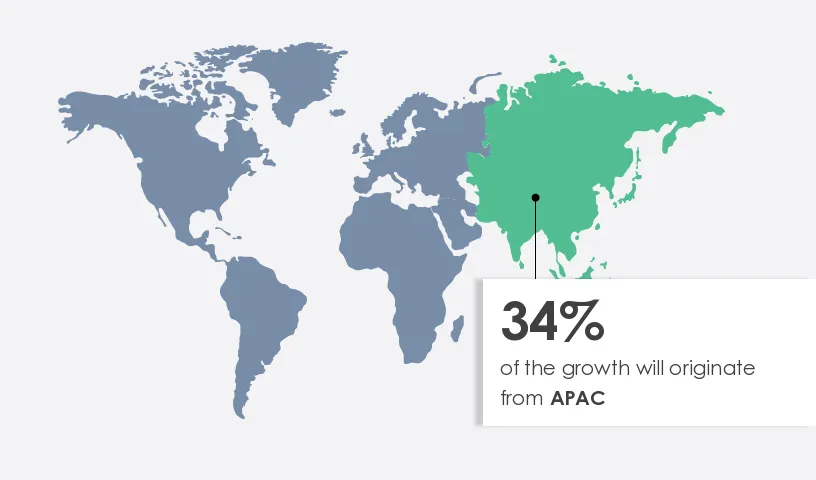 For more insights on the market share of various regions Download PDF Sample now!
APAC is estimated to contribute 34% to the growth of the global market during the forecast period. Technavio's analysts have elaborately explained the regional trends and drivers that shape the market during the forecast period.
The presence of major market players like Facebook, Netflix, Amazon, Microsoft, Google, YouTube, Apple, Home Box Office, Roku, IndieFlix, Vudu, and Hulu in North America is driving the growth of the OTT market in the region. These vendors generate significant revenue from their North American business segments, which contribute the most to their overall operations. Many streaming service providers in the region are partnering with smart speaker manufacturers to integrate audio and video streaming services into their systems. Additionally, Amazon.com, Apple, and Google are launching smart speakers with integrated streaming platforms, further fueling the growth of the OTT market.
The COVID-19 pandemic in 2020 and 2021 had a positive impact on the OTT market in North America. Lockdown restrictions led to a substantial increase in the number of households streaming OTT content, with approximately 14.7 million new homes in the US streaming content between January 2020 and June 2021. Moreover, over 80% of American households are OTT subscribers. These factors contribute to the significant growth projected for the global OTT market during the forecast period. Key players in the animation and gaming industry adopting business strategies and expanding their video content and game portfolios will further drive the demand for OTT services in the regional market.
Technavio's Exclusive Over the Top (OTT) Market Customer Landscape
The report includes the adoption lifecycle of the market, covering from the innovator's stage to the laggard's stage. It focuses on adoption rates in different regions based on penetration. Furthermore, the report also includes key purchase criteria and drivers of price sensitivity to help companies evaluate and develop their growth strategies.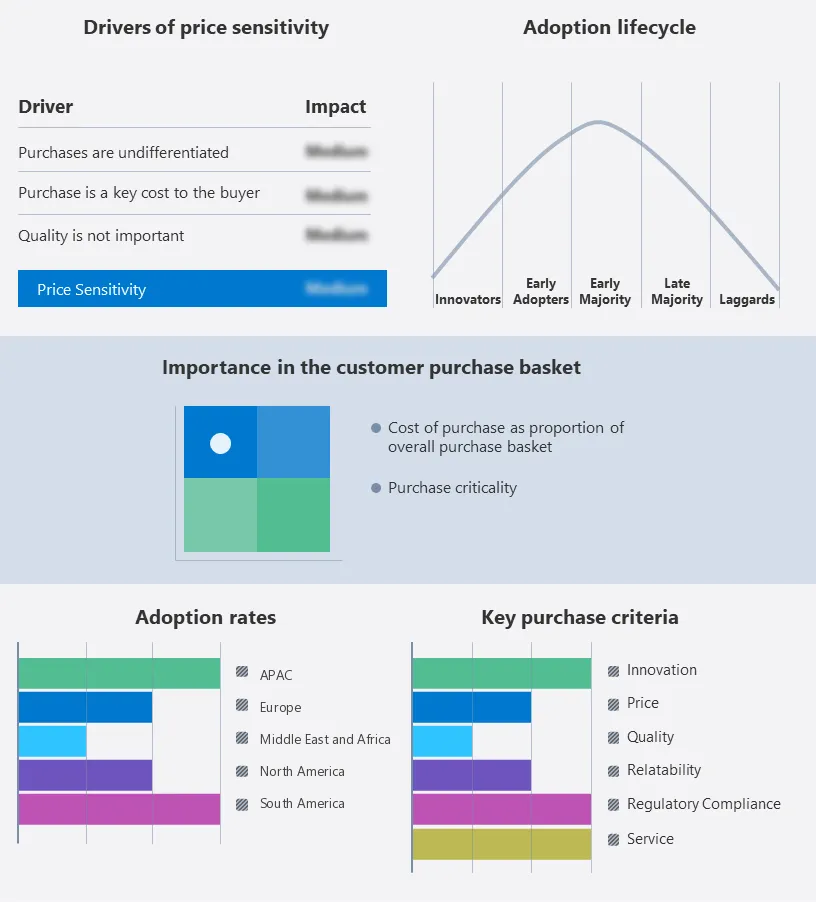 Global over the top (OTT) Market Customer Landscape
Who are the Major Over the Top (OTT) Market Vendors?
Vendors are implementing various strategies, such as strategic alliances, partnerships, mergers and acquisitions, geographical expansion, and product/service launches, to enhance their presence in the market.
Netflix Inc.- The company provides entertainment services like TV series, films, and games across a wide range of genres and languages. As of December 2022, it had around 231 million paid memberships in over 190 countries.
The report also includes detailed analyses of the competitive landscape of the market and information about 10 market vendors, including:
8x8 Inc.
Alphabet Inc.
Amazon.com Inc.
Apple Inc.
Cinedigm Digital Cinema Corp.
Comcast Corp.
Deezer SA
Meta Platforms Inc.
FlixFling LLC
iflix Ltd.
Indieflix Inc.
Microsoft Corp.
Sirius XM Holdings Inc.
Sony Group Corp.
Spotify Technology SA
Telstra Corp. Ltd.
Tencent Holdings Ltd.
The Walt Disney Co.
Paramount Global
Qualitative and quantitative analysis of vendors has been conducted to help clients understand the wider business environment as well as the strengths and weaknesses of key market players. Data is qualitatively analyzed to categorize vendors as pure play, category-focused, industry-focused, and diversified; it is quantitatively analyzed to categorize vendors as dominant, leading, strong, tentative, and weak.
Segment Overview
The over-the-top (OTT) market report forecasts market growth by revenue at global, regional & country levels and provides an analysis of the latest trends and growth opportunities from 2017 to 2027.
Content Type Outlook (USD Billion, 2017 - 2027)

Video 
Text and /images
VoIP
Music streaming
Device Outlook (USD Billion, 2017 - 2027)

Smartphones and Tablet
Laptop and Desktop
Smart TV
Region Outlook (USD Billion, 2017 - 2027)

Europe

U.K.
Germany
France
Rest of Europe

Middle East & Africa

Saudi Arabia
South Africa
Rest of the Middle East & Africa
Over The Top (OTT) Market Scope

Report Coverage

Details

Page number

174

Base year

2022

Historic period

2017-2021

Forecast period

2023-2027

Growth momentum & CAGR

Accelerate at a CAGR of 24.85%

Market growth 2023-2027

USD 439.12 billion

Market structure

Fragmented

YoY growth 2022-2023(%)

21.42

Regional analysis

North America, Europe, APAC, South America, and Middle East and Africa

Performing market contribution

APAC at 34%

Key countries

US, Canada, China, UK, and Germany

Competitive landscape

Leading Vendors, Market Positioning of Vendors, Competitive Strategies, and Industry Risks

Key companies profiled

8x8 Inc., Alphabet Inc., Amazon.com Inc., Apple Inc., Cinedigm Digital Cinema Corp., Comcast Corp., Deezer SA, Meta Platforms Inc., FlixFling LLC, iflix Ltd., Indieflix Inc., Microsoft Corp., Netflix Inc., Sirius XM Holdings Inc., Sony Group Corp., Spotify Technology SA, Telstra Corp. Ltd., Tencent Holdings Ltd., The Walt Disney Co., and Paramount Global

Market dynamics

Parent market analysis, Market growth inducers and obstacles, Fast-growing and slow-growing segment analysis, COVID 19 impact and recovery analysis and future consumer dynamics, Market condition analysis for forecast period

Customization purview

If our report has not included the data that you are looking for, you can reach out to our analysts and get segments customized.
What are the Key Data Covered in this Over The Top (OTT) Market Research Report?
CAGR of the market during the forecast period
Detailed information on factors that will drive the growth of the

over-the-top (OTT) market

between 2023 and 2027
Precise estimation of the size of the over the top (OTT) market size and its contribution of the market in focus to the parent market
Detailed OTT industry analysis of customer landscape covering price sensitivity, adoption of the lifecycle, and key purchase criteria 
Vendor landscape comparing criticality of inputs and factors of differentiation
Exclusive Matrix on vendor position and classification
Accurate predictions about upcoming trends and changes in consumer behavior
Growth of the market industry across North America, Europe, APAC, South America, and Middle East and Africa
A thorough analysis of the market's competitive landscape and detailed information about vendors
Comprehensive analysis of factors that will challenge the growth of over the top (OTT) market vendors
We can help! Our analysts can customize this market research report to meet your requirements. Get in touch