The visible light communication market is estimated to grow at a CAGR of 89.66% between 2022 and 2027. The size of the market is forecast to increase by USD 176,547.8 million. The growth of the market depends on several factors, including the adoption of process automation in various industries, as well as the emergence of faster and safer data transfer methods and the availability of wider bandwidths, there has been a significant shift in the way businesses operate.
This report extensively covers market segmentation by application (indoor networking, LBS, underwater communication, and ICE), end-user (retail, consumer electronics, automotive and transportation, healthcare, and others), and geography (North America, APAC, Europe, South America, and Middle East and Africa). It also includes an in-depth analysis of drivers, trends, and challenges. Furthermore, the report includes historic market data from 2017 to 2021.
What will be the size of the Visible Light Communication Market During the Forecast Period?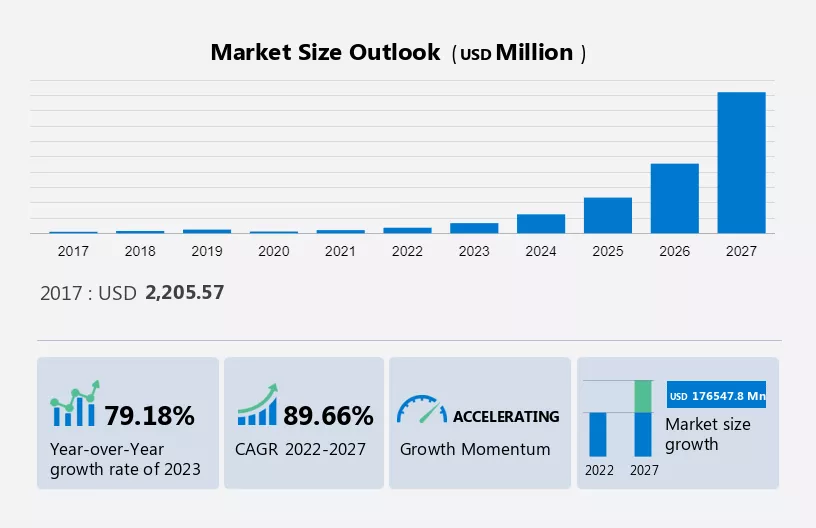 To learn more about this report, Download Report Sample
Visible Light Communication Market: Key Drivers, Trends, Challenges, and Customer Landscape
The growing penetration of process automation in industries is notably driving market growth, although factors such as the dominance of competing technologies may impede the market growth. Our researchers analyzed the data with 2022 as the base year and the key drivers, trends, and challenges. A holistic analysis of drivers will help companies refine their marketing strategies to gain a competitive advantage.
Key Visible Light Communication Market Driver
The growing penetration of process automation in industries is notably driving the market growth. Automation has been growing steadily in industries, particularly in discrete industries where automated systems and robots are finding new applications. Industries today use different types of industrial networks, which are based on different standards. This leads to network interoperability issues, which can be solved by using an automation gateway. Automation gateways can navigate easily from one communication network to another, thus helping increase the availability of controllers and devices.
One of the important applications of industrial communication gateways in automation is bridging two programmable logic controller (PLC) systems belonging to different companies. Though this bridging can be achieved by a PLC rack-based communication card, the use of an automation gateway makes it hassle-free and less complicated. Furthermore, with the help of a gateway, an operator can select the best device available for the process rather than being reliant solely on one device. With technological advances in automation and technical breakthroughs reducing the cost of optimization, automation will gain acceptance in different application areas, resulting in an increase in the demand for wireless communication technology. Hence, these factors will act as market enablers for the growth of the VLC market during the forecast period.
Significant Visible Light Communication Market Trend
The adoption of LEDs is an emerging trend in the market. The energy efficiency, longevity, and cost-effectiveness of LEDs will boost the adoption of these lighting devices. LEDs will gradually replace all fluorescent and incandescent lights in the market soon. The possibility of using LEDs for lighting, as well as communication, will likely be a factor that will speed up the adoption of these lights. For instance, if the lights in offices and houses are replaced with LEDs, free-space optical communications can be achieved. This will allow wireless optical communication between phones, computers, sensors, and other indoor devices such as office and household applications. This model is also simple and easy to implement, as it requires no additional hardware or infrastructure.
Some countries, such as the US, Japan, and China, have adopted LED and have taken steps to promote a reduction in energy consumption using LED lighting technology. For instance, in China, the government is providing profitable incentives, resources, and financial subsidies to promote the adoption of LED lighting across businesses. It has also taken a number of steps to support and advance the capabilities of LED manufacturers nationwide. Therefore, factors like these will boost the global VLC market's growth during the forecast period.
Major Visible Light Communication Market Challenge
The dominance of competing technologies is a major problem impeding the market growth. Wi-Fi and WiMAX technology-based devices have dominated the market for decades. These have replaced analog and digital technologies used for different sectors. Reliable and efficient network connectivity helps in the proper monitoring and controlling of home appliances. Smart systems are gaining momentum with the advent of high-speed internet services from leading internet service providers.
Most smart systems function effectively with the help of wireless connectivity. High penetration of Wi-Fi connectivity across the globe is fueling this adoption of smart systems, as numerous devices can easily get added to the common network without the use of external controllers. In addition, many advanced low-power consumption communication technologies have been put into use, such as ZigBee and Z-Wave, to operate effectively. The growth of the VLC market is curtailed by the presence of these alternatives. Therefore, these factors will likely hinder the global market growth during the forecast period. 
Key Visible Light Communication Market Customer Landscape
The report includes the adoption lifecycle of the market, covering from the innovator's stage to the laggard's stage. It focuses on adoption rates in different regions based on penetration. Furthermore, the report also includes key purchase criteria and drivers of price sensitivity to help companies evaluate and develop their growth strategies.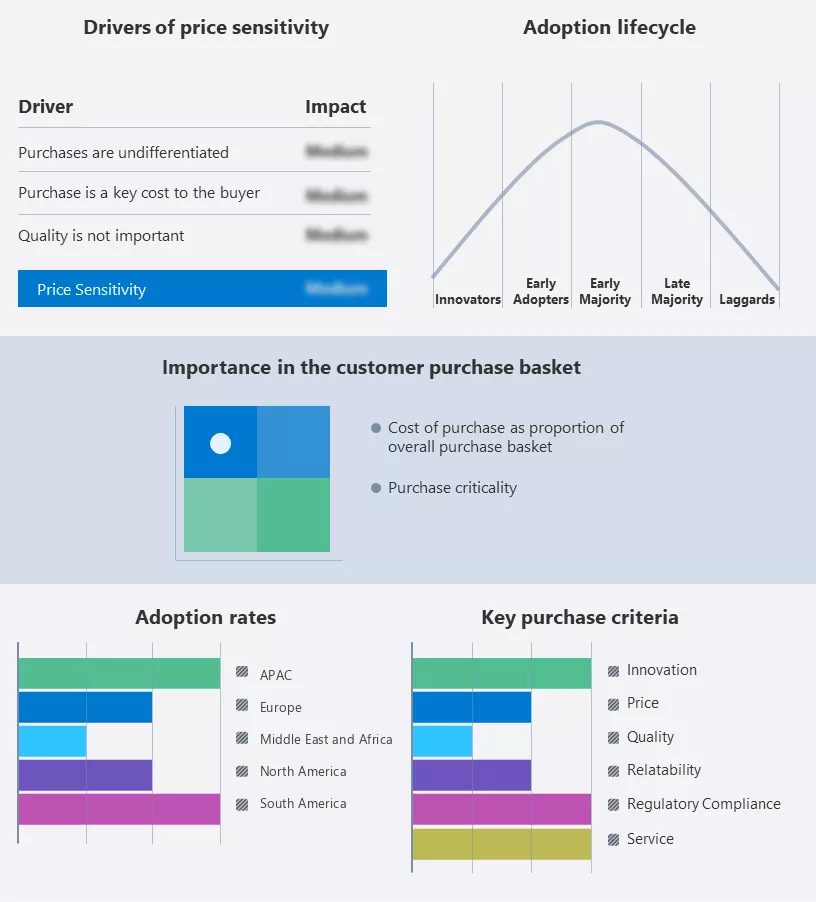 Global Visible Light Communication Market Customer Landscape
Who are the Major Visible Light Communication Market Vendors?
Vendors are implementing various strategies, such as strategic alliances, partnerships, mergers and acquisitions, geographical expansion, and product/service launches, to enhance their presence in the market.
Firefly Networks Ltd. - The company offers a platform for the digital landscape by addressing critical future digital challenges. The key offerings of the company include visible light communication. 
The report also includes detailed analyses of the competitive landscape of the market and information about 15 market vendors, including:
Acuity Brands Inc.
Fortive Corp.
Fraunhofer Society
fSONA Systems Corp.
General Electric Co.
Koninklijke Philips NV
Latecoere
LightBee SL
Lucibel SA
nextLiFi
Oledcomm
Panasonic Holdings Corp.
pureLiFi Ltd.
Qualcomm Inc.
Renesas Electronics Corp.
Qualitative and quantitative analysis of vendors has been conducted to help clients understand the wider business environment as well as the strengths and weaknesses of key market players. Data is qualitatively analyzed to categorize vendors as pure play, category-focused, industry-focused, and diversified, it is quantitatively analyzed to categorize vendors as dominant, leading, strong, tentative, and weak.
What is the Fastest-Growing Segment in the Visible Light Communication Market?
The market share growth by the indoor networking segment will be significant during the forecast period.  VLC technology has penetrated the indoor networking segment. The retail and hospitality industries are using indoor networking systems to enhance the shopping and service experience of customers and improve the value delivered.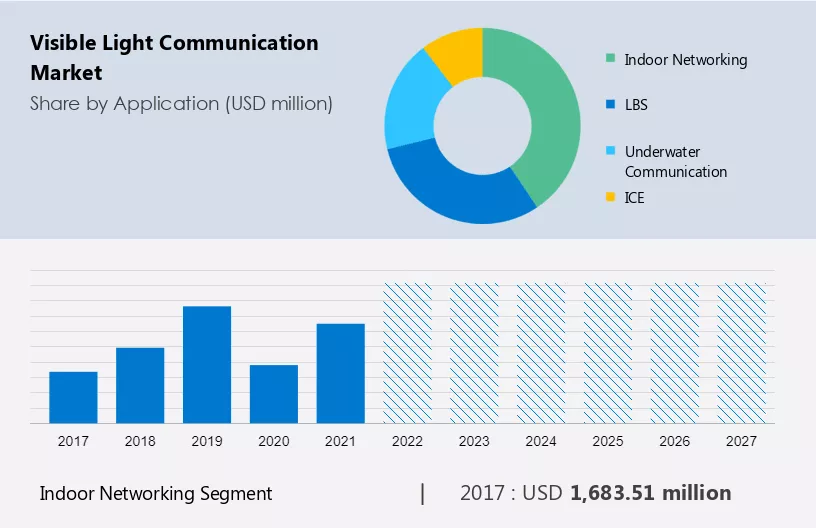 Get a glance at the market contribution of various segments Request a PDF Sample
The indoor networking segment was valued at USD 1,683.51 million in 2017 and continued to grow until 2021. The adoption of this technology, along with indoor position apps, will improve the targeted advertising of retailers and enhance their sales. In addition, low data rates and the existing infrastructure will reduce costs considerably. The interest shown by major lighting manufacturers will further boost this market.
Which are the Key Regions for the Visible Light Communication Market?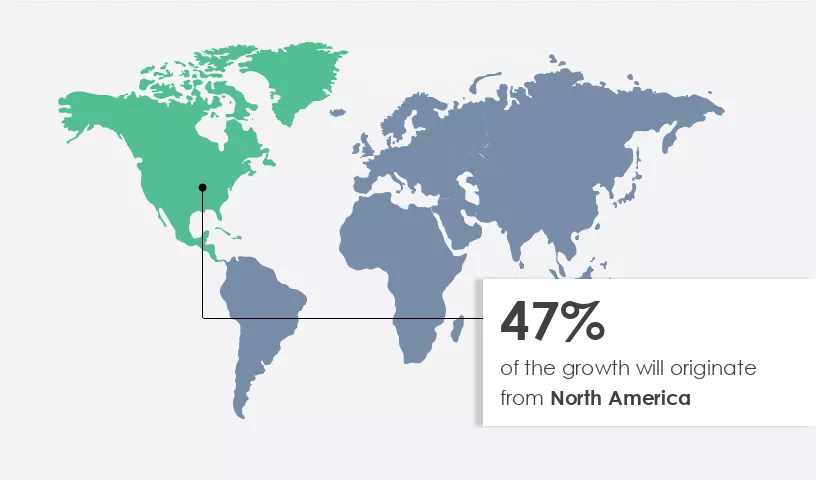 For more insights on the market share of various regions Request PDF Sample now!
North America is estimated to contribute 47% to the growth of the global market during the forecast period. Technavio's analysts have elaborately explained the regional trends and drivers that shape the market during the forecast period.
North America is the largest revenue contributor to the global VLC market. The use of radio frequency for Wi-Fi has created a severe spectrum crunch in the region. This has led to the fall in bandwidth offered and affected high-speed communication. The new disruptive advances will take over the Wi-Fi market in applications such as horticultural lighting, industrial and commercial, and marine lighting. Major nations in the region, including the US, Canada, and Brazil, have started phasing out incandescent lamps and are adopting better energy-efficient light sources such as LEDs with the aim of achieving 100% LED replacement. The Department of Transportation (DoT) and the National Highway Traffic Safety Administration (NHTSA) mandate the use of LEDs for headlights and taillights of vehicles. The demand for faster and safer wireless communication in the region will drive the adoption of this technology in North America.
In 2020, the outbreak of COVID-19 decreased the overall demand for VLC technology in the region, as major end-user industries were compelled to shut down their production units temporarily and consequently faced a significant decline in their revenue. However, in 2021, most lockdown measures were lifted in countries across North America. Furthermore, economic conditions improved owing to the large-scale COVID-19 vaccination drives conducted in the region in 2021. These two factors subsequently helped the resumption of operations in end-user industries, which augmented the demand for Li-Fi. Owing to this rise in demand, the VLC market is expected to grow in the region during the forecast period.
Segment Overview
The report forecasts market growth by revenue at global, regional & country levels and provides an analysis of the latest trends and growth opportunities from 2017 to 2027. 
End-user Outlook (USD Million, 2017 - 2027)

Retail
Consumer electronics
Automotive and Transportation
Healthcare
Others
Application Outlook (USD Million, 2017 - 2027)

Indoor networking
LBS
Underwater communication
ICE
Region Outlook (USD Million, 2017 - 2027)

Europe

The U.K.
Germany
France
Rest of Europe

Middle East & Africa

Saudi Arabia
South Africa
Rest of the Middle East & Africa

South America
Parent Market Analysis
Technavio categorizes the global visible light communication (VLC) market as a part of the global electronic equipment and instruments market within the overall electronics market. The parent global electronics market includes manufacturers of communications equipment, technology hardware storage and peripherals, electronic equipment and instruments, electronic components, consumer electronics, and industrial electronics products, as well as electronic manufacturing services.  Our research report has extensively covered external factors influencing the parent market growth during the forecast period.
Visible Light Communication Market Scope

Report Coverage

Details

Page number

179

Base year

2022

Historic period

2017-2021

Forecast period

2023-2027

Growth momentum & CAGR

Accelerate at a CAGR of 89.66%

Market growth 2023-2027

USD 176,547.8 million

Market structure

Fragmented

YoY growth 2022-2023(%)

79.18

Regional analysis

North America, APAC, Europe, South America, and Middle East and Africa

Performing market contribution

North America at 47%

Key countries

US, China, Japan, South Korea, Germany, and UK

Competitive landscape

Leading Vendors, Market Positioning of Vendors, Competitive Strategies, and Industry Risks

Key companies profiled

Acuity Brands Inc., Firefly Networks Ltd., Fortive Corp., Fraunhofer Society, fSONA Systems Corp., General Electric Co., Koninklijke Philips NV, Latecoere, LightBee SL, Lucibel SA, nextLiFi, Oledcomm, Panasonic Holdings Corp., pureLiFi Ltd., Qualcomm Inc., Renesas Electronics Corp., Signify NV, To Be Srl, Viavi Solutions Inc., and VLNComm Inc.

Market dynamics

Parent market analysis, Market growth inducers and obstacles, Fast-growing and slow-growing segment analysis, COVID-19 impact and recovery analysis and future consumer dynamics, and Market condition analysis for the forecast period. 

Customization purview

If our report has not included the data that you are looking for, you can reach out to our analysts and get segments customized.
What are the Key Data Covered in this Visible Light Communication Market Report?
CAGR of the market during the forecast period
Detailed information on factors that will drive the growth of the visible light communication market between 2023 and 2027
Precise estimation of the size of the visible light communication market size and its contribution to the parent market
Accurate predictions about upcoming trends and changes in consumer behavior
Growth of the industry across North America, APAC, Europe, South America, and Middle East and Africa
A thorough analysis of the market's competitive landscape and detailed information about vendors
Comprehensive analysis of factors that will challenge the growth of visible light communication market vendors
We can help! Our analysts can customize this report to meet your requirements. Get in touch