Forensic Technologies Market Analysis Report 2023-2027:
The global forensic technologies market size is estimated to grow by USD  6,583.87 million at a CAGR of 11.89% between 2022 and 2027. Advanced technology and intelligence are a must for solving any solving crime. Furthermore, the use of DNA profiling and continuous development in R&D is expected to drive market growth. Advanced hyphenated technology and portable forensic technology are also influencing the market. Established market players in the forensic technologies market offer various forensic technology solutions to end-users across the globe. These manufacturers are making significant huge investments in research and development to improve the quality and application scope of their offerings and expand their customer base. Mergers, acquisitions, and strategic partnerships are just some of the ways the vendors in this market are taking to strengthen their position. These factors are expected to drive market growth. Agilent Technologies, GE Healthcare, and NetBio are some renowned market players focussing on innovative features and cutting-edge technologies in the global forensic technologies market.
Technavio has divided the market into three segments which are Technique, Application, and Geography.
The Technique segment is classified into PCR, capillary electrophoresis, and others.
The Application segment is classified into law enforcement agencies, healthcare, and others.
The Geography segment includes key regions North America, Europe, Asia, and the Rest Of World (ROW).
It also includes an in-depth analysis of drivers, trends, and challenges. Furthermore, the report includes historic market data from 2017 to 2021.
What will be the Size of the Forensic Technologies Market During the Forecast Period?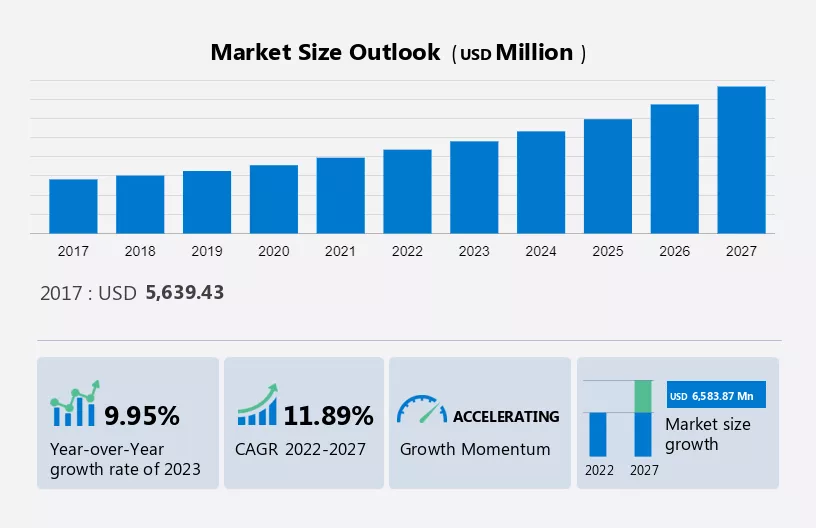 To learn more about this report, Download Forensic Technologies Market Research Report Sample PDF
Forensic Technologies Market Segmentation by Technique, Application, Geography
Technique Analysis
Under technique falls three sub-segment which are PCR, capillary electrophoresis, and others.
PCR
The PCR segment was valued at USD 1,355.44 million in 2017 and continued to grow until 2021. PCR is another promising forensic technique used in DNA fingerprinting for human identification. One of the key vendors in the PCR market, Agilent Technologies, Inc., has a wide range of product offerings that are used in forensic analysis. Agilent bioanalyzer and DNA 500 LabChip are used in mtDNA applications. Agilent 2100 bioanalyzer provides a short separation channel and the application of a high electrical field, which reduces the time of analysis. The instrument consists of a fluorescence detection system, resulting in superior detection sensitivity. These are the leading factors for the growth of the segment.
Capillary electrophoresis
In forensic science, capillary electrophoresis enables the chemical analysis of organic and inorganic samples during DNA testing and forensic ballistics. The electrophoretic method is used to isolate and compare DNA and blood proteins, and also in forensic ballistics where analysis of inorganic substances such as gunshot residues from crime scenes with suspects, victims, or standard reference material can be carried out accurately. Factors driving the market growth in this segment include the technological advantages of this technique over other molecular separation methods, high accuracy and reproducibility, and the ability to handle high volumes of samples.
Others
The others segment includes Rapid DNA Analysis, Next Generation Sequencing, Automated Liquid Handling Technology, and Microarrays. These types occupy smaller market shares compared to CE and PCR but hold great potential to witness an increase in their demand in the market during the forecast period. One key factor that is promoting the growth of the market in focus in this segment is the growing need for techniques that are cost-effective, less time-consuming, and have a minimum error rate.
Application Analysis
The application segment is bifurcated by law enforcement agencies, healthcare, and others.
Law Enforcement Agencies
Forensic technologies play an important role in the law enforcement sector, as it helps in providing scientific information by analyzing physical evidence. It helps law enforcement agencies identify the crime victim, match suspected crimes, and absolve persons who are wrongly accused of crimes. Since every individual has a unique DNA, victims and criminals involved in criminal cases can easily be identified. The availability of such solutions in the market and the development of new ones are likely to drive the growth of the law enforcement agencies segment in the global forensic technologies market during the forecast period.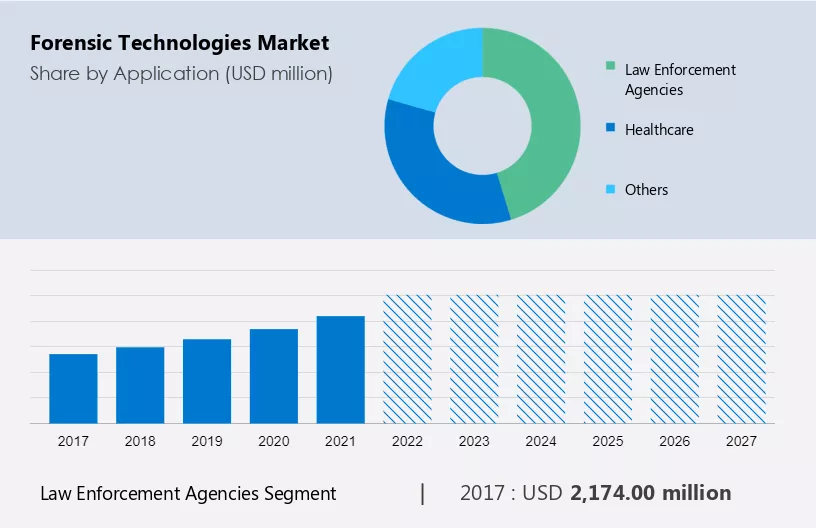 Get a glance at the market contribution of various segments Request Market Research Report Sample PDF
Healthcare
In the healthcare sector, forensic technologies are used for medical examinations, forensic pathology, and anthropology. It helps in identifying genetic diseases and analyzing patients for the same. In addition, it is used in medical research to develop medicines and treat diseases. As it requires high investment, the adoption rate of forensic technologies is low in many countries.  Many vendors are investing in forensic technologies to provide better support to the stakeholders in the healthcare sector.
Others
The other segment by application in global forensic technologies includes the banking and telecommunication sectors. Forensic technologies in these sectors are used to identify consumers and to track the genetics of an individual. The adoption of forensic technologies for these sectors is low, as there are a few vendors in the market, and their application is highly expensive. In addition, the lack of awareness of the advantages of forensic technologies for banking and telecommunication is limiting its acceptance among these end-users.
To know more about segments download the market research report sample
Regional Analysis
North America is estimated to contribute 33% to the growth of the global market during the forecast period. Technavio's analysts have elaborately explained the regional trends and drivers that shape the market during the forecast period.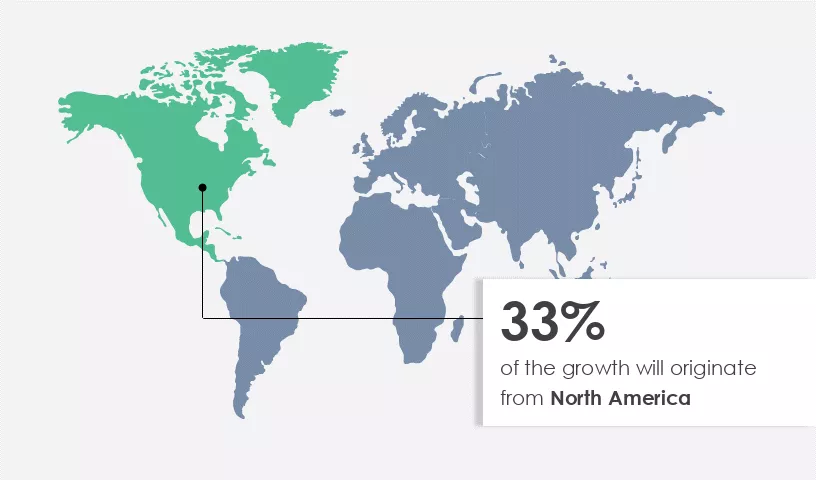 For more insights on the market share of various regions Request Market Research Report Sample PDF
 
North America accounts for a significantly large share of the market. Huge government funding to forensic labs and the presence of major vendors such as Thermo Fisher Scientific and GE Healthcare, which have wide product offerings related to forensic technologies, are the factors driving the market growth in this region. The top three countries in this region are the US, Canada, and Mexico. Growing crime rates and government initiatives to combat issues such as homicides and drug trafficking in these countries have been increasing the demand for forensic technologies in the region.
Covid Recovery Analysis
The outbreak of COVID-19 led to the closure of forensic labs, which negatively impacted the regional market. However, the increased adoption of genome sequencing technology for monitoring the spread of COVID-19 boosted the demand for various forensic technologies in 2021. Moreover, with routine activities resuming in the region, forensic labs reopened in 2021. The increased healthcare expenditure in the region is expected to boost the growth of the market in North America during the forecast period. 
Key Players in Forensic Technologies Market
There is high competition in the forensic technologies market. Among several market players, the organization Zentek Digital Investigations Ltd. stands out among the competitors due to technological innovation and the on-point marketing strategy. 
Zentek Digital Investigations Ltd.- The company offers forensic technologies such as Mass spectrometers, Capillary electrophoresis, and Ion sources. Under this segment, the company offers liquid chromatography and capillary electrophoresis instruments, such as mass spectrometers, integrated solutions, in vitro giagnostics, capillary electrophoresis, and others.
The forensic technologies market report also includes detailed analyses of the competitive landscape of the market and information about 15 market vendors, including:
AB SCIEX LLC
Agilent Technologies Inc.
BDO International Ltd.
Belkasoft
Danaher Corp.
Eurofins Scientific SE
Exterro Inc.
HORIBA Ltd.
Illumina Inc.
LGC Ltd.
LIFARS LLC
Neogen Corp.
NMS Labs
Perkin Elmer Inc
Promega Corp.
QIAGEN NV
Shimadzu Corp.
StoneTurn Group LLP
Thermo Fisher Scientific Inc.
Ultra Electronics Holdings Plc
Technavio's report consists of a holistic analysis of the key development Analysis,  development stage,  pipeline analysis,  FDA approval, market players, their marketing strategies, and powerful innovations to help any client gain a competitive edge. 
Forensic Technologies Market: Key Drivers, Trends, Challenges, and Customer Landscape
There are multiple factors influencing market growth. Our researchers analyzed the data with 2022 as the base year, along with the key drivers, trends, and challenges. 
Key Forensic Technologies Market Driver
The escalation in crime rates and the increasing complexity of criminal activities on a global scale necessitates the use of advanced technology and intelligence to effectively solve crimes. The United Nations Office on Drugs and Crime (UNODC) and the Organisation for Economic Co-operation and Development (OECD) consider homicide rates, which are calculated as the number of murders per 100,000 inhabitants, to be a reliable indicator of a country's level of safety. Unlike other types of crimes that often go unreported, murders are usually reported and therefore provide a more accurate measurement. The World Bank Group reports that the global average homicide rate was 5.6 per 100,000 population in 2020, whereas the average homicide rate in OECD countries was 2.6 per 100,000 people. Forensic technologies have played an essential role in numerous criminal investigations. However, the rise in criminal cases has caused a backlog of pending cases, which necessitates the use of advanced forensic technologies. As a result, there has been a significant increase in the number of crime laboratories worldwide, and well-funded research has increased the demand for high-quality forensic products and services. These factors are expected to boost the market during the forecast period.
Significant Forensic Technologies Market Trends
Police forces in the private sector are increasingly requesting the development of automated technologies which is the upcoming trend in the forensic market. Companies are responding by offering easy-to-use, portable products that can generate results in under an hour. Governments are funding projects to aid laboratories in developing such products, which will save significant time and costs.
One such product in the emerging field of portable crime-scene forensics technology involves high-resolution 3-D /images of shoeprints and tire tread marks in snow and soil. This system is more cost-effective than traditional plaster casting methods. Scientists are also working to miniaturize and make portable mass spectrometers, which could be useful for detecting chemical weapons or bombs in public places.
The National Science Foundation, NASA, and the US Department of Defense have all provided funding for research on new ion spectrometers, which are significantly smaller and lighter than traditional equipment. As a result, there is a growing demand for portable forensic technology, and vendors who can meet this demand are likely to see growth in the market.
Major Forensic Technologies Market Challenge
Lack of technical know-how or technical professionals is restraining the market growth. It is essential for technology to be user-friendly, even for those without a background in computer science or digital evidence, especially in mobile forensics, which involves extracting data from cell phones. Skilled personnel typically handle this task in laboratories, but law enforcement needs to find ways to make their processes faster, more efficient, and easier to perform to keep up with the growing flow of data from various devices and apps.
In cases involving criminal enterprises such as human trafficking or narcotics networks, it is crucial to extract data quickly, or it may be erased before collection. There is often no time for laboratory analysis days after a crime has occurred. Therefore, it is necessary for tools to be user-friendly for non-experts at the crime scene. However, this can be challenging to achieve, and the demand for forensic technologies may be limited as a result. This limitation may hinder the growth of the global forensic technologies market during the forecast period.
To know more about drivers, trends, and challenges download the sample reports
Key Forensic Technologies Market Customer Landscape
The forensic technologies market report includes the adoption lifecycle of the market, covering from the innovator's stage to the laggard's stage. It focuses on adoption rates in different regions based on penetration. Furthermore, the report also includes key purchase criteria and drivers of price sensitivity to help companies evaluate and develop their growth strategies.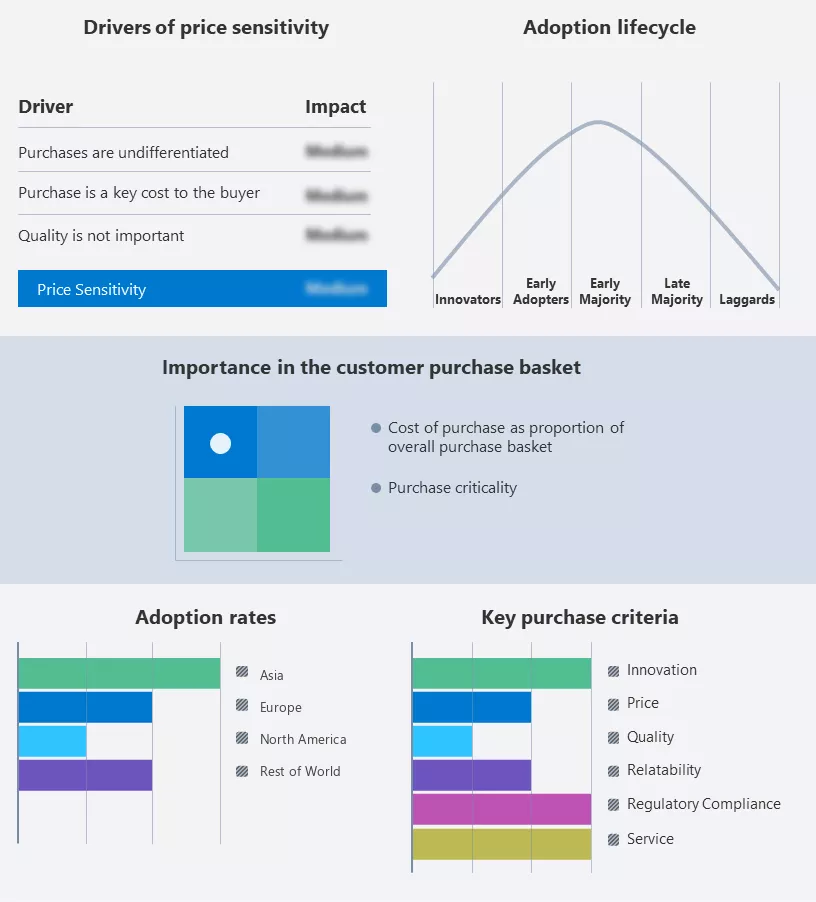 Global Forensic Technologies Market Customer Landscape
Segment Overview
The report forecasts market growth by revenue at global, regional & country levels and provides an analysis of the latest trends and growth opportunities from 2017 to 2027. 
Technique Outlook (USD Million, 2017 - 2027)

PCR
Capillary electrophoresis
Others
Application Outlook (USD Million, 2017 - 2027)

Law enforcement agencies
Healthcare
Others
Region Outlook (USD Million, 2017 - 2027)

Europe

The U.K.
Germany
France
Rest of Europe

Rest of World (ROW)

Brazil
Argentina
Rest of the Middle East & Africa
Forensic Technologies Market Scope

Report Coverage

Details

Page number

165

Base year

2022

Historic period

2017-2021

Forecast period

2023-2027

Growth momentum & CAGR

Accelerate at a CAGR of 11.89%

Market growth 2023-2027

USD 6,583.87 million

Market structure

Fragmented

YoY growth 2022-2023(%)

9.95

Regional analysis

North America, Europe, Asia, and Rest of World (ROW)

Performing market contribution

North America at 33%

Key countries

US, UK, Germany, China, and Japan

Competitive landscape

Leading Vendors, Market Positioning of Vendors, Competitive Strategies, and Industry Risks

Key companies profiled

AB SCIEX LLC, Agilent Technologies Inc., BDO International Ltd., Belkasoft, Danaher Corp., Eurofins Scientific SE, Exterro Inc., HORIBA Ltd., Illumina Inc., LGC Ltd., LIFARS LLC, Neogen Corp., NMS Labs, Perkin Elmer Inc, Promega Corp., QIAGEN NV, Shimadzu Corp., StoneTurn Group LLP, Thermo Fisher Scientific Inc., Ultra Electronics Holdings Plc, and Zentek Digital Investigations Ltd.

Market dynamics

Parent market analysis, Market growth inducers and obstacles, Fast-growing and slow-growing segment analysis, COVID 19 impact and recovery analysis and future consumer dynamics, Market condition analysis for forecast period

Customization purview

If our report has not included the data that you are looking for, you can reach out to our analysts and get segments customized.
Request Market Research Report Sample PDF
What are the Key Data Covered in this Forensic Technologies Market Research  Report?
CAGR of the market during the forecast period
Detailed information on factors that will drive the growth of the forensic technologies market between 2023 and 2027
Precise estimation of the size of the forensic technologies market size and its contribution to the market in focus on the parent market
Detailed analysis of customer landscape covering Diver of price sensitivity, Adoption of the lifecycle, and key purchase criteria 
Vendor landscape comparing criticality of inputs and factors of differentiation
Exclusive Matrix on vendor position and classification
Accurate predictions about upcoming trends and changes in consumer behavior
Growth of the market industry across North America, Europe, Asia, and the Rest of World (ROW)
A thorough analysis of the market's competitive landscape and detailed information about vendors
Comprehensive analysis of factors that will challenge the growth of forensic technologies market vendors
We can help! Our analysts can customize this market reserach  report to meet your requirements. Get in touch