Cloud Computing Market Report 2023-2027:
The cloud computing market size is estimated to grow at a CAGR of 17.32% between 2022 and 2027. The market size is forecast to increase by USD 429.6 billion. The growth of the market depends on several factors, including the increased inclination toward cloud computing for cost-cutting, the rise in adoption of cloud among SMEs, and the increased use of containers that will boost cloud adoption. In a cloud computing model, IT services are delivered over the Internet or through virtualization. A cloud vendor may offer these services for free or for a subscription fee based on the computing resources consumed.
This cloud computing market report extensively covers market segmentation by Deployment (public cloud and private cloud), Service (SaaS, IaaS, and PaaS), and Geography (North America, APAC, Europe, South America, and Middle East and Africa) and geography North America, APAC, Europe, South America, and Middle East and Africa. It also includes an in-depth analysis of drivers, trends, and challenges. Furthermore, the report includes historic market data from 2017 to 2021.
What will be the Size of the Cloud Computing Market During the Forecast Period?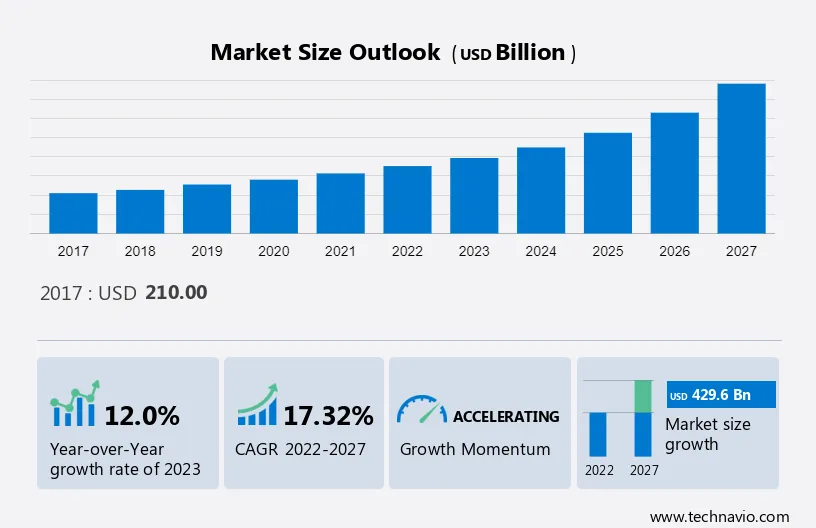 To learn more about this report, View Report Sample
Cloud Computing Market Overview
 Driver
The increased use of containers will boost cloud adoption and will notably drive the cloud computing market growth. With the emergence of multiple platforms and OSes, organizations are looking for consistency in the application development environments. Containers and microservices are emerging as an alternative solution to virtual machines (VMs) that consume higher resources. Containers have their dedicated CPUs and memory, such as VMs, but they share the kernel of the OS. As a result, containers do not need a guest OS or a hypervisor, which makes them lighter than VMs. Several organizations face issues when moving applications among environments. Containers package the applications and all the OS dependencies in a single package. This enables easy movement of applications among cloud platforms and makes the container and microservices architecture a viable solution for the cloud environment. Containers provide an increased level of visibility toward application performance. They also provide agility and cost benefits that are otherwise difficult to achieve with virtualization technologies as they consume higher system resources. 
Container and microservice architecture allow rapid scaling across different environments. The scalability of their IT infrastructure is critical as organizations are looking to expand their business. The container and microservices architecture aid in scaling effectively and efficiently. Docker is among the most popular container technologies that organizations are leveraging. It offers similar functionalities as VMs without affecting host resources. However, Docker lacks uniform support across different cloud platforms. As a result, several organizations are opting to deploy Kubernetes. Google Kubernetes Engine (GKE) and RedHat Inc.'s OpenShift are also gaining traction in the market. The above-mentioned factors will spur the market's growth during the forecast period.
Trends
An increase in cloud orchestration and cloud management software is a major trend in the cloud computing market. The adoption of hybrid cloud solutions has increased in recent years as it offers agility. However, managing a hybrid cloud can be a challenge as there are different management tools for on-premises infrastructure and for managing the public cloud. The rise in hybrid cloud deployments has resulted in a subsequent increase in cloud orchestration software. 
Cloud orchestration refers to the use of programming techniques to manage interconnections between the different public and private cloud computing environments. Cloud orchestration is used to provision and deploy equipment, manage networking, and create VMs, among other functions. The cloud orchestration software can work across multiple environments and in different geographical environments with different service providers. This makes cloud orchestration software an ideal solution for hybrid cloud deployments. 
Restrain
The vendor lock-in and operational complexities are major challenges impeding the cloud computing market growth. Vendor lock-in, also known as customer lock-in or proprietary lock-in, is where a customer using a product or service cannot easily transition to another vendor's product or service. This makes a customer dependent on a vendor for products and services, due to which the enterprise/customer cannot use the technology, solution, or service developed by other vendors. Therefore, it may be difficult to switch to public cloud service providers after all the data has been stored in the private cloud platform. It also becomes more difficult to switch among different private cloud vendors because an application is built using a specific platform and set of tools. Each vendor may not support the same languages, libraries, APIs, architecture, or OS used to build and run applications or store information. 
Although it is possible to switch between private cloud providers, the process can be time-consuming, labor-intensive, and expensive. Switching between vendors may even result in rebuilding or altering an application to fit the new platform. However, at the time of filing its S1, its infrastructure was directly tied to Google Cloud, which prevented the company from making this transition and led to additional costs and excess resource allocation. Thus, vendor lock-in can pose a challenge for the global private cloud services market during the forecast period.
Cloud Computing Market Segmentation By Deployment 
The market share growth by the public cloud segment will be significant during the forecast period. In 2022, the public cloud segment has dominated the global cloud computing market in the financial services industry, primarily due to increasing globalization and the growth of the IT and BFSI sectors.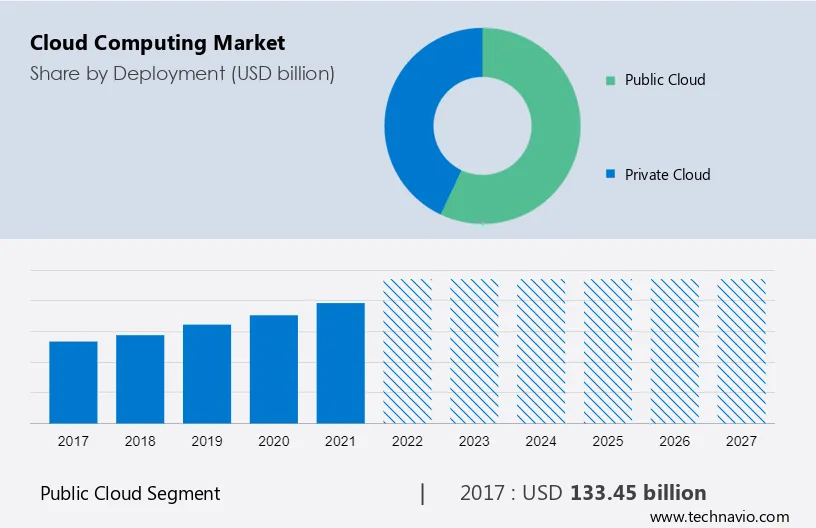 Get a glance at the market contribution of various segments View Free  PDF Sample
The public cloud segment shows a gradual increase in the market share of USD 133.45 billion in 2017 and continued to grow until 2021. The demand for public cloud services in the financial services industry is rising due to an increase in the number of SMEs in developing economies such as China, India, and Mexico, which demand solutions for business-related insights.
Cloud Computing Market Segmentation By Service
Based on services, the Saas segment holds the largest market share. In 2022, Software-as-a-Service (SaaS) dominated the global cloud computing market. SaaS allows users to access software via the internet, eliminating the need for diverse application development. It simplifies mobile workforce mobilization, while cloud providers ensure data security.
SaaS offers ERP, CRM, HRM, and platform solutions like AI, big data, and IoT for real-time decision-making. Messaging apps and social media usage boost SaaS adoption. Private SaaS enhances data security, migration ease, and software customization. AWS offers Xacta 360 for IT risk and compliance management. SaaS aids remote access for emails, calendars, and marketing services like Salesforce's Email Studio. Demand for SaaS-driven CRM grows in retail, healthcare, BFSI, telecom, and IT sectors for improved operations and cost efficiency. Private SaaS partnerships will fuel growth in this market segment.
Regional Overview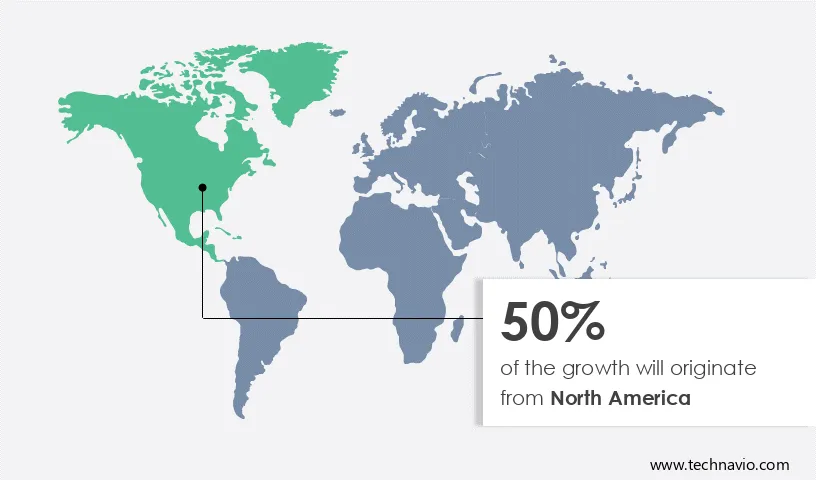 For more insights on the market share of various regions Download PDF Sample now!
North America is estimated to contribute 50% to the growth of the global market during the forecast period. Technavio's analysts have elaborately explained the regional trends and drivers that shape the market during the forecast period.
In 2022, North America was the largest regional segment of the global cloud computing market. Buyers of cloud computing services are enterprises from various end-user industries such as government, IT, BFSI, retail, and others. Organizations are increasingly adopting cloud solutions as they are cost-effective, scalable, and require minimal management. The majority of the established cloud services providers, such as AWS, Google, and others, are headquartered in the US and are investing in the region to strengthen their cloud offerings. 
In 2020, the outbreak of COVID-19 positively impacted the growth of the market. This was because of the adoption of cloud computing solutions by various governments in this region to protect the data on the cloud. This compelled governments to collaborate with the vendors of cloud security solutions to avail of their cloud computing services. Hence, the cloud computing market in this region grew in 2020, and the trend is expected to continue during the forecast period.
Cloud Computing Market Customer Landscape
The Cloud Computing Market   report includes the adoption lifecycle of the market, covering from the innovator's stage to the laggard's stage. It focuses on adoption rates in different regions based on penetration. Furthermore, the report also includes key purchase criteria and drivers of price sensitivity to help companies evaluate and develop their growth strategies.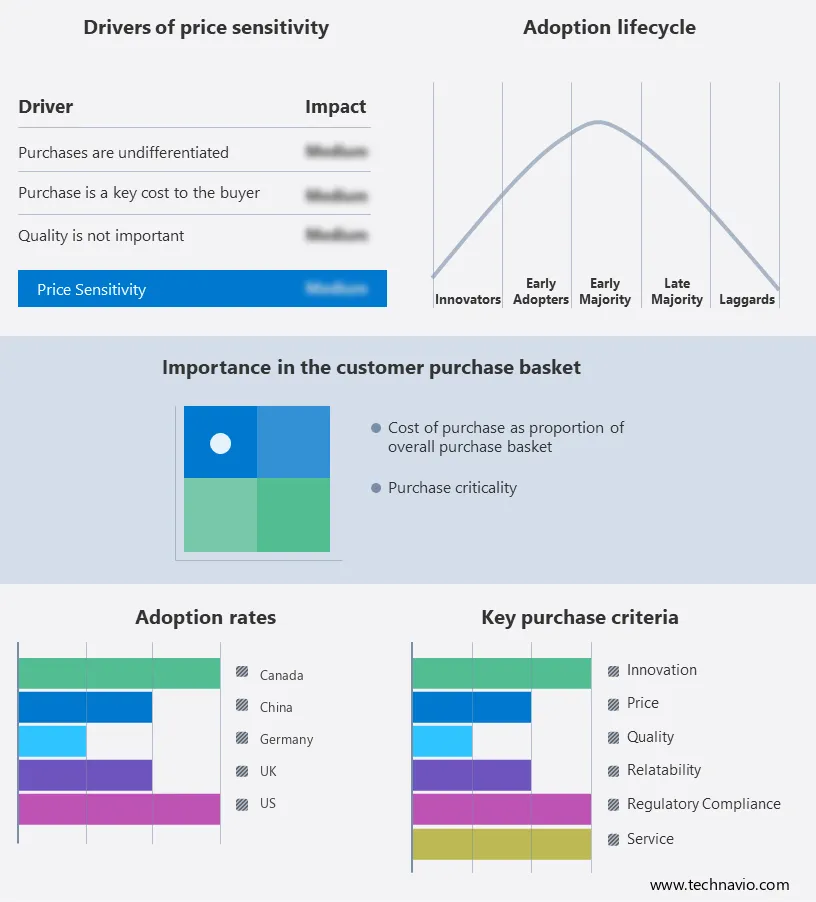 Global Cloud Computing Market Customer Landscape
Who are the Major Cloud Computing Market Companies?
Companies are implementing various strategies, such as strategic alliances, partnerships, mergers and acquisitions, geographical expansion, and product/service launches, to enhance their presence in the market.
Alibaba Group - The company's key offerings include?a multi-model cloud-native database and distributed cloud services.

The research report also includes detailed analyses of the competitive landscape of the market and information about 15 market companies, including:
Adobe Inc.
Alibaba Group Holding Ltd.
Alphabet Inc.
Amazon.com Inc.
Cisco Systems Inc.
Citrix Systems Inc.
Dell Technologies Inc.
Hewlett Packard Enterprise Co.
Huawei Technologies Co. Ltd.
International Business Machines Corp.
NetApp Inc.
Nutanix Inc.
Oracle Corp.
Rackspace Technology Inc.
Red Hat Inc.
Salesforce.com Inc.
Tata Consultancy Services Ltd.
Microsoft Corp.
SAP SE
VMware Inc.
Qualitative and quantitative analysis of companies has been conducted to help clients understand the wider business environment as well as the strengths and weaknesses of key market players. Data is qualitatively analyzed to categorize companies as pure play, category-focused, industry-focused, and diversified; it is quantitatively analyzed to categorize companies as dominant, leading, strong, tentative, and weak.
Segment Overview
The cloud computing market report forecasts market growth by revenue at global, regional & country levels and provides an analysis of the latest trends and growth opportunities from 2017 to 2027. 
Deployment Outlook (USD Billion, 2017 - 2027)

Public cloud
Private cloud

Service Outlook (USD Billion, 2017 - 2027)
Region Outlook (USD Billion, 2017 - 2027)

Europe

U.K.
Germany
France
Rest of Europe

Middle East & Africa

Saudi Arabia
South Africa
Rest of the Middle East & Africa

South America
Cloud Computing Market Scope

Report Coverage

Details

Page number

179

Base year

2022

Historic period

2017-2021

Forecast period

2023-2027

Growth momentum & CAGR

Accelerate at a CAGR of 17.32%

Market growth 2023-2027

USD 429.6 billion

Market structure

Fragmented

YoY growth 2022-2023(%)

12.0

Regional analysis

North America, APAC, Europe, South America, and Middle East and Africa

Performing market contribution

North America at 50%

Key countries

US, Canada, China, UK, and Germany

Competitive landscape

Leading Companies, Market Positioning of Companies, Competitive Strategies, and Industry Risks

Key companies profiled

Adobe Inc., Alibaba Group Holding Ltd., Alphabet Inc., Amazon.com Inc., Cisco Systems Inc., Citrix Systems Inc., Dell Technologies Inc., Hewlett Packard Enterprise Co., Huawei Technologies Co. Ltd., International Business Machines Corp., NetApp Inc., Nutanix Inc., Oracle Corp., Rackspace Technology Inc., Red Hat Inc., Salesforce.com Inc., Tata Consultancy Services Ltd., Microsoft Corp., SAP SE, and VMware Inc.

Market dynamics

Parent market analysis, Market growth inducers and obstacles, Fast-growing and slow-growing segment analysis, COVID 19 impact and recovery analysis and future consumer dynamics, Market condition analysis for forecast period

Customization purview

If our report has not included the data that you are looking for, you can reach out to our analysts and get segments customized.
What are the Key Data Covered in this Cloud Computing Market Research Report?
CAGR of the market during the forecast period
Detailed information on factors that will drive the growth of the

market 

between 2023 and 2027
Precise estimation of the size of the market  size and its contribution of the market in focus to the parent market
Accurate predictions about upcoming trends and changes in consumer behaviour
Growth of the market industry across North America, APAC, Europe, South America, and Middle East and Africa
Thorough analysis of the market's competitive landscape and detailed information about companies
Comprehensive analysis of factors that will challenge the growth of market companies
We can help! Our analysts can customize this market research report to meet your requirements.