The industrial automation services market size is estimated to grow at a CAGR of 17.66% between 2022 and 2027 and the size of the market is forecast to increase by USD 74.36 billion. The growth of the market depends on several factors, including the growing need for a main automation contractor, increasing focus on predictive maintenance, and increasing plant complexities. 
This industrial automation services market report extensively covers market segmentation by type (PE, maintenance and support, OS, and consulting), end-user (discrete industries and process industries), and geography (APAC, North America, Europe, Middle East and Africa, and South America). It also includes an in-depth analysis of drivers, trends, and challenges. Furthermore, the report includes historic market data from 2017 to 2021.
What will be the size of the Industrial Automation Services Market During the Forecast Period?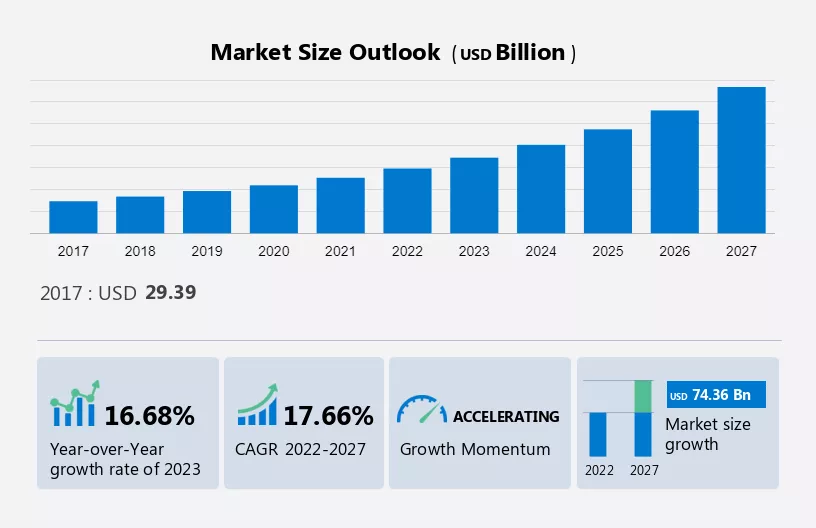 To learn more about this report, Download Report Sample
Technavio's Exclusive Industrial Automation Services Market Customer Landscape
The report includes the adoption lifecycle of the market, covering from the innovator's stage to the laggard's stage. It focuses on adoption rates in different regions based on penetration. Furthermore, the report also includes key purchase criteria and drivers of price sensitivity to help companies evaluate and develop their growth strategies.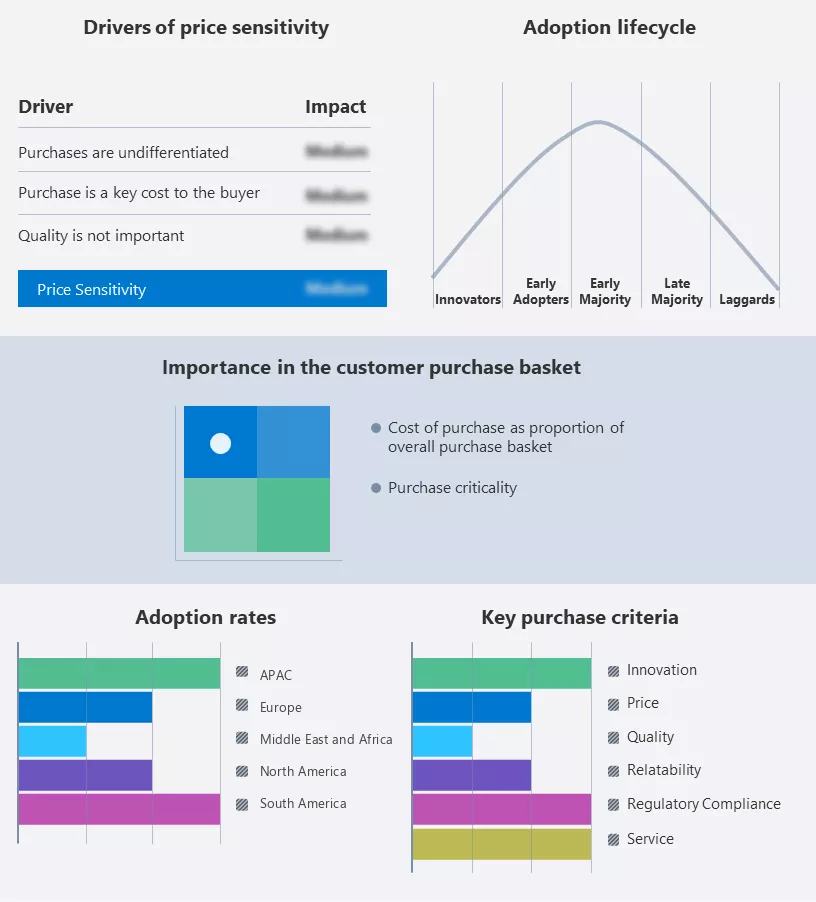 Global Industrial Automation Services Market Customer Landscape
Key Drivers, Trends, and Challenges
Our researchers studied the data for years, with 2022 as the base year and 2023 as the estimated year, and presented the key drivers, trends, and challenges for the market. Although there has been a disruption in the growth of the market during the COVID-19 pandemic, a holistic analysis of drivers, trends, and challenges will help companies refine marketing strategies to gain a competitive advantage.    
Key  Driver
 
The increasing focus on predictive maintenance is notably driving market growth. The need for data collection and analysis to address challenging maintenance tasks has increased the demand for IoT-enabled devices. The operation of the entire plant can be monitored with the help of IoT-enabled devices like steam trap monitors and wireless acoustic transmitters. Industrial operators can compare the effectiveness and performance of machines using the data on available systems and machines. This allows operators to plan maintenance tasks more effectively and decrease overall downtime caused by unplanned machine failure.
Industries that use a large number of automation control systems and instruments in their operations benefit especially from IoT-enabled devices. As a result, industrial operators' top priority now is to monitor automation systems and equipment. As this suite helps in anticipating maintenance activities without affecting the manufacturing process, automation solution providers are concentrating on after-sales services and software for plant and asset lifecycle management in addition to providing automation hardware and software. Thus, such factors will drive the growth of the global market during the forecast period.

Significant Trends
Value chain integration by automation solution providers is an emerging trend in market growth. There is a sizable installed base of automation hardware and software in the process industries. The competition among established market vendors has gotten more fierce as a result of the rising demand for automation solutions. As a result, vendors of automation solutions are putting more emphasis on providing software solutions and after-sales services in order to stand out from the competition and grow their market presence. Some providers of automation solutions are expanding their product lines by including automation software and systems, whereas significant providers of automation software are integrating with providers of automation services.
System integrators are the main component in the supply chain and have a better geographic reach, so original equipment manufacturers (OEMs) of automation software and control systems are attempting to acquire them. The current market situation is fragmented, vendors are increasingly engaging in horizontal integration, and this trend is expected to have a high impact on the market consolidation ratio. Thus all such factors will fuel the global market growth during the forecast period.

Major  Challenge
The challenges in managing multiple contracts are the major issues impeding market growth. The majority of end-user industries are attempting to choose longer service agreements for any minor device or component from a single service provider. The instrumentation and automation products installed in plant facilities are bought from various automation vendors. As a result, the servicing and maintenance manuals for the automation hardware and software are different. Additionally, by communicating with the operators and comprehending the application requirements, the development process of automation software and hardware has been concentrated on creating domain-specific engineering approaches.
Domain-specific engineering approaches, however, frequently ignore the aspects of operation and maintenance, which makes servicing more difficult for automation service providers. It becomes challenging for automation service providers to manage the servicing of automation systems as they must deal with numerous contracts for various field instruments and plant automation software. Thus, challenges in managing multiple contracts are one of the major challenges for the growth of the global market during the forecast period.
Who are the Major Industrial Automation Services Market Vendors?
Vendors are implementing various strategies, such as strategic alliances, partnerships, mergers and acquisitions, geographical expansion, and product/service launches, to enhance their presence in the market.
ABB Ltd. - The key offerings of the company include industrial automation services such as ability genix industrial analytics and AI suite.
Beckhoff Automation GmbH and Co. KG - The key offerings of the company include industrial automation services such as TwinCAT and TwinSafe.
We also have detailed analyses of the market's competitive landscape and offer information on 20 market vendors, including:
Eaton Corp. Plc
Emerson Electric Co.
Endress Hauser Group Services AG
Epicor Software Corp.
Fuji Electric Co. Ltd.
General Electric Co.
Hitachi Ltd.
Honeywell International Inc.
Infineon Technologies AG
Keyence Corp.
OMRON Corp.
R and L Engineering Inc.
Rockwell Automation Inc.
SARO Automation
Schneider Electric SE
Technavio report provides an in-depth analysis of the market and its players through combined qualitative and quantitative data. The analysis classifies vendors into categories based on their business approaches, including pure-play, category-focused, industry-focused, and diversified. Vendors are specially categorized into dominant, leading, strong, tentative, and weak, based on their quantitative data analysis.  
Industrial Automation Services Market Segmentation by Type, End-user, and Geography:
Type Segment Analysis:
The PE segment will contribute a major share of the market. The growing need to handle complex processes that may be deployed remotely is leading to the increased adoption of industrial automation control systems, such as supervisory control and data acquisition (SCADA), programmable logic controllers (PLCs), and sensors in both process and discrete industries. The segment showed a gradual increase in market share with USD 10.16 billion in 2017 and continued to grow by 2021. Automated devices help process industries ensure centralized control of the overall operational process. Examples include manufacturing execution systems (MES), PLCs, SCADA, and human-machine interface (HMI) solutions. On the other hand, in discrete industries, the difficulty is in controlling batch processing and management of distribution systems. SCADA, PLCs, HMIs, and robotics are examples of automation systems and tools that increase overall manufacturing efficiency while lowering operational expenditure (OPEX).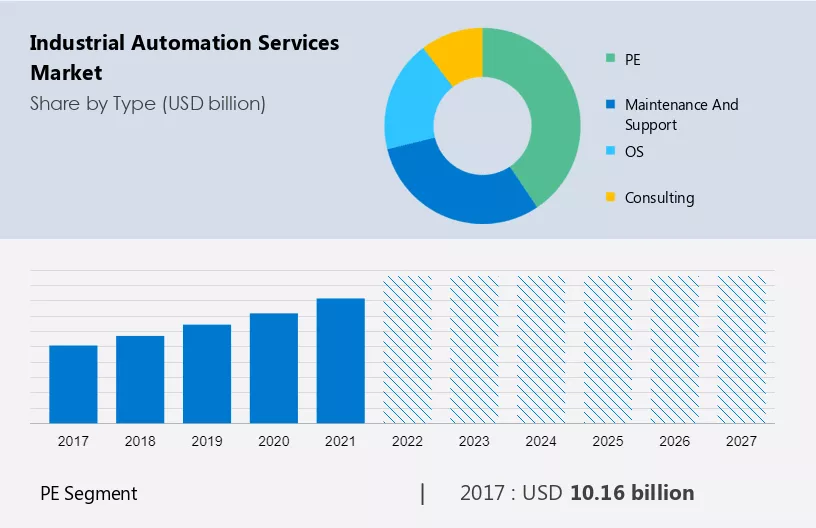 Get a Customised Report as per your requirements for FREE!
Maintaining plant assets has been the main focus of industrial operators as industrial processes have undergone a dramatic change over the last few years. With the increased uptake of cutting-edge technology, the use of the Internet of Things (IoT), smart sensors, contemporary industrial facilities, and manufacturing facilities has grown more complicated. A complex process environment is produced by the expansion of equipment needed and rapidly changing production processes. Understanding application requirements and plant processes is helpful when designing the infrastructure and installing automation systems. Plant engineering not only helps with the effective use of space but also shortens the overall project completion time. The need for automation solutions and, consequently, for PE and installation services will rise due to the increasing investments being made across both discrete and process industries to expand and build new industrial plants in order to remain competitive. As a result, during the forecast period, the PE segment is anticipated to witness expansion.
End-user Segment Analysis:
The primary end-users of automation services in the discrete industries sector of the market are the automotive, packaging, electronics, and semiconductor industries. In discrete industries, the efficient application of automation control systems enables businesses to boost their production processes and thus increase operational efficiency. To lower their operational costs and downtime, organizations across diverse industries need consistent maintenance and services. Unplanned downtime causes production loss in discrete industries. For instance, data loss can compromise the accuracy of batch records for medicines in the highly regulated pharmaceutical industry. Manufacturers in specific industries can suffer from even minor problems with IT solutions. In addition to providing centralized management of the production unit and ensuring uninterrupted services, automation services deployed in specific industries aid in strengthening mission-critical automation systems like MES. Thus, the discrete industries segment witnessed the growth of the global market during the forecast period.
Regional Analysis:
APAC is estimated to contribute 56% to the growth by 2027. Technavio's analysts have elaborately explained the regional trends, drivers, and challenges that are expected to shape the market during the forecast period.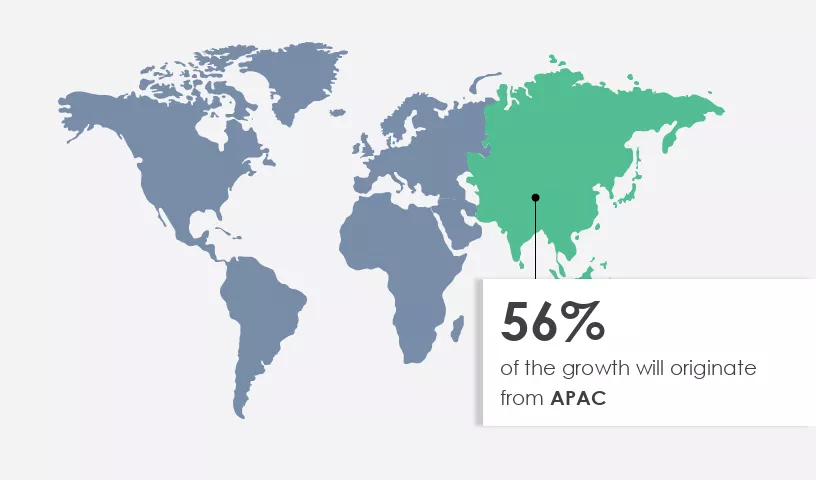 For more insights on the market share of various regions View PDF Sample now!
Automation software has become increasingly popular among manufacturers in APAC as a way to streamline complex production procedures and boost operational effectiveness. This has significantly fueled the expansion of the APAC market for industrial automation services. Due to the highly fragmented industrial automation services market in APAC, established vendors are collaborating with system integrators to offer automation services to expand their market reach. This will have a positive impact on the market growth during the forecast period. 
As a center for global manufacturing, APAC is emerging. This is because developing nations are experiencing rapid economic growth and significant international investments year over year. Many automakers are setting up new auto factories due to supportive government policies and important initiatives like Made in China 2025 and Make in India. To meet international standards, these plants will be furnished with cutting-edge machinery, automation, and robotic solutions. In APAC, the automotive industry is expected to contribute substantially to the growing demand for services, such as PE and consulting. Hence, such factors will expand the market growth in APAC during the forecast period.
Covid Recovery Analysis:
In 2020, the industrial automation services market faced certain challenges due to the outbreak of COVID-19. However, the lockdown restrictions were lifted due to the initiation of rapid vaccination drives across the world, which led to the resumption of operation in various industries, including the manufacturing industries and service sectors. This helped resume the operations of the market. Furthermore, increased use of technologies like the Internet of Things (IoT), edge computing, and the availability of smart sensors that can be integrated with automation software will all contribute to the market's growth. Hence, the market is anticipated to grow at a significant rate during the forecast period.
Segment Overview
The industrial automation services market report forecasts market growth by revenue at global, regional & country levels and provides an analysis of the latest trends and growth opportunities from 2017 to 2027. 
Type Outlook (USD Billion, 2017 - 2027)

PE
Maintenance and support
OS
Consulting
End-user Outlook (USD Billion, 2017 - 2027)

Discrete industries
Process industries
Region Outlook (USD Billion, 2017 - 2027)

Europe

U.K.
Germany
France
Rest of Europe

Middle East & Africa

Saudi Arabia
South Africa
Rest of the Middle East & Africa

South America
Industrial Automation Services Market Scope

Report Coverage

Details

Page number

184

Base year

2022

Historic period

2017-2021

Forecast period

2023-2027

Growth momentum & CAGR

Accelerate at a CAGR of 17.66%

Market growth 2023-2027

USD 74.36 billion

Market structure

Fragmented

YoY growth 2022-2023(%)

16.68

Regional analysis

APAC, North America, Europe, Middle East and Africa, and South America

Performing market contribution

APAC at 56%

Key countries

US, China, Japan, Germany, and UK

Competitive landscape

Leading Vendors, Market Positioning of Vendors, Competitive Strategies, and Industry Risks

Key companies profiled

ABB Ltd., Beckhoff Automation GmbH and Co. KG, Eaton Corp. Plc, Emerson Electric Co., Endress Hauser Group Services AG, Epicor Software Corp., Fuji Electric Co. Ltd., General Electric Co., Hitachi Ltd., Honeywell International Inc., Infineon Technologies AG, Keyence Corp., OMRON Corp., R and L Engineering Inc., Rockwell Automation Inc., SARO Automation, Schneider Electric SE, Siemens AG, The EPIC Systems Group LLC, and Yokogawa Electric Corp.

Market dynamics

Parent market analysis, Market growth inducers and obstacles, Fast-growing and slow-growing segment analysis, COVID-19 impact and recovery analysis and future consumer dynamics, Market condition analysis for the forecast period. 

Customization purview

If our report has not included the data that you are looking for, you can reach out to our analysts and get segments customized.
What are the Key Data Covered in this Industrial Automation Services Market Research Report?
CAGR of the market during the forecast period
Detailed information on factors that will drive the growth of the industrial automation services market between 2023 and 2027
Precise estimation of the size of the industrial automation services market size and its contribution to the market in focus on the parent market
Accurate predictions about upcoming trends and changes in consumer behavior
Growth of the market industry across APAC, North America, Europe, Middle East and Africa, and South America
A thorough analysis of the market's competitive landscape and detailed information about vendors
Comprehensive analysis of factors that will challenge the growth of industrial automation services market vendors
We can help! Our analysts can customize this market research report to meet your requirements. Get in touch