The academic and corporate LMS market size in US is estimated to grow at a CAGR of 20.67% between 2022 and 2027 and the size of the market is forecast to increase by USD 11,772.7 million. The report includes historic market data from 2017 to 2021. It also extensively covers market segmentation by application (content management, student management, performance management, and others) and end-user (corporates, higher education institutions, and K-12 schools). This report also includes an in-depth analysis of drivers, trends, and challenges.
The US academic and corporate learning management system market is driven by the increased emphasis on the digitization of education. The need for quality education has become a must for students. Current teaching methods emphasize critical thinking, creativity, and innovation. Demand for technology and computational skills is expected to increase during the forecast period. With the advent of digital transformation, the concept of e-learning and blended e-learning has become very important. The rapid adoption of the Internet in emerging markets has also increased the demand for online training in the corporate sector. The availability of online courses in a wide variety of subjects and areas of study has facilitated the adoption of integrated e-learning systems. 
In such scenarios, learners work under an instructor/mentor associated with an online course. Such teaching methods have led to developments in almost every industry. In traditional classroom environments, work commitments make it difficult for employees to learn and improve their skills. However, in a blended e-learning system, these sessions are supervised by teachers and trainers, and consumers can decide which specific topics to study regardless of their complexity. To support these e-learning systems, the focus on systems such as LMS has increased, which will continue to drive the growth of the US academic and corporate learning management system market.  
What will be the Size of the Academic And Corporate LMS Market in US During the Forecast Period?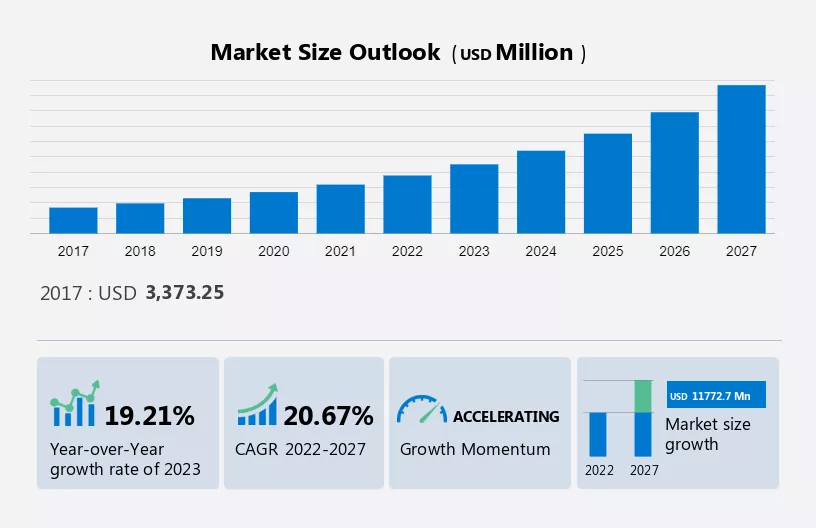 View Sample PDF at your Fingertips
Who are the Major Academic and Corporate LMS Market Vendors in US?
Vendors are implementing various strategies, such as strategic alliances, partnerships, mergers and acquisitions, geographical expansion, and product/service launches, to enhance their presence in the market.
360Learning SA: The company offers a software-as-a-service (SaaS) based learning engagement platform for corporates to connect leaders and learners. It also offers Looop LMS, which is an academic and corporate LMS. 
The academic and corporate LMS market report in US also includes detailed analyses of the competitive landscape of the market and information about 15 market vendors, including:
360Learning SA
Adrenalin eSystems Ltd.
Blackboard Inc.
Classe365
Cornerstone OnDemand Inc.
D2L Corp.
Degreed Inc.
Docebo Inc.
Epignosis
GENTLAB S.R.L
Instructure Holdings Inc.
Moodle Pty Ltd.
Oracle Corp.
PowerSchool Holdings Inc.
SAP SE
Skillsoft Corp.
Tovuti Inc.
Violet InfoSystems Pvt. Ltd.
Workday Inc.
Xperiencify LLC
Qualitative and quantitative analysis of vendors has been conducted to help clients understand the wider business environment as well as the strengths and weaknesses of key market players. Data is qualitatively analyzed to categorize vendors as pure play, category-focused, industry-focused, and diversified; it is quantitatively analyzed to categorize vendors as dominant, leading, strong, tentative, and weak.
Market Segmentation by Application
The market share growth by the content management segment will be significant during the forecast period. Content management solutions allow users to manage their content from one place. Content can be edited, added, and viewed depending on the permissions provided to the user. These systems help manage different versions of the same document stored in different locations. The digitization of education has led to the inclusion of various courses in school and university curricula that can improve the employment prospects of graduates. This has significantly increased the demand for online courses. Therefore, many LMS providers offer content development services to their customers.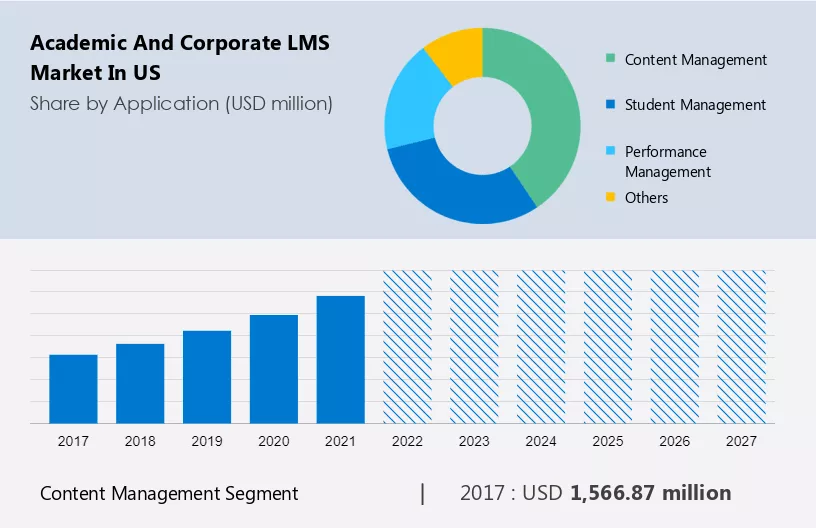 Get a glance at the market contribution of various segments View PDF Sample
The content management segment was valued at USD 1,566.87 million in 2017 and continued to grow until 2021. Content is the main component of any online course. An LMS allows clients to efficiently create, store, and manage content based on their course needs. In addition, changing market dynamics in the corporate sector have created a need to update existing content and reduce employee skills gaps. An LMS makes it easy to distribute content to staff and students. It is also compatible with a wide range of mobile devices and can be accessed from smartphones, personal computers (PCs), laptops, and tablets. Such factors are expected to drive the growth of this segment over the forecast period.  
Academic And Corporate LMS Market in US: Key Trends and Challenges
Our researchers analyzed the data with 2022 as the base year and the key drivers, trends, and challenges. A holistic analysis of drivers will help companies refine their marketing strategies to gain a competitive advantage.
Trends
The emergence of mobile learning is the primary trend in the US academic and corporate LMS market growth. As BYOD policies become more prevalent, access to content and the ability to effectively use gadgets to learn and interact will continue to grow. Learners access information through their mobile devices. Therefore, the integration of LMS and BYOD policy is very important. The corporate sector is paving the way for COPE to replace BYOD. This is because IT teams are burdened with the complex task of providing information and managing a large number of devices. In the COPE model, devices are issued by the organization and controlled by the IT department. Therefore, the use of mobile devices in the enterprise sector is expected to continue to provide opportunities for market players to offer more mobile-compatible features. 
 
Vendors producing educational technology content and products are focusing on reaching a wider audience. Most content and course offerings are designed for mobile devices. This indicates a strong demand for blended learning and the incorporation of new forms of learning, such as social learning and gamification. All these developments require new capabilities to be built into the LMS to enable personalized and adaptive learning. Moreover, this should be done without jeopardizing standards and curricula. LMS vendors are focusing on integrating and modifying mobile features such as learning workflows, delivery, and assessment. Such parameters are anticipated to have a positive impact on market growth during the forecast period. 
Challenge
The uncertainty in selecting an LMS is a major challenge to the US academic and corporate LMS market growth. The market is highly fragmented, with many local and international players. Hence, there is considerable uncertainty among customers when it comes to choosing the right LMS for their business. The corporate sector often faces this challenge, as most companies do not conduct effective assessments of their learning needs. The assessment request process is critical before deploying the learning platform, which acts as a hub for disseminating information about policy and process changes.  
Due to changing internal and external economic conditions, it is important for employees and students to improve their skills. Therefore, a systematic scoring system is required to identify gaps in knowledge and areas that need attention. This not only helps institutions develop plans to meet the learning needs of their staff and students but also helps them remain competitive in the market over the long term. Without a robust system, a company's strategic goal of achieving competencies can be undermined. Such uncertainties are expected to hamper the growth of the US academic and corporate learning management system (LMS) market.  
Customer Landscape
The report includes the adoption lifecycle of the market, from the innovator's stage to the laggard's stage. It focuses on adoption rates in different regions based on market penetration. Furthermore, the report also includes key purchase criteria and drivers of price sensitivity to help companies evaluate and develop their growth strategies.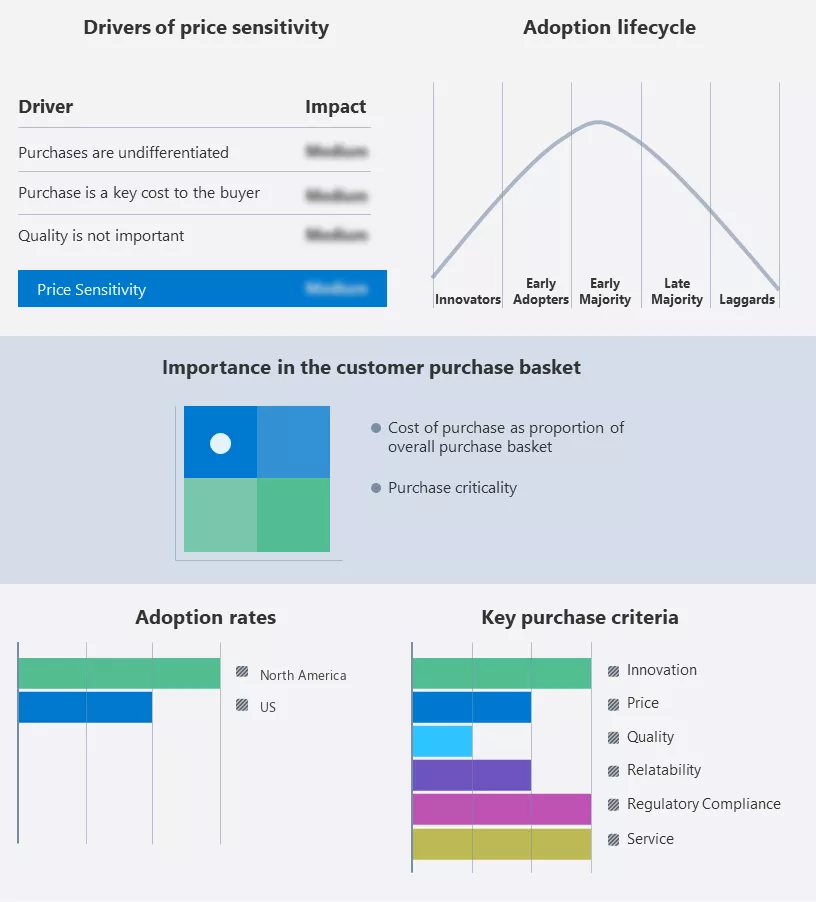 Global Academic and Corporate LMS Market Customer Landscape
Segment Overview
The academic and corporate LMS market report in US forecasts market growth by revenue and provides an analysis of the latest trends and growth opportunities from 2017 to 2027. 
Application Outlook (USD Million, 2017 - 2027)

Content management
Student management
Performance management
Others
End-user Outlook (USD Million, 2017 - 2027)

Corporates
Higher education institutions
K-12 schools
Academic And Corporate LMS Market Scope in US

Report Coverage

Details

Page number

128

Base year

2022

Historic period

2017-2021

Forecast period

2023-2027

Growth momentum & CAGR

Accelerate at a CAGR of 20.67%

Market growth 2023-2027

USD 11,772.7 million

Market structure

Fragmented

YoY growth 2022-2023(%)

19.21

Competitive landscape

Leading Vendors, Market Positioning of Vendors, Competitive Strategies, and Industry Risks

Key companies profiled

360Learning SA, Adrenalin eSystems Ltd., Blackboard Inc., Classe365, Cornerstone OnDemand Inc., D2L Corp., Degreed Inc., Docebo Inc., Epignosis, GENTLAB S.R.L, Instructure Holdings Inc., Moodle Pty Ltd., Oracle Corp., PowerSchool Holdings Inc., SAP SE, Skillsoft Corp., Tovuti Inc., Violet InfoSystems Pvt. Ltd., Workday Inc., and Xperiencify LLC

Market dynamics

Parent market analysis, Market growth inducers and obstacles, Fast-growing and slow-growing segment analysis, COVID 19 impact and recovery analysis and future consumer dynamics, Market condition analysis for forecast period

Customization purview

If our report has not included the data that you are looking for, you can reach out to our analysts and get segments customized.
What are the Key Data Covered in this Academic And Corporate LMS Market in US Research Report?
CAGR of the market during the forecast period
Detailed information on factors that will drive the growth of the

market 

between 2023 and 2027
Precise estimation of the size of the market size and its contribution to the market in focus on the parent market
Accurate predictions about upcoming trends and changes in consumer behaviour
Growth of the market industry across US
Thorough analysis of the market's competitive landscape and detailed information about vendors
Comprehensive analysis of factors that will challenge the growth of market vendors
We can help! Our analysts can customize this market research report to meet your requirements. Get in touch
1 Executive Summary
1.1 Market overview

Exhibit 01: Executive Summary – Chart on Market Overview
Exhibit 02: Executive Summary – Data Table on Market Overview
Exhibit 03: Executive Summary – Chart on Country Market Characteristics
Exhibit 04: Executive Summary – Chart on Market Segmentation by Application
Exhibit 05: Executive Summary – Chart on Market Segmentation by End-user
Exhibit 06: Executive Summary – Chart on Vendor Market Positioning
2 Market Landscape
2.1 Market ecosystem

Exhibit 07: Parent market
Exhibit 08: Market Characteristics
3 Market Sizing
3.1 Market definition

Exhibit 09: Offerings of vendors included in the market definition
3.2 Market segment analysis

Exhibit 10: Market segments
3.4 Market outlook: Forecast for 2022-2027

Exhibit 11: Chart on US - Market size and forecast 2022-2027 ($ million)
Exhibit 12: Data Table on US - Market size and forecast 2022-2027 ($ million)
Exhibit 13: Chart on US: Year-over-year growth 2022-2027 (%)
Exhibit 14: Data Table on US: Year-over-year growth 2022-2027 (%)
4 Historic Market Size
4.1 Academic and corporate LMS market in US 2017 - 2021

Exhibit 15: Historic Market Size – Data Table on Academic and corporate LMS market in US 2017 - 2021 ($ million)
4.2 Application Segment Analysis 2017 - 2021

Exhibit 16: Historic Market Size – Application Segment 2017 - 2021 ($ million)
4.3 End-user Segment Analysis 2017 - 2021

Exhibit 17: Historic Market Size – End-user Segment 2017 - 2021 ($ million)
5 Five Forces Analysis
5.1 Five forces summary

Exhibit 18: Five forces analysis - Comparison between 2022 and 2027
5.2 Bargaining power of buyers

Exhibit 19: Chart on Bargaining power of buyers – Impact of key factors 2022 and 2027
5.3 Bargaining power of suppliers

Exhibit 20: Bargaining power of suppliers – Impact of key factors in 2022 and 2027
5.4 Threat of new entrants

Exhibit 21: Threat of new entrants – Impact of key factors in 2022 and 2027
5.5 Threat of substitutes

Exhibit 22: Threat of substitutes – Impact of key factors in 2022 and 2027
5.6 Threat of rivalry

Exhibit 23: Threat of rivalry – Impact of key factors in 2022 and 2027
5.7 Market condition

Exhibit 24: Chart on Market condition - Five forces 2022 and 2027
6 Market Segmentation by Application
6.1 Market segments

Exhibit 25: Chart on Application - Market share 2022-2027 (%)
Exhibit 26: Data Table on Application - Market share 2022-2027 (%)
6.2 Comparison by Application

Exhibit 27: Chart on Comparison by Application
Exhibit 28: Data Table on Comparison by Application
6.3 Content management - Market size and forecast 2022-2027

Exhibit 29: Chart on Content management - Market size and forecast 2022-2027 ($ million)
Exhibit 30: Data Table on Content management - Market size and forecast 2022-2027 ($ million)
Exhibit 31: Chart on Content management - Year-over-year growth 2022-2027 (%)
Exhibit 32: Data Table on Content management - Year-over-year growth 2022-2027 (%)
6.4 Student management - Market size and forecast 2022-2027

Exhibit 33: Chart on Student management - Market size and forecast 2022-2027 ($ million)
Exhibit 34: Data Table on Student management - Market size and forecast 2022-2027 ($ million)
Exhibit 35: Chart on Student management - Year-over-year growth 2022-2027 (%)
Exhibit 36: Data Table on Student management - Year-over-year growth 2022-2027 (%)
6.5 Performance management - Market size and forecast 2022-2027

Exhibit 37: Chart on Performance management - Market size and forecast 2022-2027 ($ million)
Exhibit 38: Data Table on Performance management - Market size and forecast 2022-2027 ($ million)
Exhibit 39: Chart on Performance management - Year-over-year growth 2022-2027 (%)
Exhibit 40: Data Table on Performance management - Year-over-year growth 2022-2027 (%)
6.6 Others - Market size and forecast 2022-2027

Exhibit 41: Chart on Others - Market size and forecast 2022-2027 ($ million)
Exhibit 42: Data Table on Others - Market size and forecast 2022-2027 ($ million)
Exhibit 43: Chart on Others - Year-over-year growth 2022-2027 (%)
Exhibit 44: Data Table on Others - Year-over-year growth 2022-2027 (%)
6.7 Market opportunity by Application

Exhibit 45: Market opportunity by Application ($ million)
Exhibit 46: Data Table on Market opportunity by Application ($ million)
7 Market Segmentation by End-user
7.1 Market segments

Exhibit 47: Chart on End-user - Market share 2022-2027 (%)
Exhibit 48: Data Table on End-user - Market share 2022-2027 (%)
7.2 Comparison by End-user

Exhibit 49: Chart on Comparison by End-user
Exhibit 50: Data Table on Comparison by End-user
7.3 Corporates - Market size and forecast 2022-2027

Exhibit 51: Chart on Corporates - Market size and forecast 2022-2027 ($ million)
Exhibit 52: Data Table on Corporates - Market size and forecast 2022-2027 ($ million)
Exhibit 53: Chart on Corporates - Year-over-year growth 2022-2027 (%)
Exhibit 54: Data Table on Corporates - Year-over-year growth 2022-2027 (%)
7.4 Higher education institutions - Market size and forecast 2022-2027

Exhibit 55: Chart on Higher education institutions - Market size and forecast 2022-2027 ($ million)
Exhibit 56: Data Table on Higher education institutions - Market size and forecast 2022-2027 ($ million)
Exhibit 57: Chart on Higher education institutions - Year-over-year growth 2022-2027 (%)
Exhibit 58: Data Table on Higher education institutions - Year-over-year growth 2022-2027 (%)
7.5 K-12 schools - Market size and forecast 2022-2027

Exhibit 59: Chart on K-12 schools - Market size and forecast 2022-2027 ($ million)
Exhibit 60: Data Table on K-12 schools - Market size and forecast 2022-2027 ($ million)
Exhibit 61: Chart on K-12 schools - Year-over-year growth 2022-2027 (%)
Exhibit 62: Data Table on K-12 schools - Year-over-year growth 2022-2027 (%)
7.6 Market opportunity by End-user

Exhibit 63: Market opportunity by End-user ($ million)
Exhibit 64: Data Table on Market opportunity by End-user ($ million)
8 Customer Landscape
8.1 Customer landscape overview

Exhibit 65: Analysis of price sensitivity, lifecycle, customer purchase basket, adoption rates, and purchase criteria
9 Drivers, Challenges, and Trends
9.3 Impact of drivers and challenges

Exhibit 66: Impact of drivers and challenges in 2022 and 2027
10 Vendor Landscape
10.2 Vendor landscape

Exhibit 67: Overview on Criticality of inputs and Factors of differentiation
10.3 Landscape disruption

Exhibit 68: Overview on factors of disruption
10.4 Industry risks

Exhibit 69: Impact of key risks on business
11 Vendor Analysis
11.1 Vendors covered

Exhibit 70: Vendors covered
11.2 Market positioning of vendors

Exhibit 71: Matrix on vendor position and classification
11.3 360Learning SA

Exhibit 72: 360Learning SA - Overview
Exhibit 73: 360Learning SA - Product / Service
Exhibit 74: 360Learning SA - Key offerings
11.4 Adrenalin eSystems Ltd.

Exhibit 75: Adrenalin eSystems Ltd. - Overview
Exhibit 76: Adrenalin eSystems Ltd. - Product / Service
Exhibit 77: Adrenalin eSystems Ltd. - Key offerings
11.5 Blackboard Inc.

Exhibit 78: Blackboard Inc. - Overview
Exhibit 79: Blackboard Inc. - Product / Service
Exhibit 80: Blackboard Inc. - Key offerings
11.6 Classe365

Exhibit 81: Classe365 - Overview
Exhibit 82: Classe365 - Product / Service
Exhibit 83: Classe365 - Key offerings
11.7 Cornerstone OnDemand Inc.

Exhibit 84: Cornerstone OnDemand Inc. - Overview
Exhibit 85: Cornerstone OnDemand Inc. - Product / Service
Exhibit 86: Cornerstone OnDemand Inc. - Key offerings
11.8 D2L Corp.

Exhibit 87: D2L Corp. - Overview
Exhibit 88: D2L Corp. - Product / Service
Exhibit 89: D2L Corp. - Key news
Exhibit 90: D2L Corp. - Key offerings
11.9 Degreed Inc.

Exhibit 91: Degreed Inc. - Overview
Exhibit 92: Degreed Inc. - Product / Service
Exhibit 93: Degreed Inc. - Key offerings
11.10 Docebo Inc.

Exhibit 94: Docebo Inc. - Overview
Exhibit 95: Docebo Inc. - Product / Service
Exhibit 96: Docebo Inc. - Key offerings
11.11 Epignosis

Exhibit 97: Epignosis - Overview
Exhibit 98: Epignosis - Product / Service
Exhibit 99: Epignosis - Key offerings
11.12 GENTLAB S.R.L

Exhibit 100: GENTLAB S.R.L - Overview
Exhibit 101: GENTLAB S.R.L - Product / Service
Exhibit 102: GENTLAB S.R.L - Key offerings
11.13 Instructure Holdings Inc.

Exhibit 103: Instructure Holdings Inc. - Overview
Exhibit 104: Instructure Holdings Inc. - Product / Service
Exhibit 105: Instructure Holdings Inc. - Key offerings
11.14 Moodle Pty Ltd.

Exhibit 106: Moodle Pty Ltd. - Overview
Exhibit 107: Moodle Pty Ltd. - Product / Service
Exhibit 108: Moodle Pty Ltd. - Key offerings
11.15 Oracle Corp.

Exhibit 109: Oracle Corp. - Overview
Exhibit 110: Oracle Corp. - Business segments
Exhibit 111: Oracle Corp. - Key news
Exhibit 112: Oracle Corp. - Key offerings
Exhibit 113: Oracle Corp. - Segment focus
11.16 PowerSchool Holdings Inc.

Exhibit 114: PowerSchool Holdings Inc. - Overview
Exhibit 115: PowerSchool Holdings Inc. - Product / Service
Exhibit 116: PowerSchool Holdings Inc. - Key offerings
11.17 SAP SE

Exhibit 117: SAP SE - Overview
Exhibit 118: SAP SE - Business segments
Exhibit 119: SAP SE - Key news
Exhibit 120: SAP SE - Key offerings
Exhibit 121: SAP SE - Segment focus
12 Appendix
12.2 Inclusions and exclusions checklist

Exhibit 122: Inclusions checklist
Exhibit 123: Exclusions checklist
12.3 Currency conversion rates for US$

Exhibit 124: Currency conversion rates for US$
12.4 Research methodology

Exhibit 125: Research methodology
Exhibit 126: Validation techniques employed for market sizing
Exhibit 127: Information sources
12.5 List of abbreviations

Exhibit 128: List of abbreviations