The wearables market is estimated to grow at a CAGR of 15.09% between 2022 and 2027. The size of the market is forecast to increase by USD 73,631.84 million. The growth of the market depends on several factors, including the preference for wearable electronic payment devices, the digitalization of the global economy, and sleek and small design which is highly operational and efficient which seems to be the biggest driving factor of growth of the market.
This report extensively covers market segmentation by product (smartwatches, wireless headphones, smart bands, and others), distribution channel (online and offline), and geography (North America, APAC, Europe, South America, and the Middle East and Africa).  It also includes an in-depth analysis of drivers, trends, and challenges. Furthermore, the report includes historic market data from 2017 to 2021.
 What will the Size of the Wearables Market be During the Forecast Period?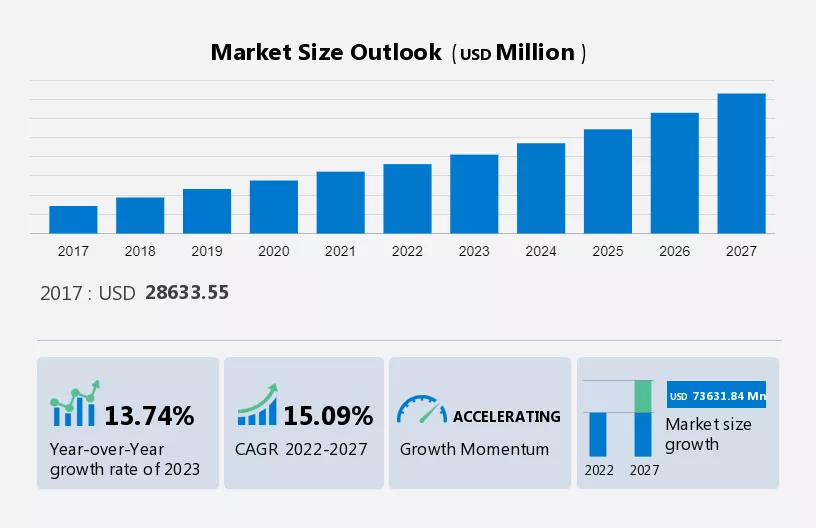 Download a FREE Wearable Technology Market Sample Report
Wearables Market: Key Drivers, Trends, Challenges, and Customer Landscape
The growing preference for wearable devices for payment is notably driving the market growth, although factors such as the growing market for counterfeit products may impede the market growth. Our researchers analyzed the data with 2022 as the base year, along with the key drivers, trends, and challenges. A holistic analysis of drivers will help companies refine their marketing strategies to gain a competitive advantage.
Key Wearables Market Driver 
The wide selection and usage of wearable devices which helps consumers with a smooth payment method are contributing to major factors in driving the market growth. Contactless payments are preferred by everyone nowadays and this idea is getting implemented in wearable electronic devices. As a result, wearables electronic device manufacturers are integrating NFC technology as a standard for their wearable devices. NFC (near-field communication) chips are integrated into wearable electronic devices such as smartwatches, smart bands, smart rings, and others to enable contactless payment using direct tap-and-pay via a POS (point of sale) terminal. This process reduces transaction timing compared to other payment methods including cash or card payments and the contactless payment method used in wearable devices are also safe and secure.
Additionally, the developments in the system-on-a-chip (SoC) technology and microelectromechanical systems (MEMS) are opening new opportunities for wearables and electronic device manufacturers to develop small and aesthetically appealing consumer-oriented wearables electronic devices. The development of SoC technology has helped the vendors in the market reduce the board space and integrate a significant number of electronic components in wearables electronic devices. These are the key factors driving the wearable technology market.
Key Wearables Market Trend
The growing number of partnerships and M&A activities is the primary trend driving the market growth. The market is still in the development phase and the vendors in the market are forming strategic partnerships with market participants and acquiring other vendors that offer wearable technologies. These partnerships and M&A activities enable vendors to develop innovative products by leveraging the technology and technical expertise of the market participants. Such activities also result in the development of a wearable device ecosystem, which will fuel the adoption of wearable devices. For instance, vendors of AR smart glasses form strategic partnerships with AR technology providers and AR hardware manufacturers to remain competitive in the market.
Hybrid smartwatches are trending in the market right now. Hybrid smartwatches are a fusion of old-school mechanical watches and connected smartwatches. These smartwatches look exactly like mechanical watches integrated with a variety of features such as health monitoring, fitness monitoring, sleep monitoring, and smartphone notification management. Although these hybrid smartwatches do not provide the touchscreen option they can be easily controlled via smartphones by downloading an app. The increasing popularity of hybrid smartwatches is encouraging several vendors to develop these watches to expand their customer base. The introduction of hybrid smartwatches will fuel the adoption of wearable devices during the forecast period.
Key Wearables Market Challenge
The wide range of counterfeit products will majorly impact the growth of wearable devices. The counterfeit products are mostly produced in APAC, due to low-cost labor. Furthermore, these products are available at significantly lower prices than the original ones, which reduces the sale of original devices, leading to a significant fall in the overall market revenue. From the consumers' perspective, the sale of these counterfeit products is a threat to their privacy and security.
Many customers use these devices for payment methods as well as for monitoring health and vital parameters. Customers do not realize that these products do not have the same security standard as the original ones, which poses a threat to the data privacy and security of customers. Hence, the growth of the counterfeit wearable electronic devices market reduces sales, as well as the reliability and brand value of the original products, which is expected to limit the growth of the market during the forecast period.
Key Wearables Market Customer Landscape
The report includes the adoption lifecycle of the market, covering from the innovator's stage to the laggard's stage. It focuses on adoption rates in different regions based on penetration. Furthermore, the report also includes key purchase criteria and drivers of price sensitivity to help companies evaluate and develop their growth strategies.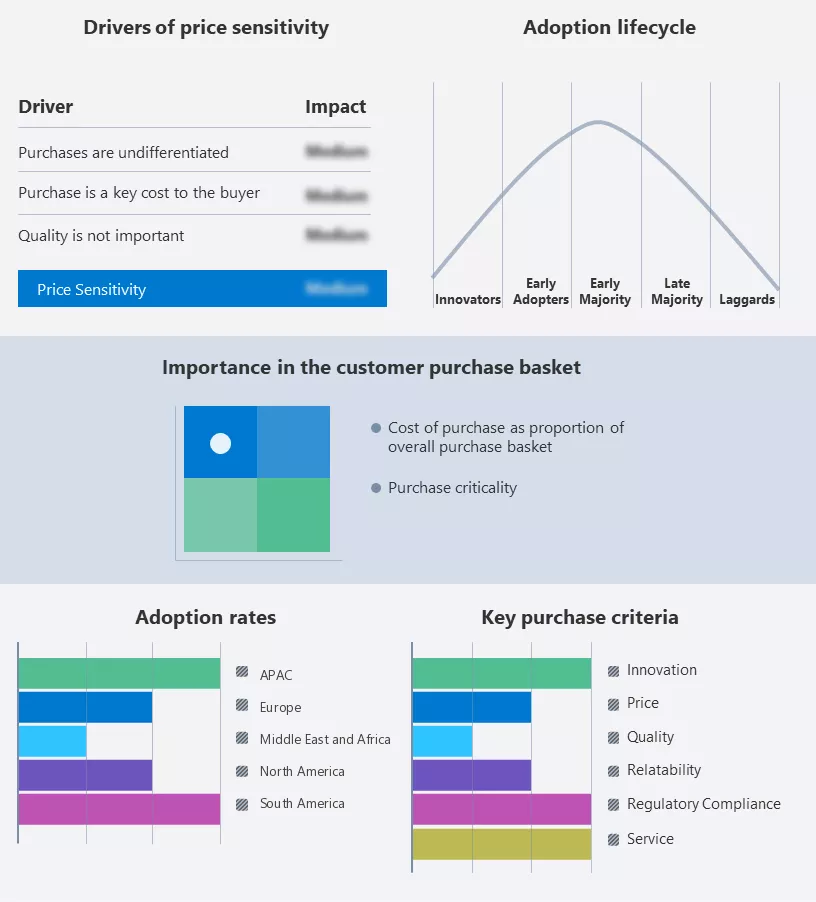 Global Wearables Market Customer Landscape
Who are the Major Wearables Market Vendors?                                     
Vendors are implementing various strategies, such as strategic alliances, partnerships, mergers and acquisitions, geographical expansion, and product/service launches, to enhance their presence in the market.
Gopro - The company offers wearables such as hero10 and hero11. Also, the company offers cameras and accessories through a single reporting segment. 
The report also includes detailed analyses of the competitive landscape of the market and information about 15 market vendors, including:
Acer Inc.
Alphabet Inc.
Apple Inc.
ASUSTeK Computer Inc.
CINOPTICS
Citizen Watch Co. Ltd.
Fossil Group Inc.
Garmin Ltd.
GoPro Inc.
Huawei Technologies Co. Ltd.
Kopin Corp.
Lenovo Group Ltd.
LG Electronics Inc.
Microsoft Corp.
Nexxbase Marketing Pvt. Ltd.
Qualitative and quantitative analysis of vendors has been conducted to help clients understand the wider business environment as well as the strengths and weaknesses of key market players. Data is qualitatively analyzed to categorize vendors as pure play, category-focused, industry-focused, and diversified; it is quantitatively analyzed to categorize vendors as dominant, leading, strong, tentative, and weak.
What are the Fastest-Growing Segments in the Wearables Market?
The market share growth by the smartwatch segment will be significant during the forecast period. A smartwatch is a computerized watch that offers numerous functionalities, including making calls and messaging and health monitoring by tracking the number of steps taken, calories burned, and heart rate, among others. It also provides wearers with quick access to several apps on their smartphones. The smartwatches segment accounts for a major share of the market in focus. One of the major factors driving the demand for smartwatches is the growing number of partnerships between market vendors and market participants from various industries. Collaborations and partnerships with market participants allow vendors to upgrade their products with innovative features and advanced technologies and leverage their technical expertise to develop innovative products and capture more market share.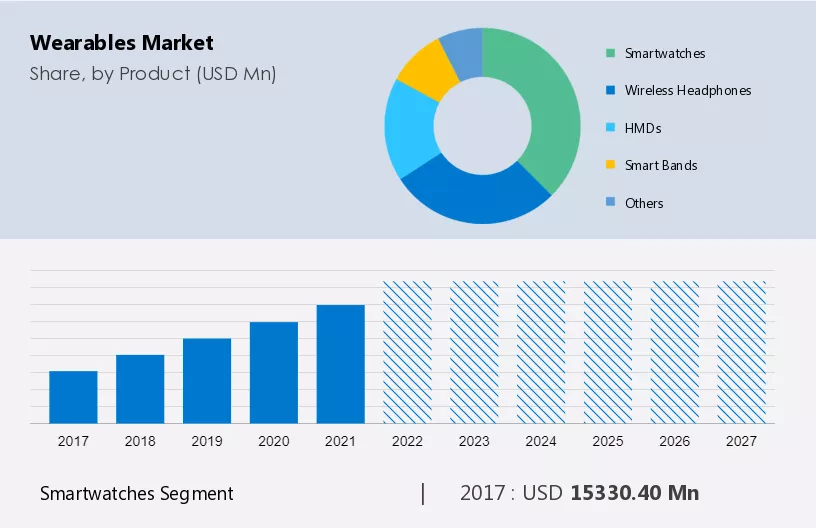 Get a glance at the market contribution of various segments  Request a PDF Sample
The smartwatches segment showed a gradual increase in market share from USD 15,330.40 million in 2017 and continued to grow by 2021. The strategic partnerships and collaborations among market participants are opening up new areas for the potential use of smartwatches, which is expected to drive the demand for smartwatches during the forecast period. Another major reason for the growth of smartwatches is the proliferation of low-cost smartwatch manufacturers. In recent years, several smartwatch manufacturers have rolled out new or updated versions of their smartwatches and are offering products at a much lower price than Apple and Samsung Electronics.
Which are the Key Regions for the Wearables Market?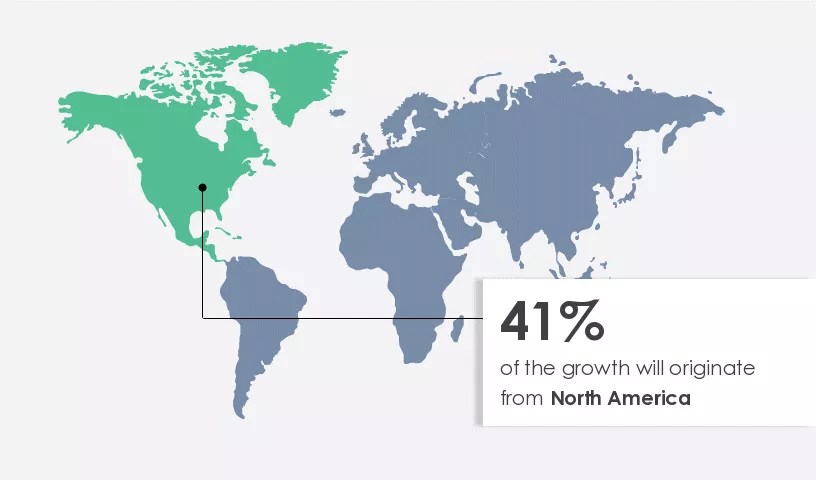 Get customized reports as per your requirements for FREE! 
North America is projected to contribute 41% by 2027. Technavio's analysts have elaborately explained the regional trends and drivers that shape the market during the forecast period.
The region is witnessing high investments in the deployment of the 5G network infrastructure to support the increasing mobile data traffic. The presence of a well-developed communication network infrastructure in the region is driving the adoption and usage of mobile computing devices in the region. End-users, including consumers and enterprises, are always keen on trying out new technologies. Several projects related to smart glasses and HMDs are lined up, and there is a huge demand for AR technology in the US.
North America is one of the earliest adopters of AR, and there are several apps being developed for iOS and Android. The smartwatch market in the region is primarily driven by the growing ecosystem of connected devices, which increases consumer dependency on such devices. In addition to this, with growing consumer concerns over the increased prevalence of heart disease and obesity issues, the adoption of these wearable devices is rising.
Parent Market Analysis
The reports categorize the wearables market as a part of the electronic equipment & instruments Industry. The parent global technology hardware, storage, and peripherals market covers manufacturers of cellular phones, personal computers, servers, electronic computer components, and peripherals. It also includes data storage components, motherboards, audio and video cards, monitors, keyboards, printers, and other peripherals. Our research report has extensively covered external factors influencing the parent market growth during the forecast period.
Segment Overview
The report forecasts market growth by revenue at global, regional & country levels and provides an analysis of the latest trends and growth opportunities from 2017 to 2027. The market has been segmented by product, distribution channel, and region.
Product Outlook (USD Million, 2017 - 2027)

Smartwatches
Wireless headphones
HMDs
Smart bands
Others 
Distribution Outlook (USD Million, 2017 - 2027)
Region Outlook (USD Million, 2017 - 2027)

Europe

The U.K.
Germany
France
Rest of Europe

South America 
Middle East & Africa

Saudi Arabia
South Africa
Rest of the Middle East & Africa
Wearables Market Scope

Report Coverage

Details

Page number

176

Base year

2022

Historic period

2017-2021

Forecast period

2023-2027

Growth momentum & CAGR

Accelerate at a CAGR of 15.09%

Market growth 2023-2027

USD 73,631.84 million

Market structure

Fragmented

YoY growth (%)

13.74

Regional analysis

North America, APAC, Europe, South America, and Middle East and Africa

Performing market contribution

North America at 41%

Key countries

US, Canada, China, Japan, and Germany

Competitive landscape

Leading Vendors, Market Positioning of Vendors, Competitive Strategies, and Industry Risks

Key companies profiled

Acer Inc., Alphabet Inc., Apple Inc., ASUSTeK Computer Inc., CINOPTICS, Citizen Watch Co. Ltd., Fossil Group Inc., Garmin Ltd., GoPro Inc., Huawei Technologies Co. Ltd., Kopin Corp., Lenovo Group Ltd., LG Electronics Inc., Microsoft Corp., Nexxbase Marketing Pvt. Ltd., Omate Inc., Samsung Electronics Co. Ltd., Seiko Epson Corp., and Sony Group Corp.

Market dynamics

Parent market analysis, Market growth inducers and obstacles, Fast-growing and slow-growing segment analysis, COVID-19 impact and recovery analysis and future consumer dynamics, and Market condition analysis for the forecast period.

Customization purview

If our report has not included the data that you are looking for, you can reach out to our analysts and get segments customized.
Stay updated on Wearable Technology Market! Request for PDF sample
What are the Key Data Covered in this Wearables Market Report?
CAGR of the market during the forecast period.
Detailed information on factors that will drive the growth of the market between 2023 and 2027
Precise estimation of the size of the market size and its contribution to the market in focus on the parent market.
Accurate predictions about upcoming trends and changes in consumer behavior.
Market industry growth across North America, APAC, Europe, South America, and the Middle East and Africa.
A thorough analysis of the market's competitive landscape and detailed information about vendors.
Comprehensive analysis of details factors that will challenge the growth of market vendors.
We can help! Our analysts can customize this report to meet your requirements. Get in touch