Structured Cabling Market Analysis Report 2023-2027:
The Structured Cabling Market size is estimated to grow at a CAGR of 9.03% between 2022 and 2027 and the size of the market is forecast to increase by USD 7,377.88 million. The growth of the market depends on several factors, the increasing investments in data centres, the growing telecommunication sector, and the increasing demand for FTTx. 
This report extensively covers market segmentation by Type (copper cable and fiber optic cables), End-user (data center, telecommunications, industrial, and buildings), and Geography (North America, Europe, APAC, South America, and Middle East and Africa). It also includes an in-depth analysis of drivers, trends, and challenges. Furthermore, the report includes historic market data from 2017 to 2021.
What will be the size of the Structured Cabling Market During the Forecast Period?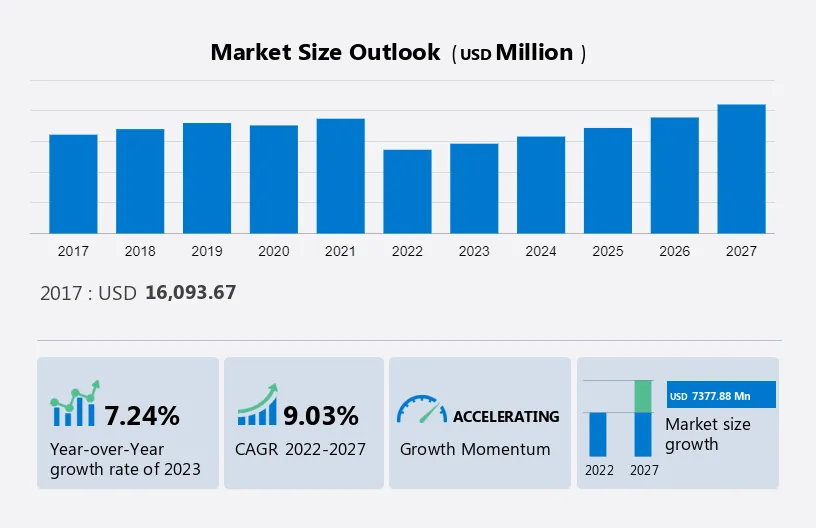 Structured Cabling Market Forecast 2023-2027
To learn more about this report,  Download Report Sample
Structured Cabling Market Dynamic
Our researchers studied the data for years, with 2022 as the base year and 2023 as the estimated year, and presented the key drivers, trends, and challenges for the market. Although there has been a disruption in the growth of the market during the COVID-19 pandemic, a holistic analysis of drivers, trends, and challenges will help companies refine marketing strategies to gain a competitive advantage.    
Driver 
The growing telecommunication sector is a major driving factor for the growth. The telecommunications industry has been growing significantly for the past few years globally. This includes various developments in mobile networks, networks, and cloud systems. The telecommunication sector is expected to drive market growth during the forecast period. Since 2015, there has been significant growth of IP traffic and it is expected to increase by nearly three times over the forecast period. Due to the development of mobile telecommunications markets in the Asia Pacific, there is a great deal of potential for strong growth within the Structured Cabling market. This is because rapid growth is expected in mobile Internet use in the region. 
 A huge investment is made by all major operators of telecommunications services across the considerable population in countries like India to provide 4G coverage. And yet, 5G connections have already been launched by developed countries such as the United States at one level ahead of APAC. The developed countries will primarily focus on the development of 5G technologies. The other countries would focus on the development of the 4G technologies. These changes and developments in the telecommunication sector will increase the demand for structured cabling systems. During the forecast period, this would have a positive impact on market growth.
 Trends
The Emerging cloud computing technology is a major sign in a structured cable market.  Organizations around the world are gradually recognizing that their presence of onsite Data Center infrastructure has a limited tactical benefit for them. In contrast, the focus on cloud computing technology will allow these firms to be able to operate more flexibly, with a high level of computing power and business dynamism that are essential for their overall growth. The presence of an on-premises data center infrastructure is a costly and complex affair for companies to maintain and invest in. Hence, the need to invest their money and energy in more strategic avenues has been encouraging them to adopt cloud-based services.
Cloud computing helps companies in hiring talent across the globe and pursuing new business opportunities, irrespective of geographic location. End-user industries, such as healthcare and life sciences, can use cloud-enabled technologies such as artificial intelligence (AI) and machine learning to allow unprecedented data analytics solutions to be delivered. This would revolutionize the respective industry operations. Cloud-based services offer several benefits over data center infrastructure. The benefits are greater efficiency, cost containment, and better performance. 
However, The modern VDI is cloud-native, which enables overcoming the high costs and low efficiency of legacy VDI solutions. They're helping to avoid the necessity of maintaining a Dedicated Infrastructure for Virtual Desktops. This also contributes significantly to reducing the organization's operational costs. The use of data center space in enterprises will be reduced by consolidating the data centers. The growth in the global structured cabling market during this period would therefore be negatively affected. 
Challenge
The volatile raw material prices are a major challenge in a structured cabling market. Aluminum and copper are the primary raw materials that constitute a structured cabling system.  It is made from an internal aluminum conductor bonded with copper, and it's a lot heavier than the solid copper cable. The acquisition of these raw materials is a considerable investment by all suppliers. These materials are ideally suitable for application in extreme conditions in industries because of their high melting point and ruggedness. Vendors try to recover the instability in the cost of metals by changing the final product prices.
 It takes a considerable amount of time to change the customer price strategy, resulting in periods during which selling prices are not equal to metal prices. The vendors lose money as a result. When raw material prices escalate, vendors can expect a rise in their gross profit margins if they can increase the final selling price of the product and recover the cost of raw materials. When vendors are unable to raise the amount due to stiff competition among players, then their gross revenue decreases.
Structured Cabling Market Segmentation by Type, End User, Geography 
Type Segment Analysis:
The copper cable sector segment was the market leader with the largest market share of the global structured cabling market in 2022. Copper wires work well for transmission across short and medium distances. Copper cables are likely to become more popular among data centers and desktop connections as a result of technological advancements, and they are anticipated to be profitable for the growth of the structured cabling market.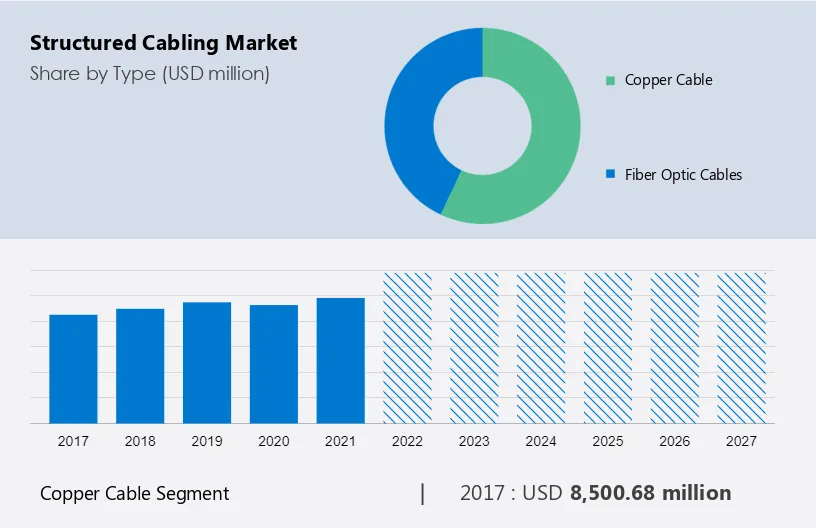 Get a Customised Report as per your requirements for FREE!
The Copper Cable Segment segment was valued at USD 8,500 million in 2017 and continued to grow until 2021. The demand for copper cable is also rising because of the expansion of smart grids and rising investments in improvements to smart power transmission and distribution systems. This is why, during the forecast period, an increase in copper cable demand will drive growth in the world market.
End User Analysis: 
The fibre optic cables segment is expected to register the highest CAGR during the forecast period. Fiber optic cables are widely used in structured cabling systems due to their superior performance and high data transmission capabilities. They're made by tiny strands of glass or plastic, called optical fibres that might transmit data in the form of electric signals over a wide range. The cables are also used by a number of different sectors, such as telecommunications, homes and businesses, public services, utilities, and aeronautical data networks.
Regional Analysis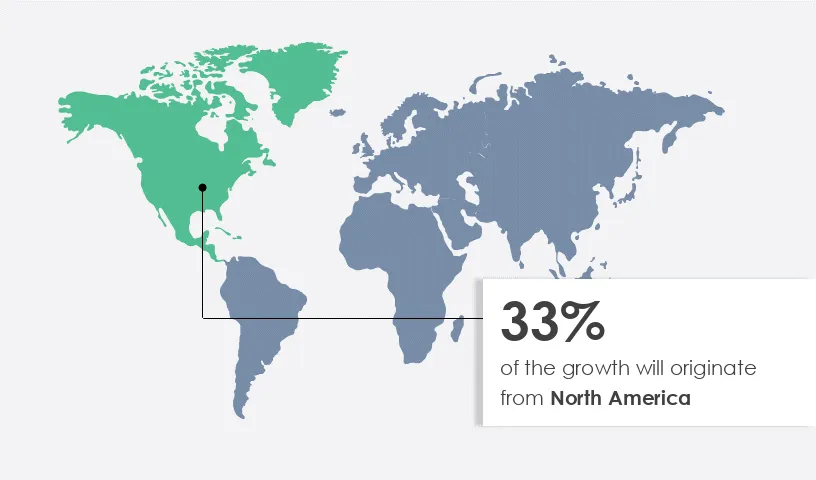 For more insights on the market share of various regions View PDF Sample now!
North America is estimated to contribute 33% to the growth by 2027. Technavio's analysts have elaborately explained the regional trends, drivers, and challenges that are expected to shape the market during the forecast period.  
The data center market, which is a major contributor to the global structured cabling market, showed a clear dominance in 2022 in North America, compared with the other two regions. The dominance was primarily because of the increasing number of data center establishments in the region. This increased the need for IT infrastructure and associated cabling solutions. Technavio expects the region to dominate the market in focus during the forecast period as well. 
Covid Recovery Analysis:
The outbreak of COVID-19 led to a halt in most industrial activities, which negatively impacted the structured cabling market in North America in 2020. However, the regional market started to recover in 2021 due to increased vaccination rates in the region, especially in the US. As a result, restrictions were lifted and all industrial activity resumed. These factors in the region are expected to have a favorable effect on the structure cable market. The regional market will continue to grow strongly during this period, thanks to robust data center construction in the region.
Who are the Major Structured Cabling Market Vendors?
Vendors are implementing various strategies, such as strategic alliances, partnerships, mergers and acquisitions, geographical expansion, and product/service launches, to enhance their presence in the market.
ABB Ltd.: The company offers structured cabling solutions such as cable ties, tools and accessories, grounding systems, wire termination and tools, wiring ducts, and trunking.
Belden Inc.: The company offers structured cabling products such as mini-distribution fiber cables, optical distribution frame cabinets, fusion splice-on connectors, and fiber patch cords.
We also have detailed analyses of the market's competitive landscape and offer information on 20 market vendors, including:
Cisco Systems Inc.
CommScope Holding Co. Inc.
Corning Inc.
Datwyler Holding Inc.
Eland Cables Ltd.
Furukawa Electric Co. Ltd.
Hubnetix Corp.
Legrand SA
LS Corp.
Nexans SA
Nutmeg Technologies
Panduit Corp.
Prysmian Spa
Schneider Electric SE
TE Connectivity Ltd.
The Cabling Co.
The Siemon Co.
WESCO International Inc.
Technavio report provides an in-depth analysis of the market and its players through combined qualitative and quantitative data. The analysis classifies vendors into categories based on their business approaches, including pure-play, category-focused, industry-focused, and diversified. Vendors are specially categorized into dominant, leading, strong, tentative, and weak, based on their quantitative data analysis.  
Segment Overview
The structured cabling market report forecasts market growth by revenue at global, regional & country levels and provides an analysis of the latest trends and growth opportunities from 2017 to 2027. 
Type Outlook (USD Million, 2017 - 2027)

Copper cable
Fiber optic cables
End-user Outlook (USD Million, 2017 - 2027)

Datacenter
Telecommunications
Industrial
Buildings
Region Outlook (USD Million, 2017 - 2027)

Europe

U.K.
Germany
France
Rest of Europe

Middle East & Africa

Saudi Arabia
South Africa
Rest of the Middle East & Africa

South America
Structured Cabling Market Scope

Report Coverage

Details

Page number

173

Base year

2022

Historic period

2017-2021

Forecast period

2023-2027

Growth momentum & CAGR

Accelerate at a CAGR of 9.03%

Market growth 2023-2027

USD 7377.88 million

Market structure

Fragmented

YoY growth 2022-2023(%)

7.24

Regional analysis

North America, Europe, APAC, South America, and Middle East and Africa

Performing market contribution

North America at 33%

Key countries

US, Canada, China, UK, and Germany

Competitive landscape

Leading Vendors, Market Positioning of Vendors, Competitive Strategies, and Industry Risks

Key companies profiled

ABB Ltd., Belden Inc., Cisco Systems Inc., CommScope Holding Co. Inc., Corning Inc., Datwyler Holding Inc., Eland Cables Ltd., Furukawa Electric Co. Ltd., Hubnetix Corp., Legrand SA, LS Corp., Nexans SA, Nutmeg Technologies, Panduit Corp., Prysmian Spa, Schneider Electric SE, TE Connectivity Ltd., The Cabling Co., The Siemon Co., and WESCO International Inc.

Market dynamics

Parent market analysis, Market growth inducers and obstacles, Fast-growing and slow-growing segment analysis, COVID-19 impact and recovery analysis and future consumer dynamics, and Market condition analysis for the forecast period.

Customization purview

If our report has not included the data that you are looking for, you can reach out to our analysts and get segments customized.
What are the Key Data Covered in this Structured Cabling Market Research Report?
CAGR of the market during the forecast period
Detailed information on factors that will drive the growth of the

structured cabling market 

between 2023 and 2027
Precise estimation of the size of the structured cabling market size and its contribution to the market in focus on the parent market
Accurate predictions about upcoming trends and changes in consumer behavior
Growth of the market industry across North America, Europe, APAC, South America, and Middle East and Africa
A thorough analysis of the market's competitive landscape and detailed information about vendors
Comprehensive analysis of factors that will challenge the growth of structured cabling market vendors
We can help! Our analysts can customize this market research report to meet your requirements. Get in touch